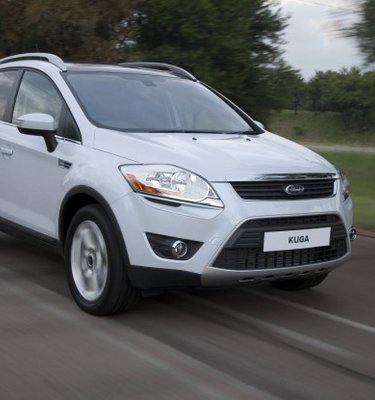 Four years after its European launch, Ford Australia has finally got its hands on the Kuga compact SUV. But is it too little, too late?
Ford Australia is developing a bit of a tardy habit when it comes to European imports.
For starters, it was mid 2002 before the local car maker introduced the 1998, first-generation Focus. It took a couple of years for the Mark V Fiesta city car to arrive in 2004 to replace the Festiva, with the mid-size Mondeo making a brief, unsuccessful appearance in the late 1990s before a next-generation model took years to become a more permanent (and now popular) fixture in the medium car segment.
You can also throw in the Focus RS hot hatch, which only turned up last year just as an all-new version of the Ford small car was launched.
But at least they got here eventually – to prove that Ford of Europe builds some of the best-driving mainstream cars in the world.
The latest vehicle to suffer 'import lag' is the Ford Kuga compact SUV.
It's a model, to be fair, Ford Australia has wanted since its 2008 European launch, as a replacement for the US-centric Escape that has plodded along in sales since 2001. But European demand has kept it away.
Four years on, the company has finally had its wish granted – though only the variant that is the slowest-selling Kuga in Europe. There's also a new-generation Ford Kuga that will go on sale locally in early 2013, though Ford Australia says it wanted to get its new SUV brand out into the market to give the all-new version a headstart in the market.
So there are no diesels, and no cheap petrol models to compete at the most affordable end of the compact SUV spectrum.
The Kuga starts at $38,990, a fairly lofty price considering plenty of compact SUVs now start in the mid to late $20K bracket, albeit with front-wheel-drive versions.
Ford Australia says the Kuga is competitively priced when its benchmarked against direct, AWD rivals such as the Toyota RAV4 Cruiser – which is identically priced when comparing autos but offers less power and torque.
The entry-level Kuga, the Trend, is also well equipped, sitting on 17-inch alloy wheels and including Bluetooth connectivity, voice command system, Sony audio, leather-wrapped steering wheel, fog lights, keyless engine start/stop button, roof rails, 'follow me home' lighting and a clever split tailgate with a separate upper section.
Stepping up to the $44,990 Ford Kuga Titanium – which crosses pricing paths with the locally built mid-sized Territory in RWD form – brings 18-inch alloys, panoramic glass roof, dual-zone climate control, leather-trimmed upholstery with heated front seats, electrically adjustable driver's seat, rear parking sensors, rain sensors, automatic headlights and stainless-steel front scuff plates.
The Ford Kuga is based on the platform of the previous, second-generation Focus.
So it's no surprise when we get on the roads north of Auckland (Ford Australia clearly has a thing about launching SUVs in New Zealand having staged the Territory's 2004 media event across the pond, too) that we find the Kuga to be a highly capable and enjoyable drive – and a vehicle that can challenge the Volkswagen Tiguan for the title of best-handling compact SUV.
The electro-hydraulic steering for starters is brilliant: a perfect amount of heft, progressive, and supremely accurate.
The Ford Kuga exhibits brilliant body control, too, whether through minimal body roll when cornering or the suspension that settles quickly over undulating surfaces.
Find some gravel roads, and the all-wheel-drive system – a Haldex unit shared with the likes of the Tiguan, Volkswagen Golf R and Volvo XC60 – provides good traction out of tight corners. (The system in the Kuga sends 90 per cent of torque to the front wheels with up to 50 per cent sent rearwards when required.)
Its 1653kg kerb weight – more than 200kg heavier than a Ford Focus – means the Kuga is more about ability than agility, but it still handles quick direction changes impressively.
There's an assuring firm feel to the brake pedal with strong braking performance, and there's limpet-like grip from the Kuga's Bridgestones, though it should be noted that our New Zealand-spec Kuga Titanium wore bigger, 19-inch wheels rather than the 18s standard on the Oz-spec Titanium.
That control doesn't seem to harm ride quality, either, judging by our launch drive, with the Kuga delivering relaxed progress over a variety of roads. (We'll still reserve some judgement for a tougher local test.)
The driving experience would be more relaxing, however, if it weren't for the sometimes-deafening tyre roar, with some wind noise thrown into the ambience-spoiling equation. (The 19s wouldn't help, and Ford Australia says its own tests show the standard 18s are noticeably quieter.)
Under the Kuga's bonnet, the 2.5-litre five-cylinder turbo is a nice match for the SUV's on-road talents.
The Volvo-sourced engine, seen previously in other Fords such as the XR5 Turbo Focus and Mondeo and, in a much higher state of tune, the Focus RS, has long been a favourite in the CarAdvice office.
You won't find yourself pinned back in your seat in the Kuga if you go full throttle, but there's a nice progressive swell of torque as the engine produces its maximum 320Nm from 1600-4000rpm.
The five-cylinder's characteristic throb is also easily detectable even though it's far more subtle than in either the Focus XR5 Turbo or RS, which both employ a special duct to amplify the engine's sound in the cabin.
It teams well with the standard five-speed auto, which changes gears on its own sufficiently well but also offers a gearlever with a pseudo-manual mode (pushing up for downchanges, pulling back for upshifts).
A sixth ratio doesn't feel necessary, as the Kuga cruises along at freeway speeds with just 2000 revs on board, though fuel consumption is higher than average. It slurps 10.3 litres of fuel per 100km officially, while we recorded 12.0L/100km in a mix of driving conditions.
You'll also need to pay extra for premium unleaded with Ford recommending 95-98 RON.
Although the Kuga is in the last year of its lifecycle, its exterior still looks contemporary enough thanks to a fine execution of Ford's former 'Kinetic' design language that still influences the latest as well as upcoming Fords.
The interior is a different matter, with a cabin design clearly related to the old Focus with its slab of silver plastic for the main centre stack, hit and miss material quality, and outdated switchgear.
There's good room up front, though, and good all-round vision, aided by the high-set seating position.
Rear seat passengers don't get such as good deal, particularly if of the taller variety. Those scaling 5 feet 10 inches or more will find their knees squashed against the plastic flip-up picnic table attached to the rear of the front seats.
Head and feet get more space, though, and three adults can just about fit across the comfortable bench that has the kind of under-thigh support welcome for longer journeys.
The boot is on the small side, however. At 360 litres there are small cars with more luggage space.
The rear seats fold flat, though, to expand cargo space to 1355 litres.
The Ford Kuga's split tailgate – a "tailgate within a tailgate" as Ford describes it – is genuinely useful, too, with the upper hatch area opening for easy drop-in access for smaller bags such as shopping carriers.
Ford Australia says it expects to sell every one of its 200-per-month allocation.
The Kuga is certainly a worthy addition to the compact SUV segment even if it asks families to stretch further than they might like for the smallest Ford soft-roader.
And at least we know we won't have to wait years for the next-generation Ford Kuga to be imported.