2008 Suzuki Grand Vitara Review
Current Pricing Not Available
2008 Suzuki Grand Vitara First Steer
It's not very often that I am willing to get up at 6:00am to go for a drive, in fact it's not often that I am willing to get up at 6:00am for anything. But Suzuki's invitation to central and northern Australia to drive the new Grand Vitara was an offer worth waking up early for.
Our journey took three days and involved everything from private jets at a cost of $4000 an hour to helicopters, a camel (more on the dromedary later) and of course, driving Suzuki's flagship model across hundreds of kilometres of desert and four-wheel drive tracks in the Northern Territory.
Day 1:
Whoever invented the snooze button on alarms was obviously an extreme optimist, 'another 10 minutes won't kill ...'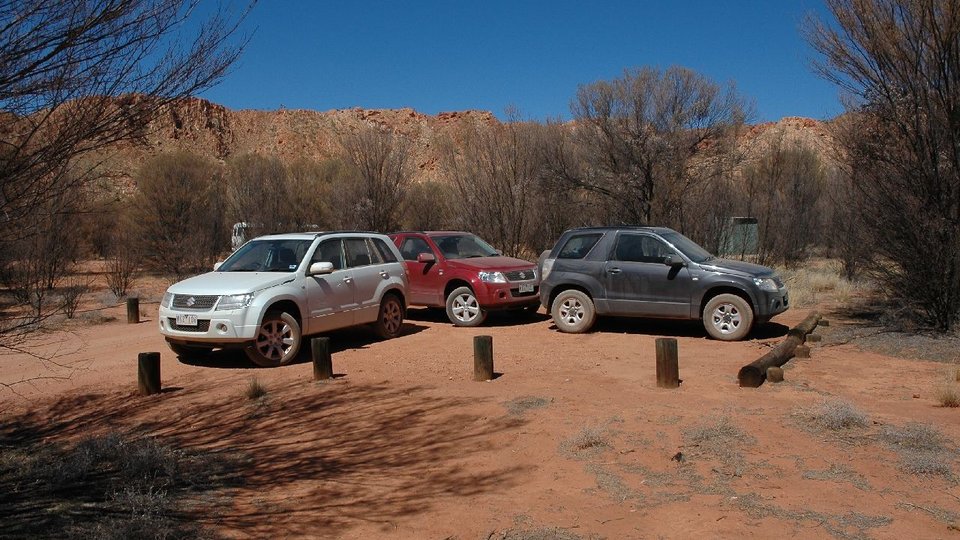 Sure enough as I arrived at Suzuki headquarters near Brisbane airport, my fellow motoring journalists (all three of them) and Suzuki staff were all ready to roll.
Ten minutes later a taxicab arrived and rushed us to a private hanger on the outskirts of Brisbane airport. Secretly, I was hoping what ever plane Suzuki had acquired for the trip had at least two engines and that they weren't the BMW emblem kind.
Despite the two Pratt & Whitney Canada PW530 engines strapped on for good measure, a headwind plagued us, which meant a two-and-a-half hour flight to Charleton, stop and refuel and then another two hour flight to Ayers Rock.
At a cost of $4000 an hour flying time plus $600 a day for each crew member, this wasn't a cheap flight by any means. Eventually though, we arrived at Ayers Rock airstrip and headed for the Desert Gardens hotel.
Here we were greeted by a few other journalists from Australia and New Zealand, plus a large team of Suzuki engineers and designers and to our surprise, Mr Toshihiro (Ted) Suzuki, the son of the current Suzuki boss and a descendent of company founder Michio Suzuki.
Suzuki may be a relatively small brand in Australia, with only about two per cent market share, but in total, the Japanese manufacturer sold 2,405,000 units globally last year and in terms of volume, sits fourth in the Japanese rankings, behind Toyota, Honda and Nissan. Putting it ahead of the likes of Mitsubishi and Subaru.
The release of the third generation Grand Vitara marks 20 years of production for the popular SUV. Suzuki lays claim to the Vitara having invented the compact SUV segment, as it had no direct rivals back in 1988.
Suzuki says the decision to not change the styling all that much was due to its popularity in Europe. However both petrol engines have been replaced, with a new 2.4-litre four-cylinder and a 3.2-litre V6 now available in the range. Both engines were developed from scratch by Suzuki.
The 2.4-litre (122kW and 225Nm of torque) replaces the superseded 1.6-litre (three-door) and 2.0-litre (five-door) engines. Fuel economy has improved to just 8.8-litres per 100km for the five-speed manual (three-door).
The Renault built diesel engine remains relatively unchanged for the Grand Vitara and Suzuki staff confirmed there are currently no plans for an automatic gearbox diesel variant, despite conceding there is sufficient demand.
Sitting inside the new Grand Vitara the changes become obvious rather more quickly. There is an entirely new instrument cluster, multi-info display providing more information, a centre speaker in the dash, new air-conditioning controls, plus a revised sun visor and arm rest.
Suzuki Australia General Manager Tony Devers said that the new Grand Vitara is the best compact SUV of any manufacturer - a big claim - however it's now certainly the cheapest and best value-for-money SUV compared to its direct competitors.
After the presentation it was time for dinner. Although most of us would have been happy with a nice warm indoors meal at the hotel, Suzuki had other ideas. Given the Grand Vitara is meant for the outdoors, what better way to get the point across than dinner out in the freezing cold?
Day 2:
Suzuki staff encouraged us to set our alarms for 5.30am so we can be ready and on the bus to the airport at 6.30am sharp. What they didn't tell us, was the wake up call they had secretly organised, so the snooze button was redundant on this occasion.
After a quick breakfast we boarded a bus to the airport, the plan was simple, numerous helicopters were hired to fly us over Ayers Rock and on towards Kings Creek Station a good hour away.
"Those pedals in front of you, they are live, so if you can avoid stepping on them while we are in the air, that would be good"- Okay!
The first car we drove was the 2.4-litre, four-cylinder Prestige, which we initially mistook for the V6.
The four-speed automatic is smooth and adapts quickly to one's driving style. Steering response is also impressive with literally no play at any speed. The new 2.4-litre engine no longer struggles to overtake or under hard acceleration and as a result fuel economy for the first leg of the journey (mostly dirt roads) was only 9.8L/100km, a very slight two-tenths above the official figure.
The vehicle in question was optioned out with 18-inch wheels, not exactly the suitable choice for off-roading but even so, ride and comfort levels were a significant improvement over the old model.
Similar to other HDCs the computer-controlled system individually brakes each wheel to maintain a slow, steady descent down a slope.
The second new technology, Hill Hold Control, is similar to Subaru's brake assist, helping the driver in starting to move up a steep incline. However unlike the Subaru's, this is designed for automatics only.
Not only is it the most capable off-road compact SUV, beating the likes of the Subaru Forester, Nissan X-Trail and Toyota RAV4, but the Grand Vitara does it with ease, never showing any sign of stress.
Dinner was served once again under the night sky with many stories being shared. Emu, crocodile, kangaroo, camel, it was all on the menu.
Day 3
Breakfast was served and a quick drive to a nearby resort meant we could have a brief shower before we headed out for our final leg of the journey.
The problem Suzuki will have in convincing new buyers to the brand isn't the car itself, as it is a great package but many may feel comfortable to part with their cash for a new RAV4 or X-Trail given the Toyota and Nissan brand establishment instead of going with Suzuki.
A full review of the new Grand Vitara range will follow soon.
Pricing details for the new 2009 Suzuki Grand Vitara:

GV3 3-Door 5-speed manual $24,990
GV3 3-Door 4-speed automatic $26,990
5-Door 5-speed manual $29,990
5-Door 4-speed automatic $31,990
5-Door 5-speed manual (17-inch alloys) $30,990
5-Door 4-speed automatic (17-inch alloys) $32,990
5-Door DDiS turbo-diesel 5-speed manual $34,990
5-Door Prestige 4-speed automatic $36,990
5-Door Prestige 4-speed automatic (18-inch alloys) $37,490
5-Door Prestige V6 5-speed automatic $39,990
5-Door Prestige V6 5-speed automatic (18-inch alloys) $40,490