Nissan Australia has released the new 2012 Nissan Navara, which comes with equipment upgrades and a wider spread of diesel availability throughout the range.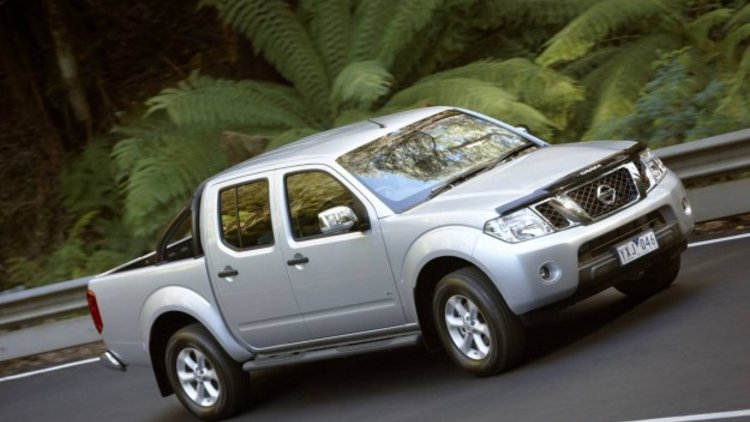 Nissan's robust 3.0-litre turbo-diesel unit, producing 170kW and 550Nm, is now available in dual-cab ST-X form, and the range-topping ST-X 550. Both are backed up by a seven-speed automatic transmission.
Stepping down a model is the new dual-cab ST, which comes with a 2.5-litre turbo-diesel four-cylinder producing 140kW and 450Nm. It's backed up by a six-speed manual or five-speed automatic.
All 2012 Navara variants come with electronic stability control and three-point seat belts for all passengers, and all have been given a four-star ANCAP safety rating.
The three variants above come with a braked towing capacity of 3000kg, while the new RX single cab loses the bench seat and welcomes bucket-style seating and a vinyl floor.
The new ST 4x4 dual cab comes with 17-inch alloy wheels, six airbags, three child seat anchor points, dual-zone air-conditioning, and a USB-compatible stereo.
Next up in the range, the all-new ST-X, comes with fog lights, tinted rear windows, under-seat rear storage and an alloy sports bar.
The top-line ST-X 550 adds leather trim, heated front seats, a premium Bose audio system, reversing camera and satellite navigation, and a satin black sports bar with LED brake lights.
2012 Nissan Navara manufacturer's list prices (excluding government and dealer charges):
Navara single cab RX CC 4x4 diesel - $34,860
Navara king cab RX CC 4x4 diesel - $39,900 ($42,150 auto)
Navara king cab ST-X CC 4x4 diesel - $42,910 ($45,160 auto)
Navara king cab ST-X PU 4x4 diesel - $44,610 ($46,860 auto)
Navara dual cab RX PU 4x2 diesel - $30,600 ($32,850 auto)
Navara dual cab RX PU 4x4 diesel - $41,300 ($43,550 auto)
Navara dual cab RX CC 4x4 diesel - $39,600 ($41,850 auto)
Navara dual cab ST PU 4x4 diesel - $46,800 ($49,050 auto)
Navara dual cab ST-X PU 4x4 diesel - $56,990 (auto only)
Navara dual cab ST-X 550 4x4 diesel - $62,990 (auto only)
2012 Nissan Navara on sale