CarAdvice was invited to the Suzuki launch of the all-new Grand Vitara in the Northern Territory over the weekend. But before our travel log and first steer go live in the next 24-hours, here are some facts about the new compact SUV.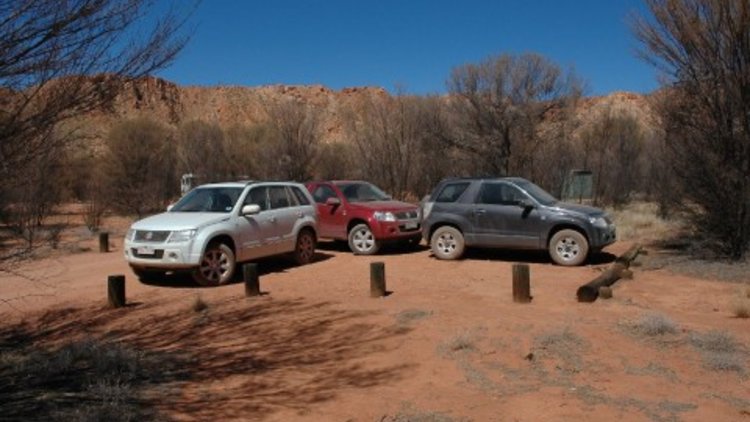 Although called a new Grand Vitara, from the outside it's hard to tell, but that's only because the Japanese company has kept the current styling due to its popularity in Europe.
Nonetheless improvements are plenty with new engines offering more power, better economy and more standard safety features.
The engine which is sure to prove popular is the all-new 2.4-litre variable valve timing (VVT) four cylinder engine which is now fitted to both 3-door and 5-door models and an all-new 3.2-litre VVT V6 for the 5-door.
The 2.4-litre (122 kW and 225Nm of torque) replaces the superseded 1.6-litre (3-door) and 2.0-litre (5-door) engines. Fuel efficiency has improved to just 8.8 litres per 100 km for the five-speed manual (3-door). A four-speed automatic is also available in the 3-door
New standard features across the range include ESP, six SRS airbags and rear ventilated disc brakes (moving on from drums), the five-door also receives cruise control as standard.
A new model is the 5-door 2.4-litre Prestige version, previously only available as a V6. The prestige includes leather trim, sunroof, mirror-mounted side indicators, ESP, six SRS airbags, premium 7-speaker (plus subwoofer) sound system and 17-inch alloy wheels which can be optioned up to 18s.
Going from the old 2.0-litre engine has given the 5-door four-cylinder a little more power, bringing 0-100km/h acceleration down to 11.7 seconds (from 12.5).
The diesel also remains in the lineup, with minor work to improve fuel economy by 8 per cent as well as reducing noise and vibration. The diesel gets by using just 7.0-litres per 100 km.
Moving up, the new 3.2-litre 165 kW Prestige V6 tops the range, replacing the outgoing 2.7-litre V6. Although delivering more power and torque (284 Nm), VVT technology ensures better fuel efficiency, down to a respectable 10.5 L/100 km. A 9 per cent increase over the outgoing 2.7-litre V6.
The prestige V6 gets (on top of the four cylinder prestige), High Intensity Discharge (HID) projector headlamps with dusk sensor and washers, hill descent control and hill hold control.
Another big improvement has been the interior noise levels, dropping around 2 decibels over the outgoing model. Suzuki brought out its NVH engineers from Japan to explain the improvements (more on this in the first steer).
Pricing details for the new 2009 Suzuki Grand Vitara:
GV3 3-Door 5 speed manual $24,990
GV3 3-Door 4 speed automatic $26,990
5-Door 5 speed manual $29,990
5-Door 4 speed automatic $31,990
5-Door 5 speed manual (17-inch alloys) $30,990
5-Door 4 speed automatic (17-inch alloys) $32,990
5-Door DDiS turbo-diesel 5 speed manual $34,990
5-Door Prestige 4 speed automatic $36,990
5-Door Prestige 4 speed automatic (18-inch alloys) $37,490
5-Door Prestige V6 5 speed automatic $39,990
5-Door Prestige V6 5 speed automatic (18-inch alloys) $40,490
Check back soon for a first steer and travel log of CarAdvice's journey through the Northern Territory with Suzuki's new Grand Vitara.