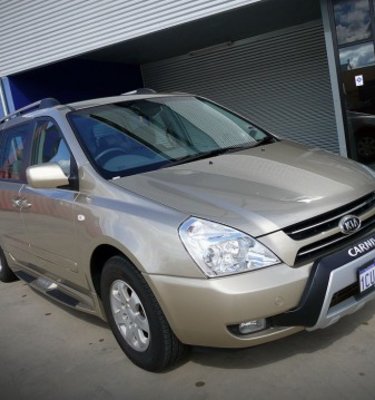 2008 Kia Grand Carnival Review
2008 Kia Grand Carnival Review and Road Test
Model Tested:
2008 Kia Grand Carnival Premium - $48,890 (RRP)
Options:
Space, power, smooth & strong drivetrain, practical
Soft suspension, slightly wobbly body, styling a little dated
CarAdvice Rating: (3.75)
Photography and words by: Karl Peskett
People movers are an interesting type of car to test. Mainly because you get stares whenever you drive past. They're not stares of wonderment and jealousy - no, those come with Aston Martins, Lamborghinis, or Bugattis.
It's the sort of look that almost portrays disapproval. Why on earth would that be? Surely, it's not because people frown on this genre of vehicle and it's never the tree-huggers that have a go at you because you're using more fuel than a Toyota Prius. It's because as a motoring journo, usually you're alone while testing.
In some people's eyes, there's nothing more wasteful (and pointless) than a guy driving a people mover around with no people to move. Funny though, when you've loaded it up, and have six or seven people inside, there's nary a second glance.
Of course, you're not going to rush out and buy one of these cars when you're a single bloke who's into clubbing and pubbing (if you are, then ignore that last sentence). This car is clearly aimed at the family market.
As a family man, I felt it was my duty to don the brood-breeding hat and give the Grand Carnival a whirl. Alborz tested the car last year, but this time, Kia supplied the Grand Carnival and had kindly optioned the test car with the Premium Pack.
Over the standard EX model, this brings side and curtain airbags, leather trim, electric sliding side doors (the cheapest car with this option), and steering wheel mounted controls. The test car also had ESP included - which also comes with the Premium Pack - and although it never had to be tested in itself, the included traction control is definitely necessary.
With the 3.8-litre V6 producing 184kW and 343Nm, in the wet the front wheels are guaranteed to spin when taking off. But the biggest problem for this car is actually the torque steer.
If you're, say, at a set of lights turning left, and you want to pull away quickly, it's a battle of kickback, tug-o-war, and steering control. Away from the war on overcoming inertia, the bus, oops, sorry, people-mover, drives pretty well.
The automatic is one of the smoother five-speed jobs around, and the ride although soft is generally acceptable. It can be ruffled by harsher hits, but mostly smooths over bumpy sections.
Handling is not exactly the forte of this breed of vehicle, however the Grand Carnival is quite adept at holding its line, with predictable bodyroll , yet never feels out of its depth. I suppose that's because you're never going to test this car with abandon.
What does concern me a little, is the flexing that the brick-like shape brings. It's not on the same level as a convertible, by any means, but because the seats are leather, and the second row is three distinct seats, any wobble in the body/chassis is brought to your attention.
The slightly harder cowskin that the seats are coated in, rubs against itself as the middle three chairs twitch. This means that on rougher roads, there's a constant high-pitched chatter that can get quite annoying after a while. I guess if the kids are screaming in the background, you probably won't notice it anyway.
When they are, you can keep an eye on them with the convex mirror that conveniently drops down from the roof, and the features keep on coming. The second row can slide backwards and forwards, the third row disappears completely into the floor, and even when the third row is erect, the boot space is still huge.
This is what separates this vehicle from other third row contenders. Even competitors can't match the Grand Carnival for size with the third row up. Alborz said that when its down, he though that you could store cattle in the back. Well, we've since found that someone uses one of these instead of a trailer.
While most people rock up to their race meets with their go-karts in tow, John turns up with his go-kart and associated sundry on board. He tells us that the kids sit in the second row, and his go-kart fits neatly in the back. How many vehicles can you say that about?
As far as the interior goes, it is a bit plasticky, yes, but then the Grand Carnival is value for money. Space for cash is one of its strong points. Thankfully, the stereo is very good, the seats are comfortable, and all side windows are powered. Even the rear side windows open outwards using a toggle switch on the driver's armrest.
There's a myriad of cupholders, oddments storage, and 12V plugs. It's a wonder then why a dropdown DVD player isn't included. Still, a $100 investment to keep the kids happy isn't much to ask after spending $49,000 on your people mover.
In addition, it still uses less petrol than a Pajero, Prado, or Landcruiser. So it's a great alternative to the four-wheel-drive seven seater, because it's more efficient, and you get eight seats, plus a tonne of boot space for the same price.
It's never going to be a status symbol in the motoring world, but nor should it be frowned upon. As a family hack, the Grand Carnival is surprisingly easy to drive, quick, smooth and very practical.
As it stands, it's the best value-for-money people mover on offer today.
CarAdvice Overall Rating: (3.75)How does it Drive: How does it Look: How does it Go:
Specifications:
Engine: 3.8-litre, V6-cylinder, transverse
Power: 184kW @ 6000rpm
Torque: 343Nm @ 3500rpm
Induction: Naturally aspirated multi-point injection
Transmission: Five-speed Tiptronic-style automatic
Top Speed: N/A
0-100km/h: 10.5 seconds
0-400m: Not tested
Fuel Consumption: 12.8-litres/100km (Combined)
Fuel Tank Capacity: 80 litres
Fuel Type: 91RON petrol
EuroNCAP rating: Four star
Airbags: Front, Side, Seat & Curtain
Safety: ABS, DTCS, EBA, EBD,
Spare wheel: Space saver
Tow capacity: 2000kg (braked)
Turning Circle: 12.1m
Warranty: 5-year/Unlimited
Weight: 1498kg
Wheels: 16" Alloy
2008 Kia Grand Carnival Review