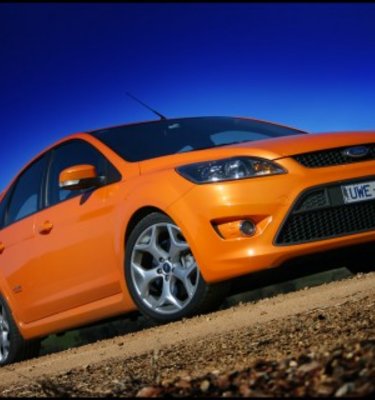 2008 Ford Focus XR5 Turbo Review
2008 Ford Focus XR5 Turbo Review & Road Test
Five doors, five seats, five cylinders… perhaps good things come in fives
Model Tested:
2008 Ford LV Focus XR5 Turbo 2.5-litre, five-cylinder, six-speed manual - $36,990 (RRP)
Options:
Metallic Paint $310; Premium Paint $1,800 (Fitted - Electric Orange); Rear Parking Sensors $600; Electric Sunroof $1,900; Overhead Stripes $350; Recaro Sports Leather Trim & Seat Heaters $2000; Mullin's Motorvatr 18" Alloy Wheels $1064
Balance, Power Delivery, Grippy Handling, Exhaust Note, Price Tag Panel Lighting, Brake Pedal Position, Road Noise, No Cruise Control
CarAdvice Rating:
- by Matt Brogan
A lot of so called sports cars these days comprise of little more than a badge, a spoiler kit and a set of alloy wheels - an anodyne, half baked attempt at attracting the brain dead if you ask me. But if instead you're the type whose right foot gets a little itchy at the mere idea of pounding down a twisty country road in a no holds barred bona fide hot hatch, then perhaps you'd better take a look at this.
The face-lifted LV Focus XR5 Turbo, unlike its LT series South African siblings, is a completely German designed and manufactured five-door, five-seater boasting not only the sporty good looks deserved of wearing the XR badge, but a tremendous and dynamic engine and handling package sure to delight the driver in all of us.
From the supportive embrace of the Recaro bucket seats to the passive-aggressive attitude of the restyled (kinetic) front end, the XR5T offers a combination of looks, practicality, performance and price that has lured many an eight-cylinder purist in recent times. Not hard to see then how this little champion has earned an almost cult-like following.
Far from being a bare-bones boy racer though, XR5T includes such modern niceties as a sweet sounding Sony MP3 compatible premium six CD tuner with remote audio controls, a sassy leather bound tilt/telescopic adjustable steering wheel, multi-function trip computer, sports instrument cluster, power windows with one touch up front, power and heated wing mirrors, air-conditioning, remote control central locking with keyless starter button, Bluetooth mobile phone connectivity, and height adjustable halogen headlamps.
You also pick up some juicy external appendages with a set of salient 18" alloy wheels (space saver spare), unique twin exhaust outlets, front and rear fog lamps, moulded sill panel skirts, oversized rear spoiler, clear tail light lenses and larger diametre rear discs all adding to XR5T's already athletic appeal.
But aesthetics aside, a hot hatch needs a pretty big heart to win any respect at all given the amount of competition out there (think VW GTi, Volvo C30-T5, Honda Civic Type R, Mazda MPS3, Subaru WRX, Holden Astra SRi), let alone keep fans coming back for more with every re-incarnation released. XR5T is one such car, and here's why.
The 2.5-litre, in-line five-cylinder, turbocharged engine is the embodiment of all that's right in forced induction. Strong, linear boost and flat, early torque delivery make the 166kW, 320Nm, at 6000rpm and 1600rpm respectively, offering a lithesome, overtly usable affair that has an uncanny habit of putting on more pace than you'd at first give heed to.
Whilst the sub-seven second 0-to-100km/h time may at first seem a little off pace, it's worth remembering this is but a small part of the overall equation and the car should not be penalised in the eye of a potential buyer for this fact alone. This engine shines for other, better reasons.
What I love most about the T5 engine, aside from that blissfully curious symphony under acceleration, is the smooth throttle mapping and progressive power delivery on tap through fast flowing corners, that ubiquitous mid-range pull, and best of all how it offers that extra little bit of low down grunt from a tight hairpin in second gear. It's just so flexible and usable that you tend to get a little carried away by it all – and isn't that what maketh a true hot hatch?
Coupled to a slick shifting six-speed stick, the cog swapping is fast and fluid with a near-perfect clutch taking up exactly where it should. Changes are swift, light, but exact, which makes flicking through gears in a hurry a grin inspiring experience, especially when hard under brakes.
Despite a little torque-steer under heavy throttle, especially around the climatic 6000rpm mark, the delivery is manageable, controlled and a lot of fun, especially once you've got a feel for what's going on, which in this little number, happens quickly thanks to a communicative chassis feel, direct steering and superb balance.
With four-wheel discs, enlarged slightly at the rear, the braking power is robust and well spread front to rear offering little in the way of fade. To top it off there's also a tight but progressive feel to the pedal with enough feedback in the ABS to keep the foot informed of the grip beneath you. My only qualm would be that the middle pedal sits a little higher than the other two which gets a little tiring when you're on and off the brakes repeatedly.
Suspension, though a typical independent MacPherson strut front/multi-link rear (with stabiliser bars), is well matched to the chassis and presents few, if any undesirable traits. There's a touch of understeer in the wet, but only if you're off balance and trying too hard, and even then it's manageable.
The ride is a little firm, which is to be expected, but doesn't bang and crash around like some of these modified hatches tend to, and allows quick directional changes without upsetting balance. In all I'd say it's one of the better examples of handling versus comfort combinations I've driven in this category.
Electro-hydraulic power steering, though not usually a favourite among sports orientated drivers is in the case an exception to the rule. Settings can be adjusted through three modes (Standard/Sport/Comfort) which adjust the level of feedback and assistance accordingly. With Sport Mode on the turn-in is especially quick and responsive, but even when punting a little close to the knife's edge remains predictable and settled.
Now I know what the challenge will be when you tell the better half you want one: "It's too loud and I can't drive it" – that's only partly true. Although the Rice Bubbles exhaust (plenty of snap, crackle and pop) is audible, it's the road noise on longer trips that will get to you, with tyre noise being especially irritating. Despite having some World Rally Championship heritage, the XR5T is no harder to drive day-to-day than any other hatchback.
Ergonomics, visibility and driving position are excellent (excluding the afore mentioned brake pedal height), and in all it's comfortable ride offering proportions adequate for a family of four, except perhaps that the rear leg room may be a tad tight for lanky teenagers. There's generous shoulder and headroom, and with a respectable but somewhat shallow 362 litre boot (seats up – parcel shelf down) a weekend away in the XR5T is still an absolute pleasure.
The ESP (or Dynamic Stability Control in Ford speak) calibration compliments the car perfectly, and isn't as overly obtrusive as some systems tend to be. Traction too isn't overtly sustained but still provides enough grab without being too sensitive on take-off. Adding to the usual raft of three letter acronyms (ABS, EBA, EBD, ESP & TCS), there's also dual front, side and curtain airbags to keep you safe which have contributed in earning Focus a Five Star ANCAP rating.
I'd very much like to have seen cruise control fitted, or at least made optional. Given it's available in the Mondeo XR5 Turbo and Volvo C30 (which both share this engine) I cannot see why it isn't included here. The instrumentation back lighting is also a nuisance on the open road as the central multi-function display on the cluster has a red hue which does not dim with the gauges, making for an unpleasant and distracting glow in your peripheral vision. That said though, I still love this car.
With the fistful of rivals all so very close in terms of bang for your buck, a great deal of hot hatch selection will naturally fall back to personal preference and driving style, but for my money the balance of price, punch and panache puts the XR5T within a sniff of first place.
CarAdvice Overall Rating: How does it Drive: How does it Look: How does it Go:
Specifications:
Engine: 2522cc, DOHC, five-cylinder (20 valve)
Induction: Multi-point & turbocharged
Power: 166kW @ 6000rpm
Torque: 320Nm @ 1600rpm
Transmission: Six-speed manual
Brakes: Four-wheel discs with ABS, EBA & EBD
Driven Wheels: Front
0-100km/h: 6.8 seconds
0-400m: 13.52 seconds @ 174km/h
Top Speed: 241km/h
Fuel Type: 95RON Premium Unleaded
Fuel Tank Capacity: 55 litres
Fuel Consumption: 9.3 litres/100km (Combined)
Airbags: Dual Front, Side & Curtain
ANCAP Rating: Five stars
Safety: ESP with Traction Control
Service Interval: 12 month/15,000km
Spare Wheel: Space Saver
Turning Circle: 11.7 metres
Warranty: 3 year/100,000km
Weight: 1366kg (Tare)
Wheels: 18 x 8.0-inch Alloy
2008 Ford Focus XR5 Turbo Review