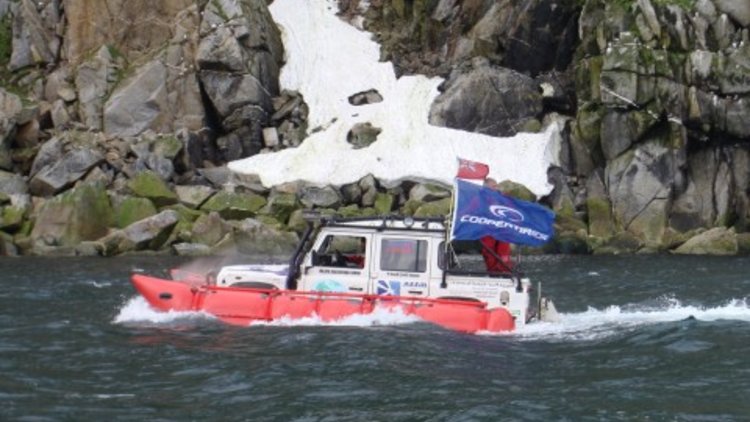 "That's 10,379 miles in 50 days across some of the most inhospitable terrain on God's earth in temperatures as low as minus 46 degrees Celsius - in a Land Rover Defender"
- Anthony Crawford
Steve Burgess personifies the tag "Mad Englishmen".
The 52 year old farmer from West Yorkshire in the UK is now well and truly in the record books as the first person to cross the feared Bering straits, in a road going vehicle.
Many have tried before him and failed with disastrous consequences. They made the mistake of attempting to cross while the straits while they were covered with ice. That's a big no, no in a heavy 4x4 vehicle.
Steve on the other hand, preferred to wait until the ice had melted in the summer. He then strapped two massive floats on the sides of his Defender, added a motor and propeller on the back, and headed across 56 miles of water to Wales in Alaska.
The weather was so bad during one stage of the journey, that he was forced to take refuge on the Island of Little Diomede for a few weeks before driving on.
The trip was clearly sponsored by Cooper Tires and Steve rightly gives them a plug. Fair enough I say, given that he was driving on icy roads almost all the way from Moscow for thousands of miles and said the traction from the Cooper Discoverer ST off-road tyres was "phenomenal".
This lone adventurer plans to continue this madness with a trip all the way down North and South America to Cape Horn, covering 30,000 miles.
Let's hope he doesn't try driving around the Cape in the Defender, as you can be certain that the floats won't hold up!
Land Rover Defender crosses the Bering Straits