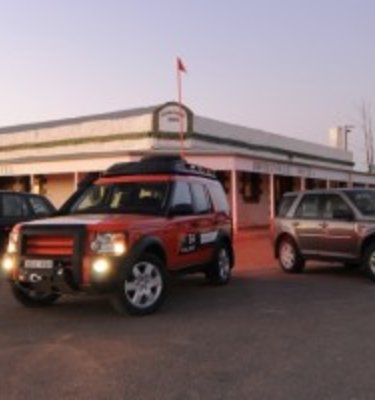 Land Rover 60th anniversary - cross Australia journey
Land Rover crosses Australia for its 60th Anniversary.
- Story by Paul Maric, photographs by Paul Maric and Land Rover.
The 1948 creation of the Land Rover Series 1 came to fruition courtesy of Maurice Wilks, who was the head designer at Rover during the late '40's. Throughout the company's 60 year history, there have been a raft of ownership changes, ranging from Rover, BMW, more recently Ford and now Tata.
Despite the sale of Land Rover to Indian industrial giant Tata, Land Rover says it is still committed to continuing the trend of capable, versatile and stylish vehicles. The sale of Land Rover to Tata is not expected to hinder the continued growth of the British marque.

Fast-forward 60 years and it's party time. Land Rover has decided to celebrate by travelling from Birdsville in south -west Queensland, through to Broome in north Western Australia. Unlike the other manufacturer who has undertaken this journey, Land Rover will cross the country using every model in its range.
Freelander 2, Defender, Discovery 3, Range Rover Sport and Range Rover Vogue will all play a part in this epic journey.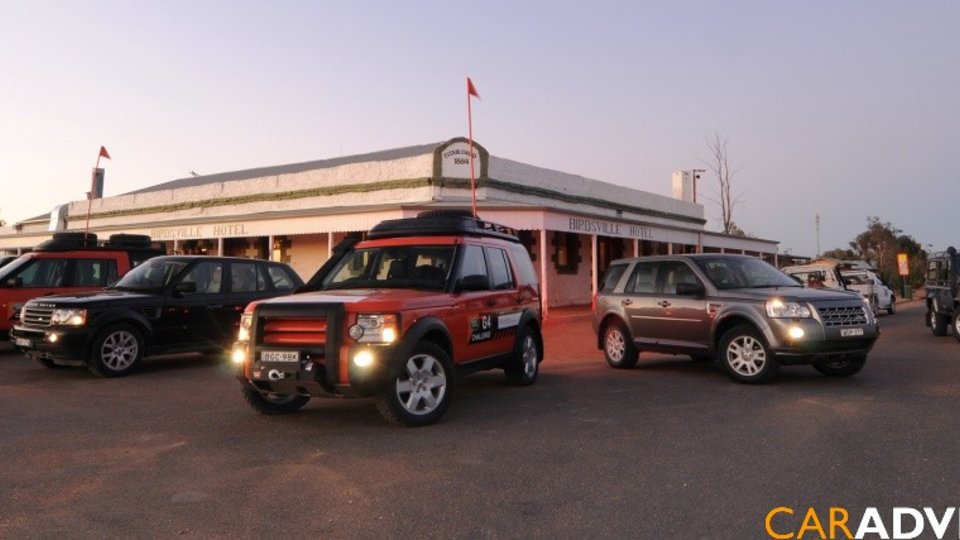 Leg 1 – Birdsville to Alice Springs
Day 1
The group of five journalists and several Land Rover crew, including Managing Director Roger Jory, weren't sure what to expect of the flight from Brisbane to Birdsville.
Operated by Macair, our mode of transport was a Metro23, 19-seat twin-propeller plane. Located about 1600km west of Brisbane, Birdsville is a small town with a population of approximately 120. Birdsville's population increases by more than 1000% during the famous Birdsville Races – held each year in September.

Around an hour later, the second stop had us arriving at Quilpie. With a population of just 747, spread over a shire area of 67,842 square kilometres, there wasn't all that much going on. After finally offloading mail, we jumped back into the plane, only to find the additional passenger and extra mail would mean a 'wet takeoff'.

After a quick fix, we were in business and on to our next stop – Windorah. We were greeted by some workers who were proud to show off the new building they had just installed at the airport, which included three toilets. It didn't mean much to us city slickers, but it was a mighty achievement for them! It was back in the air for our final flight leg.
You can imagine our joint relief when we finally arrived to Birdsville.

Day 2
Everyone at Birdsville's pub was raving about the 'camel pie' on offer at the Birdsville Bakery. I couldn't leave Birdsville without trying the famous pie. After all, they received a silver medal award at the Great Aussie Meat Pie competition.
Proprietor Dusty Miller (pictured below) was more than happy to sit down for a chat – even giving us a taste of the famous camel pie, along with an outback cappuccino.

All cars on the fleet were fitted with Goodyear Wrangler tyres to assist with dune crossing and hill climbing. Spare tyres were also carried in the event of punctures. Only three tyres needed replacing during the leg I travelled (all of which were punctured by Land Rover staff!).
Soon after leaving Birdsville we arrived at a river crossing. All vehicles – including the Freelander – made it through without any dramas. It was the last slab of water we would be seeing until at least Alice Springs, with most of the lakebeds in the Simpson Desert being bone dry.

Spanning some 176,500sq km, the Simpson Desert has around 1100 sand dunes which vary in distance from each other, along with intensity. Such is the terrain that the dunes continuously change in shape. The path taken weeks ago to cross a sand dune can be completely different to the path taken today.
The average rainfall throughout the Simpson Desert is less than 200mm, meaning that most of the lake beds you see are totally dry and look spectacular.

The first camping stop was at Poeppel's Lake. After setting up our tents (some using distance to keep in mind the snoring populous of the group!) and grabbing a bite to eat, we sat around the campfire observing absolute silence and complete serenity.

Day 3
The third day was quite challenging in terms of the terrain. The sand dunes were big and bumpy, which caused problems for the vehicle towing our trailer. If tyre pressures aren't set correctly (around 18psi is ideal for sand driving), rough corrugations are made in the sand, making the run up the dune very rough and labouring on the car.
With Land Rover's entire range of vehicles on offer for the trip, each of us had a chance to sample the respective models throughout a variety of conditions.

The Vogue used around 17.0-litres/100km on average during the second day. Although it sounds like a lot, most of the time the speeds were less than 40km/h and plenty of revs were required on the run up to and during the dune climb.
The only manual vehicle on the fleet was the Defender. It was certainly a handful in comparison to the others. More turns of the steering wheel, along with managing gears meant that it required a lot more attention.

Aside from the Defender, each car was slotted into sand mode via the terrain response system. This mode adjusted traction control settings, while allowing gear retention for optimum torque. The Defender simply needed its centre differential locked. All vehicles remained in high-range while attacking the sand dunes.
After a fairly difficult day of driving, we stopped at a dried lake, around 88km from Purni Bore.
Day 4
After just a few kilometres of pleasant roads, the corrugated dirt roads began. The roads simply worsened the faster you went, which meant adjusting speed accordingly was necessary.

Our lunch stop was Purni Bore. Dug by oil seeking Frenchmen, the bore was later sealed, but It didn't take long for the seal to corrode and that's when it broke loose. Pumping out water at around 89-degrees, it's not safe to swim in due to the high temperature.
Aside from the worsening quality of the roads, there was now an issue with loose rocks from the roadside. Rocks the size of small bags littered the road and could easily puncture a tyre if hit at the wrong angle.

The water from the source is about 65-degrees, while the water in the swimming area sits at around 38-degrees. The relaxing warm water was utter bliss after a long day of driving. We had an hour to spend there and nobody wanted to leave, if we hadn't a schedule to keep to, I'd probably still be there now, floating around!
One hour later we arrived at Mt. Dare. Although it no longer runs as a cattle station, Mt. Dare Hotel was taken over by David and Melissa Cox who threw in their Melbourne city lifestyles for an outback change – yes, they seemed pretty sane when we talked to them!

The kitchen team at the hotel served up an amazing meal for our crew. It was refreshing to see the level of service and normality despite us being literally in the middle of nowhere! We stayed at the camping ground behind the Mt. Dare Hotel, which includes full toilet and shower facilities.

Day 5
A good night's sleep was the starter to day five. It took a while, but I was finally getting used to sleeping in a tent! It's one of those things that takes a bit of time to adjust to, but once you're there, it's just as good as sleeping in a normal bed.
Day five's leg had us travel from Mt. Dare through to Chambers Pillar and Maryvale Station was the last stop before arriving at Chambers Pillar.
Chambers Pillar is a sandstone pillar tht sits some 50 metres above the surrounding terrain. John Stuart found the pillar while trying to cross Australia in 1860 and the inscriptions left by him and his team still remain on the pillar.

I drove the Range Rover Sport from Mt. Dare to Chambers Pillar and it's quite amazing how much air suspension makes a difference across the rough corrugations of the road. The tactile nature of the Sport, along with the precise steering make it a pleasure to drive.
It's also quite keen to let loose on dirt roads too! Lift off slightly through a corner and the back end gracefully twitches, adding a bit of excitement to the roads. The driving position is also commendable, giving you the impression of a much lower car.

It was to be the last night under the stars and after a hard day on the road, everybody was keen to call it a night early – except one of the local dingos who stole a leather strap from a member of the catering crew, while he slept in a swag.
Day 6
The descent into Chambers Pillar is quite steep and challenging, so it was the perfect place for Land Rover to demonstrate just how capable each of these cars is.
We lined up each car to tackle the rough corrugations of the slope and they pulled through will no dramas.

The drive to Alice Springs from Chambers Pillar is around 160km and was a blissful one. Along the way, we saw countless abandoned cars, some quite recent.

The other thing that permeates in my mind is just how capable was the fleet of Land Rovers. We were able to cross some very rough terrain in vehicles that we see every day invading suburbia.

Unless you have serious support, it's not recommended that you try crossing the Simpson Desert in an SUV like the Freelander, but it goes to show that the car is capable of tremendous feats.
[gallery=377]