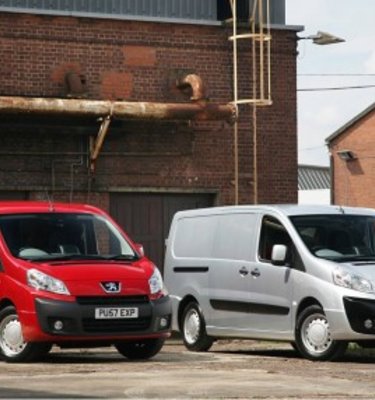 2008 Peugeot Partner and Expert LCVs – First Steer
2008 Peugeot Partner and Expert LCVs First Steer
French carmaker Peugeot's entry into the booming Australian Light Commercial Vehicle market could be seen as opportunistic, but it is certainly a case of better late than never.
-David Twomey
Peugeot has hit the LCV market, which has been one of the sales standouts of the Australian automotive market in recent years, with a couple of well placed, if oddly named, debutantes in the Expert and the Partner.
Both come with strong credentials from the European market and the Expert, which also masquerades as the Fiat Scudo and the Citroen Despatch, is the 2008 International Van of the Year, a lofty title indeed.
CarAdvice had the opportunity to look over both the new entrants and to take each for a short drive, we wouldn't be so bold as to say we have a good understanding of the on-road dynamics of either van, but can say they seem to be up to the general standard of other European competitors on our market.
To a certain extent a van, is a van, and driving an unladen box on wheels is always going to be a compromising experience.
What we can say is the both the Expert and the Partner are well equipped with most of the required safety gear, they are reasonably well powered, with, in the case of the Partner, three diesel engines and one petrol and for the Expert three diesel engines and come in a range of short and long wheelbases.
The driving dynamics of both are well-balanced with a reasonable level of refinement given the intended purpose of each vehicle. Both are well designed in the cabin with good ergonomics and plenty of storage options for all those bits and pieces that a van operator seems to end up carrying around.
It is certainly the case that the Partner, being the smaller and more car-like of the two has driving dynamics very much like a car and would be ideally suited to a range of light commercial uses in and around the city.
The Expert, being more of a box-van, has a higher driving position but again the vehicle is light and easy to manoeuvre and can be driven by anyone on a standard car licence.
Both the Partner and the Expert have excellent load carrying capacities and even the Partner can take a standard Australian pallet through the rear barn-doors.
Pricing for the Expert starts at $36,990 fr the SWB and rises to $41,590 for the LWB with the 2.0-litre, 100kW HDi.
The Partner starts at $21,990 for the 1.6-litre petrol and rises to $25,490 for the L2 1.6-litre HDi.
PEUGEOT EXPERT – THE DETAIL
The 2008 Peugeot Expert is an all new model in which comfort, passenger and driver safety, respect for the environment and versatility have all been improved compared to the previous generation vehicle.
Taking its inspiration from its predecessor, the new Expert van maintains the original position of a "Van/MPV". It now, however, has a more modern style, portraying a strong, durable and dynamic appearance, which will enhance the image of any driver through its bold stylish looks.
Peugeot Australia National Sales Manager Ken Thomas said the design of the sides of the vehicle provides owners with a suitable area for sign writing or promoting their companies etc.
The design of the bodywork, side protection mouldings, bumpers and door handles all create a real sense of quality, strength and durability.
The new Expert van is also equipped with door mirrors containing two individual adjustable mirror glasses - very useful for commercial use.
The Expert van comes in two wheelbases and two heights, and a new pneumatic rear suspension (standard on the L2 Professional), enables the rear load sill and the overall height of the vehicle to be lowered to 1894 mm.
The payload range has also been increased to 1188 kg (from 810kg or 930kg on the previous generation vehicle).
The two hinged, rear doors create a very wide opening space, due to the innovative 90° to 180° opening system which uses an adjustable "check strap" system.
Driver and passenger comfort and functionality remain the watchwords for the interior styling of the new Expert van. The interior of the vehicle has been designed to meet the requirements of a professional user and is both robust and comfortable.
Mr Thomas said active safety measures included on the new Expert van encompassed all the latest technology: Electronic Stability Program (optional), including an anti-roll feature (ROM) and traction control (ASR), while ABS and Emergency Brake Assist (EBA) are included as standard.
The new Expert van has a lot of convenience equipment more commonly seen on modern cars which can contribute to driver safety and comfort, such as: front electric windows, central locking, folding electric rear-view mirrors, fog lights, cruise control & speed limiter.
The new Expert van is fitted with electro-hydraulic power assisted steering on all models, which makes a huge contribution to driver comfort.
There are two versions of the 2.0-litre HDi diesel engine available for the new Expert van.
Developed in partnership between PSA Peugeot Citroën and Ford they produce either 88kW or 100kW and 300Nm or 320Nm of torque respectively. Perfectly capable of powering the van when fully laden, they also benefit from a high torque output at a low engine speed.
A significant development in the new Expert van range is the introduction of Peugeot's ML6C 6-speed manual gearbox, which has a "finned" gearbox casing to help improve cooling.
PEUGEOT PARTNER – THE DETAIL
The Partner van range will go on sale in Australia in September, launched in conjunction with the new Expert. When it is launched it will introduce a number of innovative features not seen before in this market segment.
The new Peugeot Partner van will be manufactured in Vigo (Spain) on Peugeot's number two platform, which it shares with the new Peugeot 308. It will be available in two body lengths (L1 and L2).
One very well equipped trim level will be offered, with two load volume and two payload options.
The Peugeot Partner van has been very successful over an extended period of time, and has proven itself in the very competitive European market. More than 1.3 million Partner vans have been manufactured since the vehicle was launched in 1996, with 155,000 of those delivered last year.
The new Partner is available in two body styles with a length of 4.38 metres and 4.63 metres, on a single wheelbase of 2.73 metres.
The load capacity of the new Partner van allows an effective load volume ranging from 3.3 m to 4.1 m3 with the Multi-Flex dual passenger seat; a payload of 750 or 850kg; an accessible load length of 1.80 metres (L1) or 2.05 metres (L2) which can be increased to 3.2 metres when the Multi-Flex bench seat is folded down; a maximum loading width of 1.62 metres; an effective load area height of 1.25 metres and a load sill height of 0.609 metres.
A new and unique feature, the innovative Multi-Flex dual passenger seat offers unrivalled modularity and enables the vehicle to carry two passengers, as well as the driver, a feature not previously offered in the small van market segment.
The new Partner van can be equipped with one or two sliding side doors. With an accessible width of 640 mm and an accessible height of 1100 mm, these doors create a wide opening directly into the load space. Sliding side doors are optional on all L1 models while the L2 model benefits from twin sliding side doors as standard.
All new Partner vans feature a driver airbag as standard and a passenger airbag is available as an option. All seats are fitted with three point inertia reel seat belts.
ABS with EBFD is standard, along with cruise control featuring a speed limiter. A passenger airbag as well as ESP (Electronic Stability Program) combined with a traction control system (ASR) are optional.
The four cylinder 1.6-litre, 16v petrol engine is equipped with indirect fuel injection and has a light alloy cylinder head with sixteen valves. It develops a maximum torque of 132Nm at 2500rpm and a maximum power of 66kW at 5800 rpm.
The entry-level offer in the diesel range is the 1.6-litre HDi 55kW engine. This aluminium based, four cylinder sixteen valve engine benefits from a second-generation common rail direct injection system, with a 1600bar high-pressure electronic pump. This engine owes its efficiency to its high torque output, which is available at virtually all engine speeds. Indeed, 90% of the maximum torque is available from 1250rpm. It also remains above 150Nm right up to 3500 rpm, improving overall driveability.
The 1.6-litre HDi 66kW engine is at the heart of the diesel range. Based on the 55kW version, it strengthens and further benefits this engine, namely its high torque output at low engine speeds, good in-gear acceleration, consistent performance when loaded and reduced running costs.
With a maximum torque output of 215Nm at 1750 rpm it offers an even broader operating range, since at 4000 rpm the available torque is still 158Nm. Fuel consumption in the combined cycle is the same as the 55kW version, namely 5.8L/100km, with CO2 emissions of 153 g/km.
2008 Peugeot Partner and Expert LCVs – First Steer