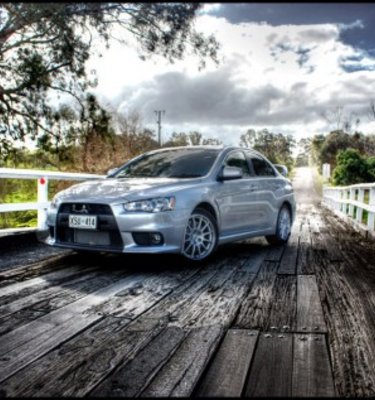 2008 Mitsubishi Lancer Evolution Review
2008 Mitsubishi Lancer Evolution Review & Road Test
Pure weapons grade adrenalin
Model Tested:
2008 Mitsubishi CJ Lancer Evolution X sedan 2.0 litre four cylinder turbo five speed manual - $59,490 (RRP)
Options:
Metallic Paint $350 (Fitted); Performance Pack $5,500
Muscular Power Delivery, Strong Brakes, Gargantuan Grip Tyre & Wind Noise, Poor Wipers, Steering Communication
CarAdvice Rating:
- by Matt Brogan
Every so often I'm lucky enough to encounter a car that manages to turn me in to a stammering, over excited mess before I've even had the chance of a drive. More often than not though, the results aren't worth the hype and I'm left feeling empty and wanting, waiting for the next one to come along – not this time
Mitsubishi's tenth generation Evo is pure weapons grade adrenalin muscularly forged over obdurate eighteen inch alloys. Inarguably the best value for money performance car on the Aussie market and having driven Subaru's reticent WRX STi and Volkswagen's righteous R32 Golf it's clear that I've left the best 'til last.
From the rapaciously predatory front end with ducted bonnet vents and front mount intercooler proudly hinting at the performance potential underneath, to the insatiably aggressive lines stemming from the vents of Lancer's electrifying side profile or that corpulently upright backside with dual exhausts and diffusers underneath, every angle's an absolute charm and only further enhances the overall experience to give the Evo a palpable performance edge, even before the ignition's turned on.
But while looking fast at standstill is probably enough for those with a weak ticker, standing around gawking at it is a job best left to those still in school uniform or "yes dear" husbands with their wedding tackle under lock and key. For me? I'm heading for the hills, G-Tech in hand to see if the new Evo is indeed all it's cracked up to be.
The first thing you notice when driving the Evo, aside from the roman numerals now missing from the badge, is just how placid and docile it can be when poking around town. Its purpose is certainly evident, and little prods of the throttle will make that immediately and abundantly clear, but should you need to keep it on the chain it's very easily done.
But to not unleash the Evo would be like pulling back a slingshot and not breaking a window, it has to be done, and what better place to do it than snaking through Victoria's magnificent high country where high hills and hairy hairpins, crisp crests and free flowing corners beckon a more liberated driving style worthy of such an exhilarating machine.
A light and ultra responsive all-new, all-aluminium 4B11 2.0 litre turbo charged MIVEC four cylinder engine with an intense 217kW @ 6,500rpm and indomitable 366Nm @ 3,500rpm pulls hard from mid tach with a feverish metallic howl which when kept north of four and a half grand is positively prodigious. There's also a sweet, willing induction note and undeniable turbo whistle to keep your ears involved, even if the exhaust note is a might subtle.
The variable valve timing, now on the inlet and exhaust valves, can be felt again and again as you surge seamlessly through each of the direct shifting close ratio gears before reaching crescendo just south of the 7,600rpm rev limiter for that final dive back down the cogs under brakes.
Shift feel is so exact and so quick that a sharp stab of the perfectly weighted on/off clutch and a brief throw of the wrist sees exact, fast changes in either direction, which is especially comforting when coming in a little hot under brakes.
You'll need to be on your toes though, drop too many revs and the re-spool, though quick enough, will see a little flattening out in speed, but rest assured, the box is an easy one.
First through fourth are like a traditional close ratio race box offering blistering acceleration out of the corners while fifth feels like a huge leap away, complete overdrive. Perhaps fittingly, the shift pattern placement mirrors this sentiment perfectly.
Combined washer & intercooler spray reservoir and battery are boot mounted
The traction on offer from Mitsubishi's revised tri-mode (Tarmac - Gravel - Snow) torque vectoring S-AWC (Super All Wheel Control) all wheel drive system is just remarkable and in hard corners, especially those with a slight change in camber and/or altitude, you can feel it working underneath you, throwing the torque to where it can best be utilised - the outside wheels.
Not only does this assist the already brilliant turn-in characteristics on offer, but in being able to send drive to any wheel at any time helps maintain mid-corner pace, poise and grip for a quicker exit speed.
Steering feedback is not quite as communicative as you'd expect, but in saying that I don't think it detracts from the experience at all. The turn-in rate is quicker than I expected though and the chassis ultra-compliant, leading you to wonder just how hard you have to push before it'll let go, which with sophisticated Active Yaw and Centre Differential electronics and a two stage ESP system is pretty damned hard. Fortunately at this point the tyres will let you know before the worst happens.
You can feel the rear end working double time too, almost as if it's responding to the orders barked from further forward. The front diff boasts a helical limited slip set up for better lateral torque split and the back shuffles in to place to take up the slack immediately. It's positively brilliant.
By utilising aluminium in key areas of the Evo's body, such as the roof panel, front guards and rear spoiler structure, considerable weight savings have been made to help offset the gains acquired in fitting the all wheel drive system. Better still the alloy sections are all higher in the body meaning a lower centre of gravity has been achieved to further assist mid-corner stability.
The braking performance not surprisingly is yet another strong point of the Evo, and with the big Brembos pushed hard in to the floor it's almost a case of who'll chicken out first - you or the brakes. The car won this round and with braking left as late as I was prepared to leave it the results surprised me time after time.
There's superb pedal response with a uptake big bite, ABS stays out of the way until absolutely necessary and speed is washed off instantly, all with no fade. Run it hard corner after corner and the result is the same each and every time, and you've gotta love that!
As performance sedans go, a barebones interior is about the best you can usually hope to expect from what is fundamentally a compact sedan, and although there's no escaping this is still a Lancer, a long list of standard features means that you can have your cake and eat it too.
Climate control air conditioning, trip computer, six stack CD tuner, power windows and mirrors, cruise control (license preservation device), voice activated Bluetooth connectivity, auto wipers, dusk sensing headlamps, fog lamps and perhaps best of all hip hugging Recaro racing seats.
On the down side I have to say the wipers are a bit of a token effort. I'm not sure whether it's the bulk of the old school metal arms sitting above the bonnet line or the vorticies produced from the bonnet grilles, but at speed they simply cannot maintain pressure on the glass and become effectively useless.
While around town or on long highway runs the Evo's ride is a bit of a mongrel, it's every bit a thoroughbred when allowed the chance to run, and it's this aspect of the car I truly love - a complete lack of compromise. It's a racer, a damned good one and if you're after comfy seats and posh little trinkets then go look elsewhere.
The Evo is serious, dedicated and I for one am glad there's been no dulling down. The frenetic performance, razor sharp handling and ferocious grip put Evo a nose ahead in every respect.
CarAdvice Overall Rating: How does it Drive: How does it Look: How does it Go:
Specifications:
Engine: 1998cc DOHC four cylinder (16 valve)
Induction: Multi Point & Turbo Charged
Power: 217kW @ 6,500rpm
Torque: 366Nm @ 3,500rpm
Transmission: Five Speed Manual
Differential: Front, Centre & Rear with LSD
Brakes: Four Wheel Disc with ABS, EBA & EBD
Driven Wheels: All Wheel Drive
0-100km/h: 5.97 seconds
0-400m: 13.76 seconds @ 171km/h
Top Speed: 242km/h
Fuel Type: 98 Octane Premium Unleaded
Fuel Tank Capacity: 55 litres
Fuel Consumption: 10.2 litre / 100 km (Combined)
Airbags: Front, Side, Knee & Curtain
Safety: ESP with Traction Control
Service Interval: 12 months / 15,000km
Spare Wheel: Space Saver
Turning Circle: 11.8 metres
Warranty: 5 year / 130,000km
Weight: 1,565kg (Tare)
Wheels: 18 x 8.5" Alloy
2008 Mitsubishi Lancer Evolution Review