Mercedes yesterday launched the latest addition to its line-up - the CLC-Class. Naming it the Sports Coupe, Merc has declared it an entry level coupe in the three-pointed star's local offerings.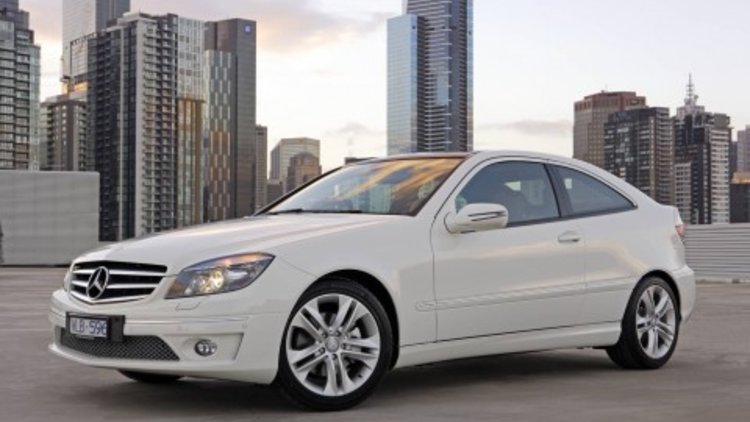 In an insight into the demographic this car is aimed at, Mercedes say that this car satisfies the "discerning requirements of young drivers looking for an athletic car."
Proudly boasting that there are greater than 1100 improvements over the last Sports Coupe we saw in Australia, Mercedes is pushing the economy barrow, with a claimed seven percent reduction in fuel consumption from its supercharged four-cylinder - combined cycle is 8.4-litres/100km for the automatic. But it also says that power is now up, to a healthy 135kW from the 1.8-litre engine.
There's also a new direct-steer system, which it's claimed offers more agile cornering. Curiously, though, an automatic transmission is standard. If it's supposed to be more sporty, wouldn't the no-cost option manual have been a better fit? Not according to the company, who has gone with paddle shifters on the steering wheel, to maintain the sporty character.
Three models will comprise the line-up - the C200K Kompressor, C200K Kompressor Evolution, and C200K Kompressor Evolution +. Prices are at the bottom of the page, along with a specification table, below, taken from the press release.
| | |
| --- | --- |
| Cornering light system: This bi-xenon headlamp lighting function provides more safety at road junctions and driving slowly around tight bends. | Only in conjunction with bi-xenon headlamps |
| Adaptive front airbags: The front airbags are deployed in two stages depending on impact severity. | Standard |
| Bi-xenon headlamps: Gas-discharge lamps for main and low beam improve safety when driving at night. | Standard with EVOLUTION and EVOLUTION + |
| COMAND APS: Infotainment system incorporating DVD-based navigation, AM/FM radio, CD/DVD player and convenience telephone keypad | Optional |
| Direct-steer system: Based on the speed-sensitive power steering, a steering rack with a variable, sporty, dynamic ratio has been developed that provides a more direct response on bends and thus more agile handling. | Standard with EVOLUTION and EVOLUTION + |
| ESP®: This driver safety system can reduce the risk of skidding when cornering and alerts the driver to any loss of tyre pressure. | Standard |
| Headlamp Assist: A sensor on the windscreen detects low light conditions and automatically switches on the vehicle lights. | Standard |
| Belt-force limiter: This technology reduces the force exerted by the belt strap on the seat occupant during a crash. | Standard |
| Belt tensioner: Any slack in the seat belt strap is instantly taken up during a crash to reduce the forward movement of the occupants caused by the impact. | Standard |
| THERMATIC automatic climate control: This system controls two temperature zones and offers numerous adjustments for individual passenger comfort. | Standard |
| THERMOTRONIC luxury automatic climate control system: This system provides two-zone climate control for the interior, and includes further functions such as diffused, draught-free ventilation, and combination filter with air quality sensor. | Fitted as standard to EVOLUTION + but optional on the other two variants |
| Multifunction steering wheel: The radio, telephone, navigation system, display and other devices can be operated from the steering wheel. | Standard |
| Paintwork: Nano-technology makes the paint finish more scratch-resistant and ensures a higher sheen. | Standard |
| LINGUATRONIC: The voice-operated control system operates the radio, CD player, CD changer, navigation system and telephone - using whole-word commands for the first time. | Optional and only available in conjunction with COMAND APS |
| Memory function: Three memory settings are stored for both the driver's and the front passenger seat. The settings for the steering wheel and exterior mirrors are also stored. | Fitted as standard to EVOLUTION + |
| Panoramic sliding sunroof: A large glass surface extending from the front windscreen to the rear window. The front section slides to the rear at the touch of a button. | Fitted as standard to EVOLUTION + but optional on the other two variants |
| PARKTRONIC: Ultrasound sensors assist the driver when parking. | Standard |
| Sidebags: These airbags reduce the risk of injury during a collision from the side. | Standard |
| Sound system: A 12-speaker 320W multi-channel system with innovative digital technology allows all passengers to enjoy surround sound. | Optional |
| Sports suspension: Firmer spring and shock-absorber set‑up; the body is lowered by 15 millimetres at the front and 5 millimetres at the rear. | Standard |
| Windowbags: This large airbag extends from the A to the C‑pillar like a curtain during a collision from the side. | Standard |
*selection
Key facts at a glance: the Mercedes-Benz CLC-Class Sports Coupé range
| | | | | | |
| --- | --- | --- | --- | --- | --- |
| Model | Power | Torque | 0-100km/h | Price* | Available |
| CLC 200 KOMPRESSOR | 135 kW | 250 Nm | 8.6 seconds | $49,900 | Now |
| CLC 200 KOMPRESSOR EVOLUTION | 135 kW | 250 Nm | 8.6 seconds | $53,900 | Now |
| CLC 200 KOMPRESSOR EVOLUTION + | 135 kW | 250 Nm | 8.6 seconds | $58,988** | Now |