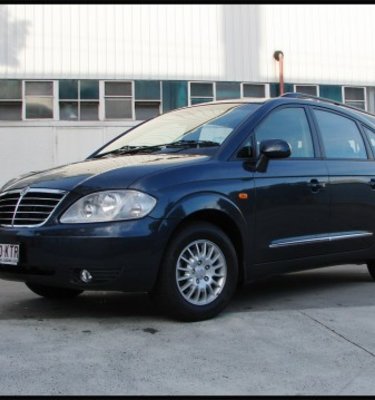 2008 SsangYong Stavic Review
2008 SsangYong Stavic SV270 SPR Review & Road Test
If you're more of a features person, Stavic may suit you down to the ground
Model Tested:
2008 SsangYong Stavic SV270 SPR 2.7 Xdi Automatic - $39,990 (RRP)
Full of Features, Smooth Auto Transmission, Roomy second Row Awkward Appearance, Rough and Noisy Ride, Quality Issues
CarAdvice Rating:
- by Matt Brogan
SsangYong proudly announces the latest version of the Stavic as a luxurious yet affordable large sized MPV, and if you were to take the extensive feature list purely on face value then you'd have to agree it's a sweet deal for the price. But is it really such a bargain, or does the age old adage of getting what you pay for still ring true?
To kick things off, let's tackle the big one, the not too delicate matter of Stavics' polarising looks. With large headlights and somewhat classy chrome grille the Mercedes influenced front end is almost bearable in isolation, and if you were to see the car solely from the front you could almost be forgiven for thinking it's quite smart to look at. But start to get a little profile in to the picture, or worse still wander round the back, and everything just becomes a little Pablo Picasso.
And by Picasso I don't mean that classy little French number either, I mean the having ears where your nose should be kind of Picasso.
The rear window is of particular intrigue, almost seeming like a wedge of glass has been sat atop the curved rear window to form a wagon. It's a bizarre design but not only does it make for a peculiar exterior, it also deprives the rear passengers from seeing out while at the same time hindering the driver's blind spot.
So fair enough then, it's not the prettiest of transport, but unfortunately once inside, things aren't a great deal better. The 'pleather' (plastic leather) trimmed seats have quite a strong odour and the layout whilst seemingly generous lacks headroom in the third row seats.
Luggage space is disappointing considering the overall size of the vehicle too and I think that if you were to head away with seven people and their gear for even a weekend then you'd struggle to find a place for it all.
Driver and passenger seats are rather difficult to get in and out of because there are no grab handles on offer and the seat pad is above the height of an adult's hip. Short folks, like myself, may find entry and egress quite an aerobic feat. Hardly luxurious.
The centrally mounted instrumentation display appears cheap and suffers inaccuracy due to parallax error. Furthermore its vivid green back lighting cannot be dimmed at night which makes for a disconcerting glow in your peripheral vision.
The park brake is a foot operated ratchet type deal and has the unfortunate propensity of being at shin level when in the released position so the natural instinct is to raise your knee and rest your foot flat underneath you. That's fine until you want a drink but it's then you realise your knee strikes the retractable cup holder, so you can't win either way.
But for all the downsides surely the state of the art common rail turbo diesel engine must provide some relief, or at least decent fuel economy right?
Powering Stavic is a 2.7-litre, five-cylinder, turbo diesel that manages a mediocre 121kW at 4000rpm and lifeless 340Nm from 1800 revs. The delivery is loud, quite rough and sends a strong vibration through the cabin, especially when fully loaded – as if the existing plastic rattles weren't enough.
On the upside SsangYong's five-speed T-Tronic transmission does manage a respectable job of shifting smoothly and when left in auto mode, is clean of shift and quick to respond, without doubt the highlight of the vehicle. It also manages to remember your driving style and adjusts the shift points accordingly and through the use of a lock-up torque converter wastes little of the available power.
Sadly though it can do nothing to recover the fuel economy figures which although claimed to be 8.7-litres per 100km combined, were in reality a shocking 18.6 litres average round town and 10.0 on the open road (seven people on board - no luggage).
Performance isn't exactly a strong point for the tubby Stavic and though you don't expect an MPV to be a rocket ship, getting from 0-100km/h took a leisurely 15.1 seconds. There's a noticeable turbo lag from standstill and overtaking is a considered challenge though not a highly recommended one given the vehicle's lack of stability at speed.
Dual wishbone front end and ten point multi-link rear suspension is rather stiffly sprung affair and seemingly counteractive to the rigid chassis. It's hard to file smoothly through corners without rear end drift and the extended ratio rack and pinion steering does little to sharpen response.
Braking is quite decent thankfully and perhaps surprisingly the pedal feel is not too shabby. The ABS is well calibrated to the Stavic's considerable mass and with EBD on board you can manage a rather hasty stop if need be, even in the wet.
The ESP too is quite well sorted and is neither overly sustained nor brutal in its approach to sorting your directional control, meaning you can still maintain momentum rather than being brought to a complete halt before setting off again.
So, back to that extensive feature list I mentioned, for $40,000 even I have to admit, it isn't all bad. Electric tilt/slide glass sunroof, roof rails, AM/FM cassette (raises eyebrows) and single CD player, heated electric folding mirrors, power windows, cruise control, eight-way adjustable power driver's seat with memory, front seat heaters, reversing sensors, tilt adjustable steering wheel with audio controls and auto shifter buttons, dual-zone climate control with rear heater outlets, remote central locking with alarm, 16-inch alloy wheels, front and rear mud flaps, roof spoiler with integrated stop light, front fog lamps, and dusk sensing adjustable head lights.
Curiously some of these features whilst good on the outset are a little flawed in execution. Take for example the speed activated locks. Although common place in many cars these days, on Stavic they don't activate until 60km/h. So close to home I managed to drive all the way to the shops (50km/h zone), stop at several intersections, park and jump out, all without the feature having activated.
Then there's the heated element under the wipers to prevent icing to the windscreen on cold nights. Great idea, but the passenger side wiper doesn't park low enough to actually reach the element's range. And finally the seat heaters, which don't appear to have any thermostatic control or adjustment in setting which means that after 20 minutes your rear end resembles human crackling.
Keeping you safe are dual front airbags, ESP, traction control and ABS with Electronic Brake Force Distribution, though side and curtain airbags don't make the list, even as an option. But perhaps of most concern I was unable to find an ANCAP or Euro NCAP rating with even the NHTSA listing the crash test as 'not available'.
So as you can see it's not all doom and gloom, and at $5700 a seat it's not a bad deal for the price. People who are keen on their features may be drawn to the array on offer but for me personally I just can't get past the in your face looks, never ending rattles and miserable resale.
CarAdvice Overall Rating: How does it Drive: How does it Look: How does it Go:
Specifications:
Engine: 2696cc DOHC five-cylinder (20 valve)
Induction: Common Rail & Turbo Charged
Power: 121kW @ 4000rpm
Torque: 340Nm @ 1800rpm
Transmission: Five-Speed Automatic
Brakes: Four-Wheel Disc with ABS & EBD
Driven Wheels: Rear
Fuel Type: Diesel
Fuel Tank Capacity: 80 litres
Fuel Consumption: 8.7-litres/100km (ADR)
Safety: ESP; Dual Front Airbags; TCS
Service Interval: 6 month/10,000km
Spare Wheel: 16-inch Steel
Turning Circle: 11.2 metres
Towing Capacity: 2500kg (Braked)
Warranty: 3 year/100,000km
Weight: 2034kg (Tare)
Wheels: Alloy 16-inch
2008 SsangYong Stavic Review