The 2013 Nissan Pathfinder will target popular car-based mid-sized SUVs such as the Ford Territory and Toyota Kluger after switching from the current model's off-roader-focused underpinnings.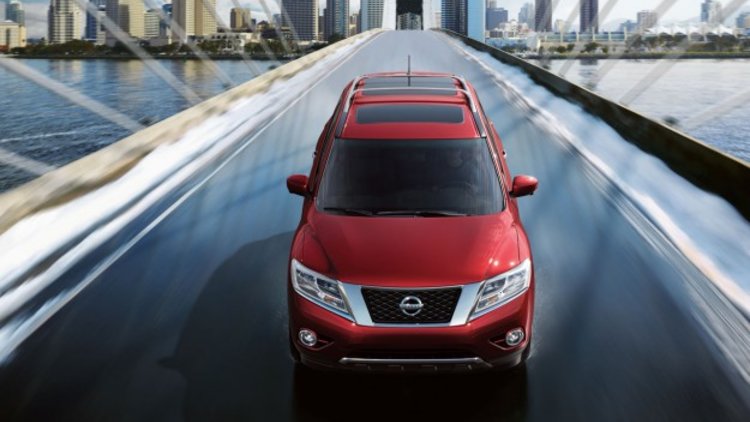 Nissan's current Pathfinder is biased towards off-road ability with a traditional 4WD body-on-frame chassis but the new model instead employs a monocoque, one-piece construction like the Falcon-based Territory and Camry-based Kluger.
The move reduces the Pathfinder's weight by a huge 227kg - which helps fuel economy among the advantages – and also allows for improved driving manners and reduced interior noise and vibrations.
Nissan says it changed the Pathfinder's approach owing to declining sales of traditional 4WDs and the shift of buyers towards family-oriented, car-based SUVs.
"There's still demand for authentic SUVs, full-size trucks [US term for SUVs] to have towing performance to go off-road, it's just that this particular segment has shifted to a family product," Carla Bailo, president of Nissan's technical centre in North America, told CarAdvice at this week's 2012 Detroit motor show.
"People want fuel economy, spaciousness and that's [through the monocoque chassis] how we can deliver it."
Nissan Australia boss Dan Thompson says, however, that while the new Pathfinder will be better to drive on road it is aiming to retain the off-road capability of the current model.
"The target for new Pathfinder was to at least do the same capability [off-road]," he says. "We're not looking to engineer a better off-road vehicle, but looking to hold at least what we have today."
Thompson says the change will make the Pathfinder a stronger competitor against the Kluger and the Territory, which ended 2011 as Australia's best-selling SUV.
"It's fair to say our current R50 Pathfinders are more on the authentic side [for off-road], which is why we sell 200 a month and not 1000 a month because that segment [authentic SUVs] is shrinking. Our objective is to retain all the existing Pathfinder customers while conquesting 80 per cent more volume from Kluger and Territory."
In Australia it's expected to achieve sales of around 10,000 per year, which will be a near 80 per cent increase over the current model.
The new Pathfinder's designer, Alfonso Albaisa, vice president of Nissan design centre in North America, said: "We have Pathfinder, and this famous name is linked to an authentic SUV [with] boxy proportions.
"(But) customers are turning their heads away from that segment. The romance and fantasy [with authentic off-road SUVs] is on the lips but not hearts."
He said the new Pathfinder is a "little more sleek, conscious of wind noise, fuel economy [and] comfort" but still "shows masculinity in the body [and a] sense of capability".
"Customers want a reward, want it to be stylish, want to have it feel like it can do anything but want to get in the back seat comfortably. [They] want to be able to have a conversation between the third and front rows."
The arrival of the 2013 Nissan Pathfinder is still around 18 months away.
Nissan Australia is likely to get customised suspension settings for our roads. When asked about localised testing, Bailo said, "You don't want to put a car on the market when you've never taken the car there before."
Nissan says it benchmarked the new Pathfinder against the Toyota Kluger and Honda Pilot (not sold in Australia).
2013 Nissan Pathfinder targets Ford Territory