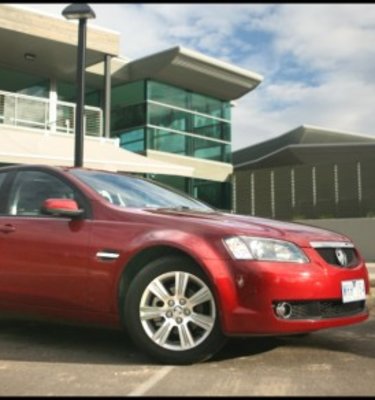 2008 Holden Sportwagon Review
2008 Holden Calais Sportwagon Review & Road Test
Has Holden re-invented the wagon as we know it?
Model Tested:
2008 Holden VE Calais Sportwagon 3.6-litre V6, automatic - $46,790 (RRP)
Options:
Leather Trim with Eight Way Adjustment, Memory & Heated Mirrors $3000 (Fitted); Cargo Barrier $560; Sport Suspension & LSD $720; Full Size Alloy Spare Wheel $250; DVD System $1290; Full Colour Satellite Navigation $1990; Turn By Turn Satellite Navigation $1290; Metallic Paint $400 (Fitted)
Exterior Presentation, Easy Load Area Access, Capable Handling Rearward Visibility, Coarse Engine & Auto, Diminished Cargo Space
CarAdvice Rating:
- by Matt Brogan
Holden seems to be bursting with pride over the release of its VE wagon, it's almost as if it has reinvented the wheel. But is the new Sportwagon really a revolutionary step forward or just a Commodore with a nice behind?
Better yet, let's put it this way. Imagine you're at one of those speed dating nights, and after the passing parade is done you're down to the final two. Contestant number one is drop dead gorgeous, everything is in the right place and the proportions measure up just fine - simply stunning, but that vacant stare and cute giggle simply won't see it past the morning. Contestant number two on the other hand has it all together, a great job, double degree, is confident, smart and makes you feel good about yourself but is a little plain when all is said and done. So, who's it going to be?
The VE already has a tough stance, with masculine lines and an imposing wide track under those large flared guards it was what buyers wanted from Holden's hero car, and pleasingly the wagon doesn't detract from these values at all. It's a handsome car from every angle and with the added practicality and versatility of an open end rear it's sure to prove a winner among family buyers wanting car-like feel without SUV bulk.
Calais Sportwagon in Red Passion metallic.
The new tailgate design, which is hinged further forward on the roof line, allows easy access in tighter car parks and with higher entry clearance means no more bumps on the head come grocery day. The luggage space, despite being somewhat smaller than we've come to expect from Commodore is at 895 litres (to window height - seats up) still quite sufficient, and usable thanks to the completely flat floor. Sadly though it is 359 litres lesser than that of its nearest competitor and even with the 60:40 split fold seats down still doesn't measure up to that of Ford's BF III Falcon.
Our road test vehicle, the V6 Calais, sits toward the top of the Sportwagon model line up and is suitably speced for a vehicle of its price tag. Offering 17-inch alloy wheels, dusk sensing projector beam headlights, multi-function trip computer, front fog lamps, and rear parking sensors it's certainly a looker, and is far better kitted than the base-model only Falcon equivalent.
Cabin space is benign in appearance with an alloy look centre console and dashboard being appealling to the eye as well as neatly contrasting the black plastic and leather throughout. It's quite simple in layout and offers an appropriate feature list and generous seating proportions for your outlay, especially in the rear leg room department where many modern cars tend to be lacking.
Cruise control, power windows and mirrors, bluetooth mobile phone connectivity, dual zone climate, six stack CD tuner with auxiliary plug in, and steering wheel mounted audio controls are all included as standard kit with satellite navigation, leather trim (seat heaters not available) and heated mirrors being available for a few dollars more.
But for all its good looks and honest value the Sportwagon is not without its flaws and rather unfortunately these primarily centre around the vehicle's somewhat antiquated drivetrain technology, which unlike Holden's stonking 6.0-litre V8 is entirely without merit, boasting none of the features one would expect from a modern V6.
The 3.6-litre DOHC engine offers a healthy 195kW at 6500rpm and adequate 340Nm from just 2600rpm, but it's terribly coarse in delivery and rather raucous under acceleration which can detract from what is otherwise a pleasantly quiet cabin. There's noticeable vibration under load and for all the fuss made the resulting performance isn't what I'd call rewarding which is a let down considering this is the Sport-wagon.
A five-speed auto with active select manages an average job of swapping gears but feels quite rough on the whole with a slight thump felt on changes both up and down the range. It's not bad in terms of decisiveness and can quickly sort the right cog for the job but simply isn't smooth in doing so.
Fuel economy is claimed at 11.3 litres per 100km, though ADR tests are carried out with 95RON petrol and for the life of me I couldn't replicate anywhere close to this with the recommended 91RON fuel on board. Mid-14.0L/100km were seemingly the norm, even higher once loaded with the guys and their gear and even on the open highway dipping in to single digits took careful driving to achieve.
Perhaps by means of redemption the linear control suspension with MacPherson strut front and multi link rear is very well sorted and offers a smooth ride that, although bordering on being a little firm when unladen, provides a surprisingly well sorted car in terms of road holding, and this is without the optional sports suspension and limited slip differential being fitted.
Steering is a little firm but offers reasonable road feel and feedback whilst braking is positive and sure footed, with ABS, Brake Assist and Cornering Brake Control providing ample stopping power, even if the pedal requires a little extra input pressure to achieve good results. The pedal isn't as progressive and sweet as European counterparts but once you're used to pushing a little more it becomes second nature.
Optional Onyx Leather Trim package includes position memory and heated mirrors
The VE's notorious A-pillar visibility is of course ever present though the super thick D pillar makes this issue pale into insignificance. There's a considerable blind spot when lane changing, and reversing from 45-degree parks can mean sticking the tail into traffic a little further than is desirable to get a clear view.
Couple these niggles to the fact there is not yet an LPG option, or that you cannot option a sunroof on the entire range and perhaps most annoyingly that the ignition barrel isn't illuminated then some drivers may look else where. But for me the swift, flowing handling, nifty fold or retract cargo blind (borrowed from Saab), 12V outlet in the cargo bay and SAAB like dash (where all the lights go out except the speedo) do win back a few points. I guess it's a compromise thing.
Seemingly I'm not alone in my mixed feelings for the new Sportwagon with many punters offering no more than a gentle shrug when asked their thoughts, and whilst this apathetic view of Aussie cars is becoming a little more common, with such fierce competition so closely matched in price, it's not hard to see why.
Truth said the smaller cargo area doesn't faze me, and I can work around the visibility issues, but the driveline problems really do need addressing - and fast - so in the interim let's just hope the Sportwagon can get by on looks alone. So for my money, I'm taking home contestant number two.
CarAdvice Overall Rating: How does it Drive: How does it Look: How does it Go:
Specifications:
Engine: 3.6-litre V6 DOHC (24 valve)
Power: 195kW @ 6500rpm
Torque: 340Nm @ 2600rpm
Transmission: Five-Speed Automatic
Driven Wheels: Rear
Brakes: ABS with CBC, EBA & EBD
Top Speed: Not Tested
0-100km/h: 7.5 seconds (Tested)
0-400m: 15.53 seconds (Tested)
Fuel Consumption: 11.3 litres/100km (Combined ADR)
Fuel Tank Capacity: 73 litres
Fuel Type: 91RON Unleaded
ANCAP Rating: Four Stars
Safety: Front & Side Airbags, ESP, Traction Control
Service Intervals: 12 month/15,000km
Spare Wheel: Space Saver
Tow Capacity: 2100kg (Braked)
Turning Circle: 11.4 metres
Warranty: 3 years/100,000km
Weight: 1841kg (Tare)
Wheels: 17 x 7.0" Alloy
2008 Holden Sportwagon Review