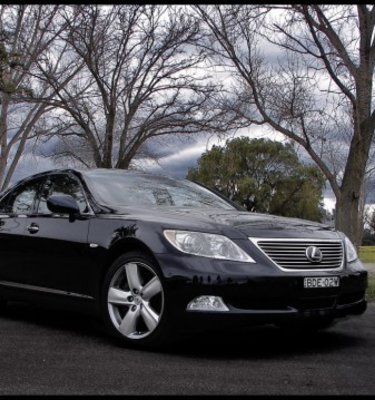 2008 Lexus LS460 Review & Road Test
L•S |ˈɛl ˈɛs | (abbr.) - Lederhosen Shakedown
Model Tested:
2008 Lexus LS460 sedan 4.6-litre automatic - $194,891 (RRP)
Spacious & Comfortable, Simple Functionality, Well Appointed
Diminished Boot Space, Soft and Heavy Handling Attributes
CarAdvice Rating:
- by Matt Brogan
As flagship of the Lexus range this fourth generation LS should have the German big boys shaking in their lederhosen. It's considerably cheaper, is similarly well appointed, and offers all the technical refinements and precision engineering expected from a car of such lofty status. But is it really a comparable and credible competitor to the well respected Bavarian marques, or is it simply a sheep in wolf's clothing.
The history of the LS dates back some 25 years when Eiji Toyoda, then chairman of Toyota Motor Corporation, initiated the 'Circle-F' project. The concept was straight forward - produce a world-class, full size luxury sedan that would rival the Mercedes-Benz S-Class, Audi A8 and BMW 7-Series on the international stage. There were no budget or time constraints, nor were there set design rules or platforms to work within. It was an engineer's dream, a creative free-for-all, and from that seemingly simple vision was born the very first LS in 1989, and subsequently Lexus as we now know it.
Humble beginnings though they may have been, from them arose a mass of experience in both production intelligence and research and development work to create a car that has adapted itself to suit the needs of a modern age. Although complex and technologically marvelous underneath, it remains simplistic in function, almost traditional, something the Germans seem to have long since abandoned.
Externally LS commands an authoritative presence, albeit with well considered refinement. A dominant facade and bold grille yield softly at the edges to a sleek, flowing profile and haughty rear end with integrated exhaust outlets that hint of something beneath, enveloping both power and quiet dignity, a characteristic often lost in modern day mass produced prestige cars.
The first model to boast Lexus' new L Finesse styling queues, the sweeping lines and lustrous paint, which is wet-sanded twice by hand between each coat, present a passive yet assertive style - or proud elegance if you will - an approbation that only the best top-shelf vehicles can expect to achieve without being ostentatious or arrogant.
Inside those beautifully weighted doors an insular feeling of well-being awaits in a light and spacious cabin offering comfort levels worthy of your favourite recliner. The mix of wood grain, ecsaine, leather and plastic can feel overdone in some respects though this is soon forgotten once settled in to the hand polished, heated and air-conditioned, leather seating.
The pews are generously proportioned, well cushioned and appropriately supportive, and as well as being electronically adjustable in 16 directions they also offer three memory settings for four of the five seating positions.
The Mark Levinson Reference surround sound system incorporates some 19 speakers, a six-disc CD changer and console mounted iPod integration and although the sound quality is decent when playing music, it is, by far, most impressive when utilising the aircraft style roof mounted fold down screen for viewing DVDs. The experience is involving, stunning, in fact it's better than most home theatres and with the electrically operated privacy shades in place on the rear glass, viewing is a pleasure, even on bright sunny days.
Urbane styling with user-friendly form and function means mastering the LS is a delightfully easy process for which no I/T degree is required, in fact it's so simple I didn't once need to reach for the owner's manual. Climate, audio, navigation and ancillary systems are all quite rational in lay-out and though some of the switch gear feels a little on the ad-hoc side, it is well placed and does not detract from the overall feeling of quality.
Placid yet purposeful propulsion comes thanks to a 4.6-litre, quad cam, V8 with VVTi (variable valve timing) that runs small electric motors to continually retune the inlet valve timing while a more customary mechanical setup is used on the exhaust side. Believe it or not the engine is also checked by a specially trained technician who uses a stethoscope to detect any acoustic abnormalities prior to final tuning. Impressive.
Producing 280kW at 6400rpm the power is surprisingly lithesome and linear, and best of all offers a sweet V8 growl under heavy acceleration. Torque at 493Nm at 4100rpm isn't exactly going to see you in need of a trip to the chiropractor but it does manage to make a meal of hills and even gets the 1945kg beast from standstill to 100km/h in just under six and a half seconds.
A world's first eight-speed automatic transmission with 'AI' (Artificial Intelligence) and simulated sequential shift is in charge of cog swapping and is said to be able to anticipate gear changes before they're required whilst at the same time being imperceptible to the feel - er, not quite. A few subtle jolts can be felt on kick down and there is a moment or two of thought required on the odd occasion, but provided you're driving the LS in its intended fashion, the gearbox should sate most buyers requirements.
Fuel efficiency is surprisingly frugal given the mass of the car and displacement of the engine. Mid-11.0L/100km averages are manageable, even lower on highway cycle and even when driven less cautiously, mid-14.0L/100km were about the worst results noticed. For my week with the LS I returned 11.6 litres per 100km with combined city and highway driving.
The air sprung ride of the LS is about where you'd expect a luxury sedan to be, and certainly doesn't disappoint in terms of being both comfortable and quiet, but this is somewhat to the detriment of the vehicle's handling. Whilst it is certainly not a poor handling car, and does offer three modes of damper setting (Comfort/Normal/Sport - with the added bonus of lifting the front for steep driveways), it does carry a lot of inertia into corners producing noticeable body roll during more abrupt manouvering. Driven in gentlemanly style, this shouldn't prove an issue.
Steering feel and feedback is light but tangible and with a better turning circle than most similarly proportioned cars, parking is a delight, assuming you chose to do this for yourself of course. Lexus has self parking on the LS and whilst it is a novel idea and does indeed work in some instances, it can be a little futile and difficult to adjust outside certain parametres. Rain, and poor light can confuse the situation and should you need to reverse up a slight incline then forget it, for as soon as throttle input is detected, self park is canceled. Fortunately a very good reversing camera with on screen assist and audible parking sensors are included for good measure.
An ingenious brake hold feature and automated parking brake assist whilst at rest prove most handy and though it is a large car the braking capabilities are certainly very capable while a progressive pedal offers precise feel and tremendous feedback ensuring a smooth stop for you and your passengers.
Clever radar cruise control keeps a safe distance between you and the car in front (when activated) and with auto dipping mirrors, self folding wing mirrors, thoughtful interior lighting, self-cornering dusk-sensing xenon headlamps and auto wipers it almost feels as though the LS could drive itself.
You're also met with the usual interior refinements including an electronic glass moonroof, refrigerated cooler box between the rear seats - just the ting to keep the Champers on ice, mirror and seat position memory for three people, rear seat audio, climate and DVD remote control, "Smart" entry/egress key fob with panic alarm, heated woodgrain and leather bound steering wheel, and integrated Bluetooth handsfree.
On the safety front dual front, dual knee, front/side, rear/side and full length curtain airbags are waiting in the wings while EBD, EBA, ABS, ESP (or VSC in Lexus speak) with Traction Control take a more active approach to preventing a mishap.
The only real downside to the big Lexus, besides the soft handling, is that the boot space is diminished due to the reclining rear seats and as such only offers 400-litres of space. It's not a big deal, though I suspect most buyers would assume a car of such proportions to offer greater luggage capapcity, sadly this isn't the case. It'll swallow a set of golf clubs without an issue, but there's not much room left for anything else and should four people decide to take a weekend away, then they're well advised to travel light - or have James send the baggage ahead!
So, back to my opening question - is the LS on par with the tried and tested German saloon trio? Very nearly, yes. Is it a better choice for the substantial difference in price? Indubitably. If I could only remove brand status from this equation and sit a potential buyer in each of the cars for a day then ask to them to hand over the cheque, I'd have a tenner on the Lexus being first choice.
CarAdvice Overall Rating: How does it Drive: How does it Look: How does it Go:
Specifications:
Engine: 4608cc DOHC V8 (32 valve)
Power: 280kW @ 6400rpm
Torque: 493Nm @ 4100rpm
Transmission: Eight-Speed Automatic
Brakes: Four-Wheel Discs with ABS & EBD
Driven Wheels: Rear
0-100km/: 6.4 seconds (Claimed)
Fuel Type: 95 RON Unleaded
Fuel Tank Capacity: 84 litres
Fuel Consumption: 11.1 litres/100km (Combined ADR)
Airbags: Front, Side, Curtain & Knee
Safety: ESP with Traction Control
Service Interval: 6 month/10,000km
Spare Wheel: 19-inch Alloy
Turning Circle: 10.8 metres
Warranty: 4 year/100,000km
Weight: 1945kg (Tare)
Wheels: Alloy 19 x 8.0"
Road Test the Rivals:
AUDI A8
BMW 7 Series
Mercedes Benz S Class