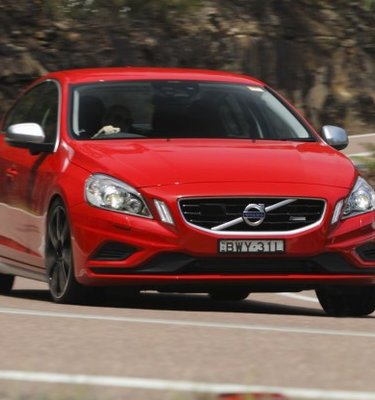 Volvo S60 Polestar Review
You could call this the naughtiest Volvo. The brand that has been synonymous with safety for decades has been aiming to reach out to keen drivers with its latest-generation S60 that launched in late 2010, but now it's taken another step.
You could call this the naughtiest Volvo. The brand that has been synonymous with safety for decades has been aiming to reach out to keen drivers with its latest-generation Volvo S60 that launched in late 2010, but now it's taken another step.
Its answer is to take the most dynamically capable model in its current line-up, the S60 mid-sized sedan, and tweak performance under the branding of the Swedish car maker's official racing partner, Polestar.
The Volvo S60 Polestar is a Volvo Cars Australia initiative only at the moment, however. It's more a toe-in-the-water exercise for now, with 50 examples initially available for buyers who want to mix Scandinavian design with extra performance.
More Polestar-badged Volvos, with the C30 hatch an obvious potential candidate, could be in line if this first project is successful. (Polestar has already developed and built a Volvo C30 Polestar Concept vehicle with 302kW of power and a whopping 502Nm of torque. Top speed for this hooligan C30, is 278km/h, while 0-100km/h is dispatched in a blistering 4.5 seconds.
The S60 Polestar isn't as quick but with a 5.8sec 0-100km/h claim, but it's the first series production model Volvo to dip below the six-second mark.
The S60 Polestar starts life as an S60 T6 R-Design and adds an engine tune from Polestar for the turbocharged six-cylinder, along with alloy wheels and a quad exhaust system from German tuner Heico Sportiv. The sum total of the package produces an additional 18kW and 40Nm for a maximum output of 242kW and 480Nm.
Reliable sources tell us that the car will actually produce more than 500Nm - unofficially, of course.
The Polestar commands a $10,000 premium over the 'regular' S60 R-Design, making it a model that is likely to appeal only to those who are serious about performance.
Unlike many aftermarket-tuning upgrades that can end up a financial nightmare if problems arise, however, the S60 Polestar is effectively a factory-tuned vehicle and as such is covered by Volvo's three-year unlimited kilometre factory warranty. That also incudes any Polestar software updates that would be installed whenever the car is in for its scheduled service.
The S60 T6 R-Design is already a well styled machine, but the addition of the quad exhaust pipes, diffuser-style rear bumper and 19-inch black alloys shod with sticky Pirelli P-Zero tyres gives the Polestar a suitably more aggressive look.
There are barely any changes to the R-Design interior, though, with just a small 'Polestar' plaque, though the sports seats are sufficiently supportive.
Fire up the turbo-six and you're immediately aware that something a little more manic lies under the bonnet of this particular Volvo. It's a slightly deeper engine note, and the tempo, even at idle, is racier than any previous Volvo we've ever driven, including the potent V70R model from 2007.
Early indications are good, with a gentle prod of the throttle producing a sharp response off the line. Keeping your right foot planted suggests Volvo isn't kidding with its acceleration figures. Volvo says it's not just the result of the additional power and torque but as much about the maximum outputs peaking at an earlier point in the rev range.
While it's certainly quick off the line - aided by the Haldex all-wheel-drive system - and through the gears, the S60 Polestar isn't Volvo's answer to the performance heroes of the rival BMW 3-Series and Mercedes-Benz C-Class ranges - the BMW M3 and C63 AMG.
It's $82,990 price tag is not in their league, either, though, and Volvo sees the Polestar as more of a competitor for the 3.0-litre petrol engined models from its German luxury rivals, including Audi.
Perhaps disappointingly, there are no changes to the suspension and braking components from the R-Design variant.
And despite a higher level of grip produced by the Polestar's stickier Pirelli tyres, the S60 simply doesn't feel as composed as some of its competitors when pushed hard.
The firm suspension has a slightly nervous disposition over less-than-perfect road surfaces, while it generally struggles for pliancy.
The steering, unchanged, is nicely weighted and provides reasonable communication for the driver through the steering wheel, however.
Volvo makes do with the six-speed automatic transmission from the regular S60 (and V60 wagon twin) range. While there is little to complain about in terms of smoothness and shift times, paddle-shifter levers are a glaring omission and it's a pity the Polestar can't accommodate the Volvo/Ford dual-clutch auto that would surely produce further improvements in both performance and fuel economy.
There's no increase in fuel use for the Polestar, though, despite the gains - albeit modest - in engine performance. So official consumption and CO2 emissions remain at 10.2L/100k and 234g/km.
With the S60 Polestar, Volvo Car Australia has built upon the improved dynamic credentials achieved by the S60 while retaining the S60's benchmark safety systems and distinctive Scandinavian design.
We can safely say Volvos are becoming more interesting to drive again.
Volvo S60 Polestar: 3.0-litre six-cylinder turbocharged petrol engine 242kW & 480Nm, six-speed automatic transmission with all-wheel drive. $82,990 (Manufacturer's List Price).
Volvo S60 Polestar Review