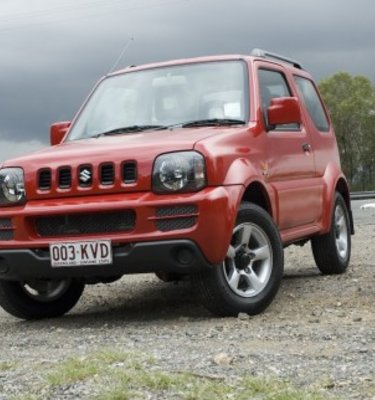 2008 Suzuki Jimny Sierra Review
2008 Suzuki Jimny Sierra Review
Yes, it's a Suzuki, no, it's not a Swift.
Model Tested:
2008 Suzuki Jimny Sierra 1.3-litre manual - $19,990
Great little car, fun off-road, lots of character. No side airbags, can be a little cramped inside.
CarAdvice Rating:
- by Alborz Fallah
How often can you get in a car that costs less than $20,000 and feel good about it? In this day and age when every young person strives to be different, be something that no one else is, getting behind the wheel of a new Toyota Corolla or Mazda3 just doesn't cut it any more.
Don't get me wrong, the Corolla is a great car, so great in fact, that it's the most popular car in Australia, but popularity doesn't always equate to anything special.
If you're wondering why I am talking about a Toyota Corolla while I am reviewing a Suzuki Jimny Sierra, then take a deep breath, because I am going to explain to you why, the Jimny should be considered for all sorts of reasons.
On my way to Suzuki QLD, I had the pleasure of being stuck in peak hour traffic on Brisbane's Kingford Smith Drive, this gave me an hour to ponder over the Jimny. Firstly, there is the name, the Suzuki Jimny Sierra. Why Suzuki has simply not called it the Suzuki Sierra is a whole other story, but essentially, this is the iconic Sierra, in a modern shape.
Although Suzuki may be a brand synonymous with the cute little Swift, cars like the Jimny also deserve the limelight.
Surprisingly, the Jimny has become of those cars that has faded into the background, not too many consider it when looking for a new car. The Japanese manufacturer only sold 118 Jimnys Australia wide in June, which is an improvement over the same period last year, but still a far cry from where it could be.
After an hour long battle with traffic, I finally arrived at Suzuki headquarters and was handed the keys to a red 5-speed manual Jimny. The mandatory walk around put a smile on my face, what a great looking car, small, but with so much character.
Stick it in neutral, turn the key and the tiny 1.3-litre engine comes to life. Yes, 1.3-litres, small, but very punchy when it needs to be.
With only 62.5kW on tap, you might be thinking this car is rather underpowered, but underpowered for what? A race off the lights? Maybe, but for getting around town or up a hill, absolutely not. The Jimny only weighs 1060kg (kerb weight), so the power to weight is about 59kw/per tonne, which is more than you'll need for a car like this.
Just how does it get around town? Very easily. The five-speed manual is smooth, allowing for easy shifts while the clutch picks-up exactly when you expect it.
My colleagues disagree with me about this car, they think I am too kind on the Jimny, maybe, but for good reason.
This is the sort of car you can get in, any time, any where and drive to where ever it is that you want to go. It's comfortable, easy to drive, can go off-road when it needs to and most importantly, it has a lot of character, perhaps that's its best selling point. It didn't bore me like most other cars in its price range.
From the inside, it's nothing special, not that you should expect much for $20,000, but all the essentials are there. The seats are comfortable, but can do with a little more support. Four adults sat comfortably (tested) for a 150km drive with the only complaint being the lack of decent sound in the rear.
That's not to criticise the stereo headunit which did a reasonable job. Not bad for a Jimny, considering some luxury manufacturers are still trying to implement MP3 CD compatibility in their $100,000+ cars.
A drive out to near Australia Zoo saw the Jimny tackle our QLD 4WD obstacle course, with great success. Put it in 4WD mode and with the cars low weight and great ground clearance, you can be assured you can go pretty much anywhere. Suzuki are happy to admit the Jimny is better off-road than the flagship Grand Vitara, which should tell you something.
Suzuki call it the "Drive Action 4X4 with Air Locking Hub", which essentially means the Sierra can change between 4WD (4H) and 2WD modes as you drive with a simple switch between 2WD/4W.
As for the city, parking is easy given the car is only 3.6M long, our press car came with power steering which makes the process much easier. I wouldn't recommend the entry model (w/o power steering and alloys).
Fuel consumption from the tiny 1.3-litre engine isn't as great as you might expect, coming in at 7.3L/100km for a combined cycle, however it does have to work quite hard at times which equates to more fuel. Real world figures actually bettered that of the manufacturer, coming in at around 7.2L/100km. With a 40L fuel capacity, you will get at least 500km out of one tank.
As for practicality, simply fold the rear seats down and you can pretty much fit a small fridge in the boot. It might seem small on the outside, but it has ample room on the inside.
The one problem which becomes almost instantaneously obvious is the relatively narrow interior (only 1.6M wide). The door is just a little too close to the driver's right elbow, not a fatal flaw, but can become a little annoying.
Also if you fit a tall adult in the passenger seat, their right knee tends to make contact with the manual gearstick at times.
Furthermore, there are no side curtain airbags, I imagine this has as much to do with the lack of space as it is a cost constraint. Nonetheless, given how close the door is, the thought of side airbags would be a comforting.
Now, back to what I was saying earlier. If you're thinking about buying say a Toyota Corolla, Mazda3, or maybe even a Mazda2, do yourself a favour, go check out the Suzuki Jimny Sierra.
It might not be your first natural choice, but I have a feeling that once you drive it, you'll see what I mean. It doesn't have much equipment or much in the way of luxuries, but if being just a little different on a budget is what you're after, the Sierra might just be for you. Besides, you won't be another Corolla driver.
CarAdvice Overall Rating:
How does it Drive:
How does it Look:
How does it Go:
Specifications:
Engine: 1,328cc Four Cylinder 16 Valve
Power: 62.5kW@6000rpm
Torque: 110Nm@4100rpm
Transmission: Five-speed manual
Brakes: Front discs - Rear Drum, leading & trailing
Driven Wheels: 4X4 Dual Range
Fuel Type: Petrol
Fuel Tank Capacity: 40 litres
Fuel Consumption: 7.3 litres/100km (Combined)
Towing Capacity: 1100kg (Braked)
Warranty: 3 year/100,000 kilometres
Weight: 1060kg (Kerb)
2008 Suzuki Jimny Sierra Review