The Fiesta-based baby SUV that will be built in India and also sold in Australia has been partly revealed on the internet.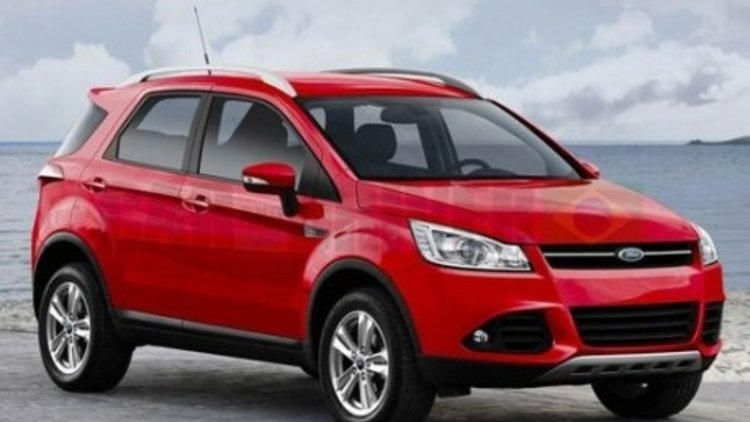 Indian motoring websites have published images of a teaser banner (second image down) for the new EcoSport model after they were discovered by an Autocar India reader on a Ford India website page still under construction. The cropped pictures seem to confirm images (below) of the SUV previously seen on websites in China and Brazil.
th
The EcoSport is understood to be the latest Indian-built Ford to have been development with significant input from Ford Australia engineers, following the Figo city car produced for the Indian market.
A Ford insider has confirmed the model will be shorter than four metres to help it avoid tax penalties in India, though the measurement is not believed to include the tailgate-mounted spare wheel.
Autocar India reports that there will be a 1.5-litre turbo diesel engine for the EcoSport, along with Ford's new direct injection three-cylinder 1.0-litre 'EcoBoost' turbo petrol engine.
The EcoBoost engine may be too expensive for the Indian market but would make sense for other markets where it will be sold such as Australia.
As it's based on the Fiesta, the SUV is likely to be offered with front-wheel drive only with no all-wheel drive option.
Some media have reported the car will sit on the platform of the old-generation Fiesta platform, though CarAdvice believes at least some parts and components from the current Fiesta are involved.
In accordance with Ford's One Ford policy of now producing one vehicle – such as the Focus and Ranger ute – for every market, it would be contradictory if the EcoSport wasn't heavily related to the B-Max that was revealed as a concept (pictured above) earlier in 2011 and will go into European showrooms next year.
CarAdvice has been told the EcoSport, like the B-Max, will feature Ford's 'Kinetic' design language that has become well established on Ford models such as the Fiesta, Focus and Kuga compact SUV coming in March 2012.
The EcoSport – if that's the name Ford Australia also chooses to adopt – will form a four-strong SUV line-up for the local car maker when it arrives either towards the end of 2012 or early in 2013.
The EcoSport, Kuga and locally built Territory will be joined eventually by another Ford Australia-developed model – an SUV based on the T6 platform that underpins the blue oval's Ranger ute (and the Mazda BT-50 twin).
Ford Australia's development projects continue to grow as it establishes itself as a global engineering hub for the Ford Motor Company. The local car maker is also working on a city car for the Chinese market.
CarAdvice will be at the India Auto Expo show in early January to bring you extensive coverage of the new EcoSport baby SUV.