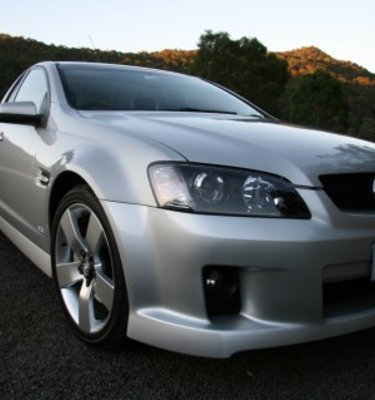 2008 Holden VE Commodore SS V Ute Review
2008 Holden VE SS V Ute Review & Road test
Model tested: SS V Ute 6.0-litre V8 Automatic 6-speed
Recommended retail price: $46,990
Options fitted: None
big performance, lots of useable load space, auxiliary jack. a little pricey, fuel consumption-if you drive it like it should be driven.
CarAdvice Rating:
"Consider this 6-litre V8 rocket, a high speed sports car with a huge load capacity"
- Anthony Crawford
As the father of two kids with a bit of a thing for surfing, I soon got a taste for one of Holden's finest, the SS V Ute.
For starters, the Nickel Metallic (silver) V8 Ute is a good-looking thing from almost any angle, especially that from the rear. Those wonderful quad exhaust tips brashly stating, "This is fast, don't mess with me".
It reminds me in some small way of the stylish 1970 Chevrolet El Camino SS454 "Coupe Utility" in the USA, which ran the LS6 454 cubic inch engine putting out a walloping 336kW and 680Nm. It only weighed around 1500lbs and looked better than anything else on the road at that time, bar a Chevy Corvette or Pontiac Trans Am.
If Chevrolet were marketing a contemporary version of the El Camino, it would surely be the Holden SS Series Ute, with all its variants, including the SSV. Seems that GM was moving ahead with this idea, but not as the El Camino. Instead, the car would have been wearing a Pontiac badge. However, we understand that the plan may actually be on hold, due to one very high Australian dollar.
And our very own Holden SSV Ute has got plenty of what the US likes best, power and grunt. Then again, I suppose we Aussies like our muscle cars every bit as much as the "good ole boys" in the US of A. When it comes to cubic inches and litres, 'The more the better' as the saying goes.
I also like the respect (or unfounded fear) that other drivers seem to display around the SS V Ute. If you are in anything other than a new XF Jag or Aston Martin, merging from a transit lane into the correct and legal space, is near impossible. Gaps in the traffic are ruthlessly slammed shut like a well planned military operation.
But when behind the wheel of the SS V, all you need to do, is simply indicate and presto, a space magically appears. I could get use to this.
If 270kW and 530Nm isn't enough for you in a Ute body, then either you have a death wish, or you should seek urgent psychiatric assistance at a reputable facility.
Even with the optional 6-speed auto and weighing in at a substantial 1806kg, this hero-mobile does exactly what it's supposed to do when you bury the throttle – it launches like no tomorrow. And it keeps going, unrelentingly, no matter what gear you're in.
And then there's that heavenly V8 supercar sound, or so it seems like to me – no need to hook up the Ipod Nano to the auxiliary input, you won't hear it and you'll be glad for it.
Of course, if you feel the need to hang onto those ratios just a little longer, then don't go looking for the proverbial "power" button. That's history. Just move the Auto shift lever to the left and shifts will happen in Sport mode. You can also manually shift if you wish – but I found Sport mode to be more than sufficient, even when egos are at stake.
Does it handle? Yes, but thank God for the comprehensive ESP (Electronic Stability Program) otherwise you could have trouble keeping that rear end on the straight and narrow, particularly in the wet. The program also teams up with Traction Control System (TCS), Anti-lock braking (ABS), (Electronic Brake Assist (EBA) and Electronic Brakeforce Distribution (EBD) and it all works well enough.
There's mild body lean on turn in, but then it hunkers down and is well behaved through corners. There's also decent levels of grip from the standard 19-inch alloys although, I might have expected slightly wider rubber than 245's, at least down the rear on this particular variant, say 265/35's for a touch more bite.
And while the steering provides better than average feedback, I found it a little too light at highway speeds and thought that less assistance from around 80km/h plus, would provide more driver connection with the road. Not much of a gripe though, especially for those suburban road warriors and tradies, negotiating malls and tight driveways.
Holden has improved their general suspension compliance dramatically in the last few years. The SSV will dismiss speed bumps without any hint of jarring through the cabin.
With a retail price of $46,990 you probably won't be lugging around the Oxy/acetylene gear in the rear tray, at least not without some serious panel protection. In any case, the payload is still an acceptable 508kg, but I reckon this area will be used to carry surfboards and other sports equipment, rather than the heavy-duty stuff.
While there is a huge cubic load space available in the tray, there's also plenty of carrying space for soft bags and tallish items, behind both the driver and passenger seats. That's a whole 245-litres, to be precise.
It's quite well appointed inside too. No shortage of the usual creature comforts found in well specified sedan offerings. Features include; power windows (although there is no one touch up/down feature, just down), cruise control, Bluetooth capability and an adequate Blaupunkt audio head unit, with an auxiliary jack for the iPod etc.
Other items specific to the SS V include; Dual Zone Climate Control, leather sports seats, which are very well bolstered on the seat and seatback, 6.5" multifunction LCD screen, Alloy faced pedals, Projector headlamps and a superb sports leather bound steering wheel with scroll style audio controls, which are far more practical than individual volume buttons.
Apart from the ESP program, Dual stage front airbags for driver and passenger are fitted. Not sure why this vehicle misses out on curtain airbags though.
Holden have developed some great colours for their performance Ute range like; Atomic Metallic (bright green), Redhot, K-Pow Metallic and Ignition Metallic. This thing even looks good in white. Not just any white, "Heron White" if you will.
I haven't mentioned fuel economy yet, do I need to? We all know that any 6.0-litre V8 muscle car is just not going to be an economical ride. Period. You might achieve the (ADR 81/01) figure of 14.0 Litres/100km if you drove around in shoes made of cotton wool with a severed achilles tendon, but in the real world, I had to work hard to achieve 17-Litres/100km. It wasn't much fun either.
"All in all, it's a wonderfully versatile and fun drive with all the power and performance you could ever want"
2008 Holden VE Commodore SS V Ute Review