If there is one car that has excited us recently, it's the new BMW X6. Already launched in Europe, the BMW X6 Sports Activity Coupé is the first of the next-generation cars from BMW.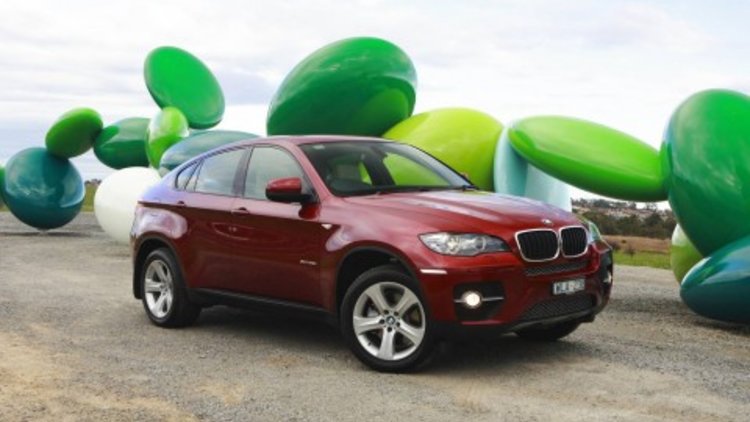 The four-seater is designed to be in a class of its own. Mixing great ground clearance and all-wheel drive, with a luxury interior and car-like driving dynamics and interior comfort. Essentially the Germans have created a car for those who want the driving position a BMW X Series provides, but at the same time aspire to own a Coupé.
"The BMW X6 caters for a more discerning sector of the market which wants a specific product and won't compromise. The X6 is a blend of the strengths of the BMW X5 and the BMW 6 Series Coupé served up in an eye-catching form." says Tom Noble, BMW Group Australia General Manager, Marketing.
Australian delivered models will be powered by two engines, both of which are twin turbocharged straight-sixes, one petrol, one diesel.
BMW first introduced the world to Luxury 4WDs in 1999 with the X5 Sports Activity Vehicle, a market which has now grown exponentially and is strongly contested. With that in mind BMW is wondering how long the X6 will remain alone in this class.
If you're interested in the X6, now would be a good time to stop reading and head straight into your closest BMW dealership because supply for the next 18 months is extremely limited, with only a few hundred available given the enormous demand worldwide. The X6 will be available for delivery from the 11th of August.
"Since we previewed the Concept X6 at the Australian International Motor Show in October 2007, the level of interest from BMW owners and conquest customers has been incredible. We have only a limited supply of BMW X6 vehicles to deliver this year, and even before the cars went on sale, a large proportion already had names against them." says Tom Noble
The company anticipates the X6 will potentially cannibalise sales of the X5, whilst also taking sales away from other rival premium brand all-wheel drive vehicles and premium coupés.
There will be two variants in the X6 range. The BMW X6 xDrive35i and xDrive35d.
The petrol variant, xDrive35i, is powered by the same engine in the BMW 335i and i35i, better known as the twin-turbocharged 2007 and 2008 International Engine of the Year winner. The 3.0-litre puts out 225 kW and 400Nm of torque. All that power leads to a brisk 0-100km/h acceleration in just 6.7 seconds with a top speed of 240 km/h (on the Autobahn, of course).
It does all of that whilst using only 12.1-litres of fuel per 100 km on the combined test cycle (city/highway), The xDrive35i emits 286 g/km of CO2.
The crowd favourite however, will be the diesel powered X6 xDrive35d. Sitting under its bonnet is a 3.0-litre Twin Turbo diesel that manages 210 kW and a massive 580 Nm of torque. It doesn't lose out by much in terms of 0-100km/h times, coming in at 6.9 seconds. Top speed is also suspiciously just below the petrol at 236 km/h. However the main victory comes in fuel consumption, with the diesel using only 9.0 l/100km (237 g/km of CO2).
BMW has also utilised the X6 with its new multi clutch differential which, by all reports, effectively helps drive the vehicle around a bend.
Although BMW says its complex in its operation, the explanation is relatively simple. Whilst many American cars are still coming to grips with a Limited Slip Differential, BMW has already improved on the idea. The new system allows the inside wheel to still deliver power and provide drive, while at the same time sending more drive to the outside wheel that has more grip.
If you're getting confused with the BMW naming convention, you're not alone! As BMW has launched so many variants across its model range, most of which tend to utilise the same list of engines, the company has had to come up with a new solution.
The company says new models will now adopt 'performance output'. For example a 325d, 330d and the 335d models (not all available in AU) may all sound different, but are all powered by a 3.0-litre diesel engine.
"xDrive" means four-wheel-drive capability while the 35 represent performance, "i" being petrol, "d" being diesel.
BMW X6 Pricing
BMW X6 xDrive35i, 6-speed automatic transmission with Steptronic and shift paddles $114,705
BMW X6 xDrive35d, 6-speed automatic transmission with Steptronic and shift paddles $120,530
-----
Click through to read our 2008 BMW X6 review & road test.
Click through to see the 2008 BMW X6 photo gallery.
2008 BMW X6 Photo Gallery
[gallery=343]
2008 BMW X6 pricing & specifications