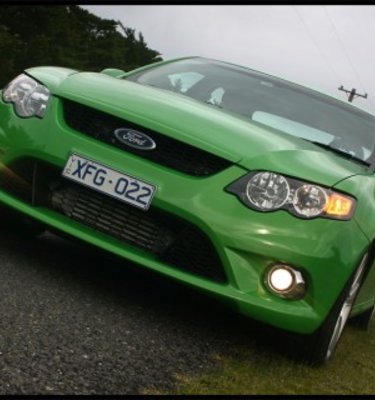 2008 Ford Falcon XR6 Turbo Review
2008 Ford Falcon XR6 Turbo Review & Road Test
Weapon of mass production
Model Tested:
2008 Ford FG Falcon XR6 Turbo 4.0 litre auto - $46,990 (RRP)
Options Fitted:
Prestige Paint $400; XR Luxury Pack $5000
Power & Torque; Predictable Handling; Sweet Exhaust Note Brake Pedal Feel; Road Noise; No Seat Heaters on Leather
CarAdvice Rating:
- by Matt Brogan
It's not often when road testing a car that you're confronted with "nice car mate" at the lights. Even rarer then to have a bloke run up and kiss your car at an intersection, insist on shaking hands and call you a dead set legend - how flattering! Now sure, he may have been partially inebriated and the lurid green, sorry Dash, paintwork doesn't exactly do anything to obscure you in a crowd, but this kind of reaction happened all week long ... and who doesn't love that.
But the XR6T isn't all about ego stroking and big grins - ah, who am I kidding, of course it is! In fact if driving it doesn't bring a grin to your face then you're either unwashed, hugging trees and singing Kumbayah around the commune campfire or about to have the paddles placed on your chest, just before they shout "clear". Yes, it's that good. In fact, it's better than good, it's bloody brilliant. Easily the best value for money performance sedan on the market.
Just $45,000 will see you behind the wheel of an entry model manual XR6T and when all things are considered, you're really getting a lot of car for the coin. Not only does the new FG series have to be one of the best looking Falcons yet, it's also the most refined in terms of power delivery and handling that I'm yet to drive, not a bad feat for a locally built sub $50K car.
Now at first a lot of people shrugged off the FG as not different enough, a quick touch up or just plain boring, but to them I say look harder. The lines are so much cleaner, it's more aggressive, but it's not over the top with plastic rubbish hung all over. Simply put it has a muscular appeal that makes grown men drool or grunt like Neanderthals, and how many cars can do that these days?
Inside things are basic, but handsome and well laid out and there's certainly enough technology to make your mates at the footy club green with envy. It's comfortable, very generous in proportion and has enough adjustment in the driving position, steering column and pedals that even someone as vertically challenged as myself can feel secure and well supported behind the wheel.
The menu screens and functionality of the Command Centre (or Human Machine Interface) system are as easy to use as channel surfing from the couch and offer a complete break down of vehicle settings, audio control, phone, lighting, alarm and (optional) satellite navigation. The 3D system is easy to use and has a nifty little remote control so the passengers can play too, taking their mind off all the fun you're having in the captain's seat.
With steering wheel mounted controls for cruise and audio being logical and simple to find, about my only remaining issue would be is that the upgraded stereo package lacks any real substance at volume, instead distorting and breaking up when challenged. It's fine at mid-range and has good clarity with the iPod connected but just suffers a little more than it should for the premium price.
Luxury Pack includes Nudo Shadow Leather Trim
Not that you'll be listening to the stereo mind you. I mean if the sound of this sweet six-cylinder doesn't do it for you then perhaps it's time to get your nails done. It's a brutish cacophony of raspy exhaust, crisp yet subtle induction and just a touch of waste-gate flutter for good measure - certain nothing to disappoint.
A little snap crackle and pop can be heard on hard down shifts proving yet again that a well sorted in-line six has a note all of it's own, and with a little bit of boost behind it it's aurally one of the most pleasing and grin inducing symphonies I know of, even if it does eat in to your fuel bill just slightly.
The force fed 4.0-litre, six develops a hefty 270kW at 5250rpm and produces a whopping 533Nm from 2000 to 4750rpm, with over 75 per cent of that available from just off idle. It's simply tremendous, has almost no lag to speak of and a low down pull that would shame most V8s. The mid-range surge is heaven sent and so strong that on a damp day XR6T breaks traction from second to third gear - even with the ESP left on! But lay off the loud pedal and it's as placid as any regular Falcon, true Jekyll and Hyde type driving.
The six-speed ZF automatic is a work of art and is undoubtedly world class. Smooth shifts, always ready to go thinking and no-nonsense manual mode mean both day-to-day and weekend driving are equally well catered for, as long as you remember down (-) is forward, up (+) is back. The limited slip rear end is brilliant, you can actually feel it working in hard corners. The other upshot is that wet weather driving is also more tractable and settled ... assuming you want it to be.
Sharper steering with better feedback and quicker response than BFII makes pointing the XR6T an incorrigibly mischievous practice, especially when riding half tacho in turns where the temptation to induce oversteer is almost impossible to resist.
Mid corner lumps and bumps are evident with the 19" alloys but still feel less intrusive through the column than its predecessor, thanks to the remounting of the steering rack. In all the package is a cut above the rivals and with just 2.6 turns lock-to-lock you'll not believe the car is as big as it really is.
Suspension feels more well matched front to back than it ever has in Falcon and is very well balanced overall allowing throttle control to dictate cornering poise to a higher degree than you'd think possible from a large mass produced domestic car. Any one who rubbishes the local product is either brand blinded or can't drive – it's that simple. Ford really has pulled it together nicely this time.
Braking isn't anything special but that doesn't mean it isn't capable. The stopping is certainly good enough for the car's capabilities but the pedal feel lacks that sweet progressive motion that many Euro rivals posses.
Once your foot's accustom to it, and is trained to do a little more work, it's of little consequence and the ABS (with EBA & EBD) is well calibrated enough that anyone wanting some fun on track days will not be left wanting.
The ESP is brilliant, allows just enough fun without being dangerous in novice hands and will bring you back into line in such a way that you're not brought to a dead stop - prefect. It's far more fluid and lightly sustained than that of XR6T's main rival and gives the car a sense of balance usually lacking in high powered rear wheel drive vehicles.
Curtain airbags are available on top of the front and side units offered as standard for a nominal charge and are in my opinion worth every cent, especially when you consider how easy it is to get this thing sideways.
As someone who races classic tourers I think blue oval fans are right to pine for the loss of this engine. It's just brilliantly strong, so torquey and so alive that it really reminds me of E49 Chargers and GTR-XU1s from muscle days long since past.
So if you've got the money buy two - drive one, drive it hard and stick the other away. This is a future classic, an absolute weapon of choice, and for the price I'd recommend it to any red blooded male whose testosterone isn't under lock and key.
CarAdvice Overall Rating: How does it Drive: How does it Look: How does it Go:
Specifications:
Engine: 3984cc DOHC Six-Cylinder 24-Valve
Induction: Garrett M12 Turbo (10psi Boost)
Power: 270kW @ 5250rpm
Torque: 533Nm @ 2000 – 4750rpm
Transmission: Six-Speed Automatic
Brakes: Four Wheel Disc with ABS, EBA & EBD
Driven Wheels: Rear (Final Drive 3.73:1)
Top Speed: 230km/h (Limited)
0-100km/h: 5.3 seconds
0-400m: 13.64 seconds @ 170.9km/h
Fuel Type: 95RON Unleaded
Fuel Tank Capacity: 68 litres
Fuel Consumption: 12.0 litres/100km (ADR)
Safety: ESP; Front, Side & Curtain (Opt) Airbags; TCS
Service Interval: 12 month/15,000km
Spare Wheel: Space Saver
Turning Circle: 11.0 metres
Towing Capacity: 1200kg (Braked)
Warranty: 3 year/100,000km
Weight: 1694kg (Tare)
Wheels: Alloy 18 x 8.0" (19" As Tested)
2008 Ford Falcon XR6 Turbo Review