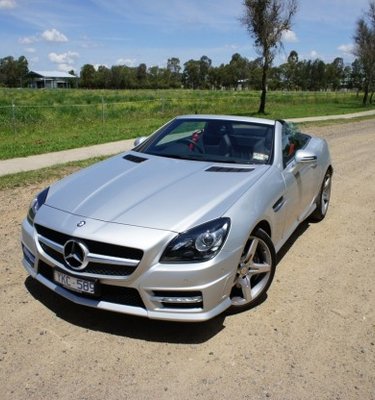 Mercedes-Benz SLK 200 Review
The Mercedes-Benz SLK has never given the BMW Z4 a closer run for its money
Roadsters like the Mercedes-Benz SLK are about as impractical as a car can get, yet it's always difficult to argue against their huge appeal.
These compact convertibles are typically not the kind of car you'd buy unless you were either single, a couple without kids, or were after a second car for weekend trips into the countryside. It has limited cabin space and, with the roof folded away, the boot isn't exactly commodious.
And with no rear seats, there isn't even a spot for my newborn. So it's home for the young family as I head off to complete a 700km review of Mercedes-Benz's most affordable convertible.
The Mercedes-Benz SLK has been around since 1996 and over two generations of models has proved to be hugely popular despite struggling to avoid the tag of "hairdresser's car" (and despite the existence of a powerful SLK 55 AMG V8 version).
This time, however, Mercedes has applied some of the same styling cues from the head-turning SLS "Gullwing" supercar (pictured below). Whether it's their sports cars or sedans like the E-Class, you certainly can't accuse Mercedes-Benz of boring everyone to death by using the same design language across its entire range.
The new front end epitomises the convertible sports car's more masculine and aggressive look, as Mercedes-Benz aims to extend the SLK's appeal beyond its female-buyer majority to lure more male buyers to the model.
When viewed straight on, the SLK can pass for a large grand tourer, but stare at it from the side and you'll quickly realise just how compact it is. The curvy rear end and V-shaped boot lid are also noticeably wider than before – giving the SLK a more prominent look. Each side's rear light assembly contains 60 LEDs while at the rear the twin rectangular exhaust pipes add a contemporary touch.
For those with a particular sense of attention to detail, you've probably already noticed how Mercedes designers have moved the SLK's side mirrors from the corners of its doors down further along to give it a more aerodynamic shape. The company says this makes it look as though it's moving even when standing still. Not entirely sure about that, but it does look good nonetheless.
From $82,900 the SLK 200 is the entry variant into the new SLK range, which also includes a V6-powered SLK 350 model - with an SLK 55 AMG flagship on its way in 2012.
Despite the "200" badge, the base SLK is actually powered by a 1.8-litre four-cylinder turbo petrol engine that's familiar from other Mercedes models and distributes 135kW and 270Nm to the rear wheels via a seven-speed automatic.
Despite a healthy kerb weight of 1470kg - about par for the course in this segment - the dash from 0-100km/h is achieved in a respectable 7.3 seconds. The SLK 350 is noticeably quicker but the SLK 200's acceleration is generally quick enough for everyday driving while allowing for some fun factor when required.
One of the benefits of the smaller engine, though, is better weight balance at the front. Given the SLK 350 weighs a good 70kg more (not all of it a result of the larger engine), the lighter front end sees the 200 turn into corners with a bit more enthusiasm and a reduced tendency to understeer (push wide).
This particular test car was fitted with an optional AMG Sports Package ($5,900) that adds items including 18-inch alloy wheels, sports suspension, better brakes and LED daytime running lamps. In addition, a COMAND media system ($4,470) and Iridium silver metallic paint ($2,080) lifted the price of our test car to $95,350 before on-road costs are added.
With "Sport" mode selected (default option is 'economy' with 'manual' available as well) you can begin to explore the SLK's limits at speed. Handling wise the SLK is pretty good but the ride on the optional sports suspension can at times be a little firm, even if you allow for this being a sports car.
Around tight bends and sudden switchbacks, the SLK's Continental tyres tend to whine but continue to hang on for maximum grip. The steering improves as speeds rise and roads start to curve, though it's not a match for the responsiveness of the rival BMW Z4's steering.
The gearbox works harmoniously with the engine, with instant shifts when pushed - even if the speed of gearchanges can't match that of the dual-clutch gearbox systems found in other German competitors. In economy mode it also does its best to discourage spirited driving by limiting accelerator sensitivity, but will help if you're hoping to match the SLK 200's official fuel consumption of 6.9L/100km. We achieved a9.0L/100km after a week of real world driving, mostly performed in Sports mode.
Of course roadsters like the SLK allow you to enjoy motoring with the wind in your hair. The Benz's latest vario-roof' is now two seconds faster to operate than its predecessor, opening or closing in 20 seconds.
There's no excessive turbelance with the roof lowered, either. At a 110km/h cruise, you can still chat with your passenger without having to yell - or even make a phone call via the car's Bluetooth system.
On the inside, the AMG sports package adds sportier seats, a multifunction sports steering wheel, paddleshift levers, red stitching throughout the cabin, AMG floormats and bright red seatbelts. That's a little out there for a Mercede, but combined with the dark black leather interior, it all works very nicely.
Those seats are well proportioned for all sizes and comfortable even for long drives. Storage space is rather limited, though, inevitably. In fact, the only usable storage space inside the cabin is a small compartment behind the seats that can store, well, an iPad. If you plan on grocery shopping you can make use of the boot which is big enough to take a whole bunch of things, so long as you're happy to keep the roof up.
And you won't be able to raise the roof on the move above 5km/h. While the SLK's roof operation is smooth and relatively quiet, it is slightly annoying that it won't work unless the car is stationary or barely moving. So be warned that you'll need to be careful at traffic lights if you decide to raise or lower the roof.
Mercedes says the speed restriction is put in place so that wind resistance doesn't damage the roof's complicated internals, and to be fair it's a limitation that also applies to the Z4.
In the odd chance that you actually want to use the paddle shifters, you simply use the left one for downshifts and the right one for upshifts. For those few occasions when you're really making a scene of it, the paddles work very well and allow for quick gearchanges. It allows the driver to feel more engaged, though the auto's Sports mode is effective at being left to make its own choices.
The standard stereo system is superb for the SLK's little cabin, and streaming audio capability via Bluetooth is simple, or you can just as easily plug in your iPod/iPhone for native support. Another 1,760 will get you a 500-watt, 11-speaker Harman Kardon audio system.
The Merc's COMAND system is displayed via a 14.7cm graphic colour display, which sits a little low in the instrument cluster. The system could also do with applying some of Apple's "simplify" ideology. It can be rather counter-intuitive at times, failing to match the standard now set by BMW's iDrive menu system. Furthermore, internet tethering via COMAND online is not compatible with an iPhone (even with iOS 5), which is a huge shame because there are some really amazing things you can do with COMAND when it's internet ready (read my review of COMAND online in the C-Class coupe article).
The SLK is certainly a stronger choice than ever in the compact sports car convertible segment. Freshness also gives it an advantage in such a fashion-conscious category, given it a particular advantage over the Audi TT that is now five years old.
And having lifted its game dynamically, it's never given the BMW Z4 a closer run for its money.
[gallery columns="4"]
Mercedes-Benz SLK 200 Review