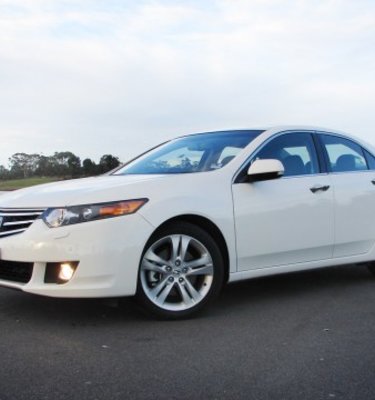 2008 Honda Accord Euro Luxury Review
2008 Honda Accord Euro Luxury Navi Review & Road Test
New Euro really strikes a chord.
Model Tested:
2008 Honda Accord Euro Luxury Navi 2.4 litre auto - $44,990
Options:
Suitable Performance & Economy; Sporty Looks; Well Equipped Tyre Noise; Short Service Intervals; Premium Unleaded Costs
CarAdvice Rating:
- by Matt Brogan
Bettering the original Euro was always going to be a challenge, after all it's still a very contemporary looking and highly relevant car. But fortunately for us resting on its laurels isn't something Honda does and from where I stand, that can only be a good thing.
Sitting atop the second generation Euro tree the Luxury Navi model boasts an evolutionary rather than revolutionary approach to design change, which through cautious, steady and intelligently innovative improvement sees a vehicle superior though not vastly different to the now superseded model.
Dimensionally bigger in almost every direction AccordEuro encapsulates a sporty yet elegant stance with an assertive front end drawing sharper angles and crisp crease lines to a point from its flowing, progressively up swept profile, kind of like a well ironed shirt. The athletically wider track further highlights Euro's slightly shorter stance and perhaps best of all the rear end is endowed with a softer finish that is more dignified and less boy-racer than the predecessor, again a very good thing.
Inside Honda's commitment to above average material use and arrangement is clearly evident as are the comfortable ergonomics, tech-savvy equipment levels, sassy appearance and generous proportions. The leather clad heated memory seats offer an elevated level of comfort over those of Euro's nearest competitors as well as providing decent support and a lovely welcoming feel, which is a refreshing change from the often brash, cheaper leather trims found in so many rivals.
The Euro is affordable but not cheap, so from a critic's standpoint it had want to offer something above that of the ordinary, something a little more special, worthwhile and meaningful that will retain the loyal as well as attract the new - real value for money. Once more, Euro delivers.
Whilst more mature buyers may admire Euro for its well postured ride, refined comfort levels and sound economics, the younger set will most certainly delight in the abundance of technology, the confident handling and the capable performance from a reworked 2.4-litre engine.
The DOHC, 16-valve power plant has been revised slightly for the new model and now incorporates larger valves, recalibrated VTEC mapping, reduced back pressure and a slightly higher compression ratio (from 10.5 to 11.0:1) to deliver a lissome 148kW at 7000rpm. Best of all with an ample 230Nm of torque on hand at 4200 revs, power delivery is better managed, more linear and impressively smoother than even I thought possible - kudos Honda.
A five-speed, tri-mode (drive/sport/paddle shift) automatic transmission offers a versatile and fluent blend of economy and performance with shifts that feel seemingly preordained ensuring accurate and timely cog swaps that can be dictated by the paddles if the mood takes you. Similarly Sports Mode offers more enthusiastic performance and even sharper response while still offering fully automatic or manual shift flexibility. The boxing glove styled shift knob falls to hand readily and feels as tight and precise as the box itself.
Economy has also improved from what was already considered a class leader with combined figures this time round of 8.9 litres per 100km (ADR). Around town expect mid 9.0 litres whilst on the open road high 5.0L/100km suggests even more is possible through careful driving - and a more run in engine. Considering Accord Euro now weighs in at a hefty 1605kgs these figures speak for themselves and when the 2.2-litre turbo diesel arrives in 2010, Euro is certain to be a world beater.
As touched on earlier the ride is reasonably supple though perhaps hints ever so slightly as to the Euro's sportier disposition. Not to be confused with the full size Accord, Accord Euro is proud of its more agile handling and through a lower set engine and fuel tank, wider track and lower profile tyres now offers a sharper turn-in, better feedback and quicker steering response for more enjoyable weekend driving with the only noticeable compromise perhaps being a little extra tyre noise.
It's a smooth, encouraging and rather nimble cornering car for its size and is certainly more predictable in character than even the previous Euro. The smaller diametre leather steering wheel is a delight to hold and in fact the whole feeling from a driver's perspective is almost that of a sports coupe trapped in a sedan's body.
If I had to pick a flaw here at all, and I'd be trying, it's that the new electric assisted power steering doesn't feel quite as fluid as the hydraulic system it replaces - in some instances - and there's just a hint of kick back when you're trying too hard. But again, it's one of those subtle things, hard to detect, and doesn't detract from the experience in the slightest.
The braking is purposeful and confident, is well equipped for safe stopping with ABS, EBA and EBD all standard, and best of all has a precise pedal feel that isn't over assisted and allows brilliant feedback, especially under heavy application. Body rest-back is smooth and well controlled and even through excessive and repeated hard braking fade was negligible.
ESP is standard across the range and is now coordinated to both steering input and the yaw sensor to better assist the driver in regaining control in the event of a skid. It feels great to try out - not that I'm recommending it - and along with a four star ANCAP rating, traction control, ISOFIX preparation for the kid's seats, front, side, and curtain airbags all included, safety has been sufficiently addressed.
Boot space is hardly class leading at 467 litres but in saying that is bigger than it looks and would be more than ample in most instances given the vehicle's intended application. If it's not enough, simply flick the boot mounted levers and fold flat the 60:40 rear seats for an acreage of space suitable for almost any purpose.
As the Luxury Navi (navigation) nameplate suggests the top shelf Euro abounds in creature comforts, not least of which is the 7.5" full colour screen satellite navigation. It's a good system, easy enough to master and both looks and feels integrated to the car instead of being a tacky add on seen all too common place in certain rivals. Sun glare can be a factor on the screen's perspex dust cover though and some time may need to be taken with the settings to get this small issue sorted.
The handsome and functional instrumentation features combination main gauges with floating needles beset by two smaller gauges for engine temperature and fuel and are back lit with crystal effect LEDs to be both crisp and easy on the eye at night. Dual zone climate control, one touch power windows, heated electric mirrors (LH self dips when reverse is selected), cruise control, dusk sensing xenon headlights, fog lamps, remote central locking, auto wipers, front and rear parking sensors, reversing camera, trip computer, and glass tilt slide sunroof round out the feature list.
As with all Hondas the stereo truly is a cut above the rest and in this model grade features a ten speaker (with sub-woofer), six stack CD tuner with console bin mounted iPod connectivity and 12v charger outlet. The sound quality is excellent, bass ample and clarity at volume very good, even when getting to the system's upper threshold. Personally I don't see why this is something other manufacturers can't manage.
Starting from $32,990 - $1000 less than the predecessor - the Japanese built Accord Euro is a dead set steal for the money and given the function, application, appearance and purpose is pretty hard to pass up. Even with the rivals nipping at the Euro's heels it has again managed to keep one step ahead and if I could just add bluetooth, self folding mirrors and change the tyres I'd be as good as sold.
CarAdvice Overall Rating: How does it Drive: How does it Look: How does it Go:
Specifications:
Engine: 2354cc DOHC Four Cylinder 16 Valve
Power: 148kW @ 7000rpm
Torque: 230Nm @ 4200rpm
Transmission: Five Speed Automatic
Brakes: Four Wheel Disc with ABS, EBA & EBD
Driven Wheels: Front
Top Speed: 227km/h
0-100km/h: 9.5 seconds
0-400m: Not Tested
Fuel Type: 95 RON Unleaded
Fuel Tank Capacity: 65 litres
Fuel Consumption: 8.9 litres/100km (Combined)
ANCAP Rating: Four Stars
Safety: ESP; TCS; Front, Side & Curtain Airbags
Service Interval: 6 month/10,000km
Spare Wheel: Space Saver
Turning Circle: 11.0 metres
Towing Capacity: 1200kg (Braked)
Warranty: 3 year/100,000km
Weight: 1605kg (Tare)
Wheels: Alloy 18 x 8"
2008 Honda Accord Euro Luxury Review