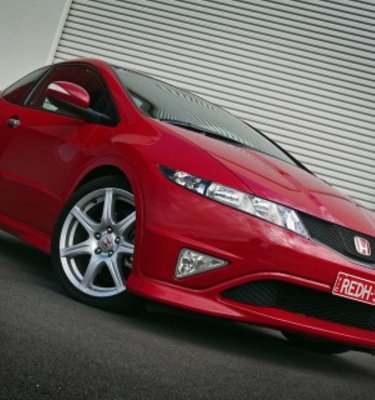 2008 Honda Civic Type R review
2008 Honda Civic Type R review & road test
"It's wise to forget about the lack of torque, and concentrate on the whole drive experience. It's only then that the Civic Type R makes sense."
Model Tested:
2008 Honda Civic Type-R - $39,990 (RRP)
Options fitted: None
Sound, Dynamics, Gearshift, Driving position, Practicality
Lack of torque, Confused marketing messages
CarAdvice Rating:
Review by - Karl Peskett
Photography by - www.ozcarsightings.com
According to Honda, there are only a few cars which are worthy to receive the red H badge. They are known as the Type R cars.
The Type R philosophy is one of purity. That a car must be as good as it can be, and fulfill certain characteristics. To wit: "The Type R philosophy is not about building the most powerful, or fastest car in the world. It is about creating a car that provides a well-engineered, but exciting driving experience."
You'd hope that an exciting driving experience came from good engineering, though, wouldn't you? That aside, a Type R car is earmarked by the omission of add-ons. Things that detract from driver involvement. Apparently forced induction is one of these.
A quote from Honda's press release: "No bolting on of a turbocharger to give silly power figures. All Type R engines are normally-aspirated, which delivers smoother power throughout the rev range, allowing power to be transferred through the chassis more easily, improving traction and acceleration."
So don't be disappointed when we tell you that this 2.0-litre engine "only" puts out 148kW. Oh yes, at a stratospheric 7800rpm.
You see, if you like the low-blow turbo go, you'll think it's slow.
But it's wise to forget about the lack of torque, and concentrate on the whole drive experience. It's only then that the Civic Type R makes sense.
First, we'll get the day to day stuff out of the way. Can it be done - can the buzzing, screaming Type R be suitable for the daily grind? The short answer is yes.
For instance, the better half and two friends made a trip out to the local exhibition centre for a food & wine fair. Three people in the car were six foot, or over, and the fourth just under, and we all fitted.
Notwith squashed legs and a case of DVT about to set in, either. No, it was relaxed, with a comment from one of those behind me, to the effect that she could fall asleep in the seat - it was that comfy!
Plus, the boot was filled to the brim with, you guessed it - food and wine. Sure, it's only got two doors, but the rear seats are reasonable easy to access, and the whole interior is more useable than at first glance. Straight away, compared to other hot-hatches, the Type R is scoring points.
So, it's practical and comfortable, and even though the ride is firm, it's not sharp or crashy. Liveability, then, is very good. Of course, there's a swag of airbags, dual-zone climate control, an MP3 CD player, electric windows and other goodies to keep the comfort levels up. But this all adds to its weight and detracts from its ultimate potential.
It's not the quickest thing in a straight line. 6.6-seconds from 0-100km/h isn't exactly slow, but it's also bettered by competitive product. Thing is though, that the competitive product doesn't compete on the noise the Type R makes.
The 2.0-litre motor is a geniune masterpiece in sound. It certainly does sound like a race car, especially once it opens its taps at 5400rpm when the timing change happens. Think an angry swarm of bees, and you're somewhere near what it sounds like.
The handling is also supreme. With a brilliant turn in from the super-reactive (but slightly dull) steering, the superglue-to-skin analogy isn't far off. It doesn't matter that it's 'only' got a torsion beam rear end, the fact is it works. I would dare say it will out-handle every car in its price bracket. Plus a few that aren't, as well.
The Civic Type R also comes with a beautfully slick gearbox, having short throws, and a clutch that feeds in perfectly. The brakes? They're killer, too.
But it's not all sweetness and light. Because of the way this car is set up, it's only quick when you're on the boil. And you need to be constantly on it. Changing up at its redline, the super-short final drive ratio (5.062:1 - yes, you read that correctly) places each gearchange perfectly back into the VTEC zone. Below that, and you just miss out.
Really, it's only happy when you're thrashing it. There's also a fine line between being quick around a corner, and powering on too much and understeering through it, especially around the magical 5400rpm mark. So, drive this car one gear up from any other car you've driven.
The throttle is a little touchy, so you need to have excellent control. Smooth shifts are possible, but don't just bang away because the car will lurch around. Helping this though is the pedal positioning. It is just suberb, with heel and toe downshifts becoming second nature.
So what's the issue here? Well, the Type R philosophy is one of no added extras. A pure drive experience. But how do you define pure? Usually it's the most direct, connected feeling you can have with a car. You have to question, then, why drive-by-wire throttle, and electric steering was employed.
Why weigh it down with all the extras? All those little luxuries add weight but I'm not sure that is the Type R mindset. It doesn't have to be the quickest, or most powerful car ever made - but just a little bit less weight might have helped.
Don't get me wrong, I like luxuries. Supportive seats, tyre-roar which is supressed, and other niceties. When you combine luxury and quick, then I'm a happy man - just read through our BMW 135i review.
But it's just missing that little bit of torque that would stop you having to absolutely blast through the gears, and being able to relax a little. As a whole and as an engaging drive, this is a great car. It's fun, and practical to boot.
The real problem is it's basically got two modes - completely on, or completely off. And it's that in-between stage that most drivers are after, myself included. Not everyone wants to step out of the car with their ears ringing, and heart racing. Highly strung comes to mind.
It looks like a space-ship, handles like a dream, and sounds ballistic. A Type R car that is worthy of its badge? You decide.
2008 Honda Civic Type R
CarAdvice Overall Rating: How does it Drive: How does it Look: How does it Go:
Specifications:
Engine: 2.0-litre inline four-cylinder, with i-VTEC
Power: 148kW @ 7800rpm
Torque: 193Nm @ 5600rpm
Transmission: Six-Speed Manual
Top Speed: 235km/h
0-100km/h: 6.6 seconds
Fuel Consumption: 9.3 litres / 100km (Combined)
Fuel Tank Capacity: 50 litres
Fuel Type: 95RON Unleaded Petrol
Airbags: Front, Side & Curtain
Safety: ABS, VSA, EBA, EBD
Tyres: 225/40/18
Weight: 1345kg
Wheels: 18-inch
2008 Honda Civic Type R review