Update: Ford Fiesta Review.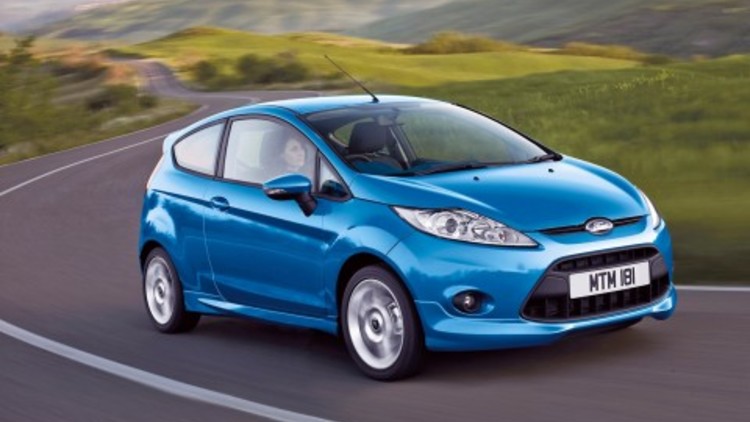 The Mazda2 has certainly taken the market by storm, but it will soon be facing some friendly fire with Ford having today released worldwide details on its new Fiesta.
The European developed Fiesta is yet another model in Ford's global line-up to undergo the new kinetic design treatment - with stunning results.
It will be available in both three- and five- door variants, with production due to begin in Europe by the end of 2008 however Australian's may not see it in local showrooms until as late as 2010.
The all-new Fiesta is the first product of Ford's new Global Product Development System (GPDS), designed to be compatible with the differing needs of customers as diverse as Western and Eastern Europe, North America, China, Australia and South Africa.
"It's an incredibly exciting project," says Marin Burela, Executive Director of Small Cars, Ford of Europe. "All-new Fiesta is a landmark moment for Ford. It's our most significant global vehicle project since the Model T and heralds the future for Ford product development."
For now at least, European buyers are guaranteed a new model in the Fiesta line-up - the new Zetec S featuring an 88kW 1.6-litre Duratec Ti-VCT petrol engine assuming the performance role of the range - covering 0-100km/h in 9.9 seconds.
"We're also introducing an all-new 1.6-litre Ti-VCT engine and a Zetec S model for driving enthusiasts, while a host of comfort and convenience features you would normally expect to find on our much larger vehicles combine to make new Fiesta truly a compelling choice."
An ultra-low CO2 producing Fiesta ECOnetic is also available - powered by a 1.6-litre Ford Duratorq TDCi engine, with target emissions of just 99g/km.
Weighing in at almost 40kg less than the previous Fiesta, the next generation promises spirited driving dynamics with a specially-tuned Electric Power Assist Steering system which offers low-speed steering ease with more direct driver feedback at higher speeds.
Safety has also been a priority in its development with over 55 percent of the body structure made from high-strength steel, making the all-new Fiesta approximately 10 percent stiffer torsionally than its predecessor and providing an exceptionally rigid safety cell for all occupants.
It also incorporates Ford's Intelligent Protection System with standard knee airbags – the first in a Ford small car – as well as head-and-thorax side airbags, with optional safety curtain airbags plus an array of pedestrian protection features.
The new Fiesta will also add various 'big car' conveniences such as EasyFuel capless refuelling, keyless entry and a 'Ford Power' start button.
The European line-up is comprised of six models - Studio, Style, Style Plus, Zetec, Zetec S and Titanium.
More Australian-specific details to follow as they become available.
2009 Ford Fiesta first details