No, its not a new bike by Alfa Romeo, but rather very special Alfa 147 inspired by our own two wheeled magician, Casey Stoner and his 2007 MotoGP world title.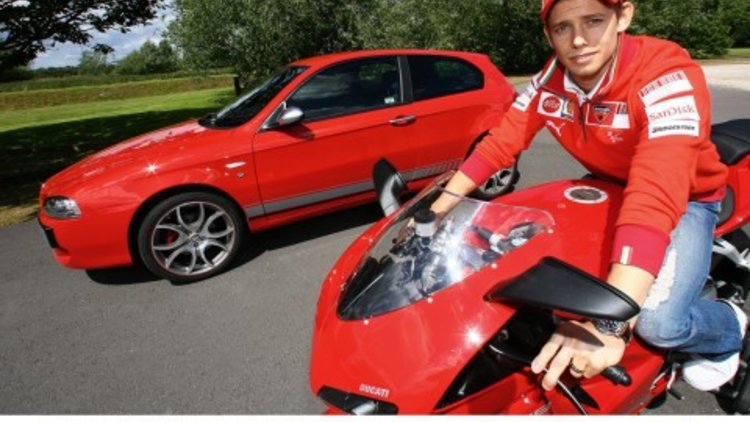 - Anthony Crawford
Alfa Romeo and Ducati, two great Italian companies have combined their creative juices to produce this warmed up Alfa 147 with a 1.9 JTDM 16V Q2 125kW (170bhp if you live in Perth) together with a whole swag of exclusive performance parts.
But if you want one, you'll need to move to the UK, at least for now.
Given Stoner is already an Aussie hero, we'd like to think that Alfa Romeo Australia will be importing at least a few of these beauties just to satisfy fans of both these Italian thoroughbreds.
Alfa Romeo Australia sells five variants of the 147, but only one is diesel powered, the 147 JTD 5-door Diesel Monza, with a 6-speed manual. It's a reasonable powertrain with 110kW and a substantial 305 Nm at 2000rpm. Flat out is 208km/h and Alfa claim 8.8 seconds for the 0-100km/h sprint.
The 147 Ducati Corse gets along a little quicker, with top speed of 215km/h and just 8.0 seconds for the sprint. I did say a 'little' quicker, but when you factor in additions such as; special 18" alloys shod with extra wide, low profile 225/40 rubber, Ducati red brake calipers, satin effect side mirrors, rear spoiler and Ducati Corse badging, it's a good looking thing.
Inside, you'll find aluminium pedals, sports seats in black leather with red stitching, Ducati Corse instrument dials, cruise control, dual zone auto climate control and MP3 player.
You also get a few colours to choose from including, Etna Black, Ghiaccio White and my pick, Giulietta Red.
Alfa Romeo 147 Ducati Corse