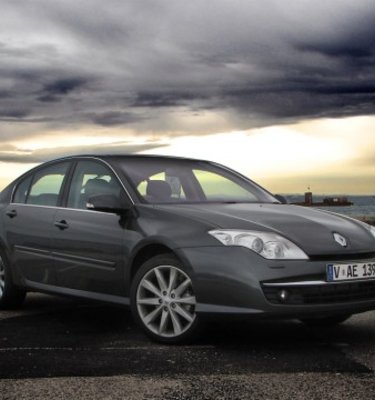 2008 Renault Laguna Privilège dCi Hatch Review
2008 Renault Laguna Privilège dCi Hatch Review & Road Test
Touchè or Too Staid?
Model Tested:
2008 Renault Laguna Privilège dCi Hatch 2.0 litre turbo diesel automatic - $50,690 (RRP)
Options:
Safe; Stylish; Quiet; Strong & Economic Engine; Drives Beautifully Rear Leg Room; Poor Stereo; No Bluetooth, Sat Nav or iPod Plug
CarAdvice Rating:
- by Matt Brogan
French engineering is often scoffed at as an oxymoron, though for the life of me I can't think why, I mean they gave us the Airbus A380, the Viaduc de Millau Bridge, the Eiffel Tower, and the Louvre. I could go on for hours, but this is a car review after all, and what I'm really trying to impress here is that it doesn't take a pastry chef to see that the French have a certain je ne sais quoi for flare, innovation and the dare to be different.
Laguna has for a long time lead the charge for the French as being a symbol for innovative and intelligent automotive design, a datum other cars aspire to, which was a point well validated when BMW purchased Sandouville's Laguna build number one. Sadly perhaps we Aussies just don't get it, and more often than not pass up the opportunity to own one - maybe this time round all that will change.
Voted 2008 Company Car of the Year (in France) and The World's Most Beautiful Car (Estate variant) at the Automotive Festival of Paris, the new Laguna is a stylish and sophisticated modern car with ideals set to challenge convention in much the same way French cars always have. Although at times Renault styling has been quirky, the reasoning behind it is usually sound, and now with the Phase III Laguna conquering showrooms back home, there's a suggestion sound French reasoning may have finally surrendered to German good looks.
Estate due in Australia from December
From almost any angle, the car is stunning, quite Bavarian in sculpt, and although I'm not personally a fan of the tail light positioning (hatch), just about every other angle of the car strikes a chord for aesthetic pleasure. It's not quite majestic, but it is certainly striking, sleek and rather elegant, with well proportioned, slippery lines and a free flowing energetic feel.
It also feels very well built. The doors shut beautifully and just the lightest touch will see the weighting take care of the rest, something I've not experienced since playing with old Jaguars. Panel fit is uniformly tight all over and the assertively styled Mille Miles 18 inch alloy wheels still manage to hold a certain decorum in those large, slightly flared arches whilst at the same time maintaining grace and purpose. The bright work around the windows contrasts wonderfully with the Charcoal metallic paint (no cost option) and with large headlamps adding a slightly overwhelming look, the front seems bold and insistent, like a larger GT car.
Powering the all new Laguna is a DOHC, 2.0-litre, turbo diesel, four-cylinder engine that produces 110kW at 4000rpm and an easy 340Nm of torque from just 2000rpm. There's little in the way of lag off the mark and the sprint to 100km/h is dealt with in just over 10 seconds. Power delivery thereafter is linear, quite strong, though rather subtle all the same and you must keep an eye on the speedo (or use the speed limiter) as there's little in the way of noise to hint at the pace carried.
Putting this quiet, flexible power to the front wheels is a sweet shifting six-speed automatic which comes courtesy of the Jatco alliance and was first offered in the Scenic in late 2006, then (not available here) Espace last year. The box offers ultra smooth swaps and quick kick down response and incorporates manual mode for overtaking and the likes, though it's hardly necessary. My only qualm would be that the selector indicators favour the passenger's viewpoint, hinting at Laguna's left hand drive birth.
The chassis feels needle sharp, reactive in character and responds brilliantly and sensitively to steering input providing stable, flat cornering until pushed needlessly hard - at which point very slight understeer is presented. The speed proportional power steering is quick and rather light, but evenly weighted and offers enough feedback to keep the driver involved and informed of the road underfoot.
Stopping the large hatch is a technologically superb mix of well calibrated brake monitoring systems that, in cooperation with a strong set of discs up front, provides braking that is better than expected, and even more capable than is usually offered as ample in other manufacturer's efforts. The pedal has a positive, confident action with just the right amount of feedback to be assured what's going on beneath you will see you stop in time.
Safety has always been at the forefront of Renault design and this year's Laguna is again setting industry benchmarks. Scoring the highest EuroNCAP rating in history, the hatch managed 36 from a possible 37 points, assuring Laguna's long lineage of five star safety ratings won't be forfeited any time soon.
Dual side impact sensors, a world first, have reduced side airbag deployment time by 50 per cent and with ABS, EBA, EBD and TCS settings all recalibrated to optimise their effectiveness the car envelopes a reassuring feeling of well being every time you hit the road. A full-house of airbags, pretensioner seat belts, tyre pressure monitoring, ISOFIX preparation for the littlie's chairs and reactive head restraints round out the safety features fitted.
The technology doesn't stop there either with in-cabin features as highly modernised as those underneath. Tri-mode (soft-auto-fast) dual zone climate control operates effortlessly and quietly to maintain cabin temperature whilst being remarkably simple to operate. It also incorporates an air quality sensor that immediately closes to recirculate mode when poor air quality is detected.
Dusk sensing automatic cornering xenon headlamps with washers and rain activated windscreen wipers allow you to keep you hands where they should be and the nifty automated park brake engages as you stop then disengages when you pull away to protect Park gear, and indeed the car, against more forgetful drivers. As nice and novel as these intuitive systems are, they're often lost on many buyers who instead overlook what lies beneath for the traditional options list. Laguna doesn't entirely disappoint here either.
A stylish open plan living space which is both interesting and thoughtful in design hosts a wide array of expected refinements including heated electric adjustable leather trimmed seats, leather gear knob and steering wheel (with magnificent hand stitched seams) and audio controls, trip computer, six CD tuner, power windows, side and rear sun blinds, auto dipping mirror, heated self folding mirrors, cruise control with speed limiter (the placement of whose switches is questionable) and optional dual sun roof (fitted).
The ambiance and decor are lovely and the seating comfortably supportive though rear seat passengers will struggle for leg room if the front seat occupants are above average height and the centre seat would be more suitable for short trips or children making for a tight squeeze with three large adults. Head and hip room is pleasingly more than adequate though and the use of leather, plastics and brushed alloy panels compliment one another beautifully making this an enjoyable space, even when the rigours of peak hour traffic take hold.
The stereo is somewhat of a let down and tends to distort bass frequencies even at lower volume and does not have an iPod connection available. The satellite controls behind the steering wheel are easy to master after a few minutes and make sense in placement rather than cluttering the wheel with dozens of buttons. Not all switchgear positioning is as logical however with the cruise control / speed limiter function near the park brake and the seat heater switches between the seat and the door a little odd to say the least.
An abundance of capacious storage can be found throughout the cabin making best use of otherwise wasted space as well as the usual door pockets, cup holders, seat back sleeves, console bin and chilled/heated glove box. The boot space too is impressively generous and the large top hinged tailgate allows for easy entry and egress of goods and a deep reach to all 501 litres. Should even more space is required 60:40 split fold rear seats give way to a total of 1593 litres. Goods are covered with a removable shelf and there are restraint hooks fitted to the floor for the roping down of larger objects.
I did find the back window carries a lot of mist and water build up in wet weather travel, even at urban speeds, and when reversing after such conditions your view can be hampered by a corner mounted rear wiper that doesn't quite clear much of your lower rearward sight. Thankfully, reversing sensors are fitted standard.
Suggestions have been made by my peers that the car is a little expensive considering what's on offer, but I disagree. Sure there are a few options I'd like to have seen included like the availability of Satellite Navigation, iPod integration harness, Bluetooth connectivity, a better stereo and some more rear leg room, but just have a look where Laguna sits when compared to its nearest competitors.
For the same specification and options as fitted to our test car will on the following vehicles see the resulting price tags well exceed that of the Laguna, and with the hefty LCT (Luxury Car Tax) threshold looming ever so close, that's worth bearing in mind. Our Laguna, as tested, was $52,690 with the next nearest rival, Volkswagen's Passat coming in at $53,940. Next in line is Peugeot's 407 which sees a total of $54,625, which is then topped by the Citroen C5 at $56,740. I think I've won that argument.
Laguna is a brilliant car, it's stylish, it drives exceptionally well, is sophisticated and above all else, for our market at least, is the safest money can buy. But to me, in this instance at least, the little things have let it down, even if only slightly.
Were a few more communication and navigation items made available and should rear accommodation and stereo performance have matched that of the rivals, Laguna would indeed have blitzed this test. But these things above being solely a drivers car are of crucial importance to a buyer in this price range and as such for Laguna - it's four out of five.
CarAdvice Overall Rating: How does it Drive: How does it Look: How does it Go:
Specifications:
Engine: 2.0-litre DOHC four-cylinder 16-valve
Power: 110kW @ 4000rpm
Torque: 340Nm @ 2000rpm
Induction: Common Rail & Turbo
Transmission: Six-speed Automatic
Driven Wheels: Front
Brakes: Discs with ABS, EBA & EBD
Top Speed: 205km/h
0-100km/h: 10.4 seconds
Fuel Consumption: 7.1 litres/100km (Combined)
Fuel Tank Capacity: 66 litres
Fuel Type: Diesel
NCAP Rating: Five Star
Safety: Front, Side (F&R) & Curtain Airbags; ESP; TCS
Spare Wheel: Space Saver
Tow Capacity: 1300kg (Braked)
Turning Circle: 11.4 metres
Warranty: 3 year/150,000km
Weight: 1593kg (Tare)
Wheels: 18 x 8.0-inch Alloy
Road Test the Rivals:
2008 Renault Laguna Privilège dCi Hatch Review