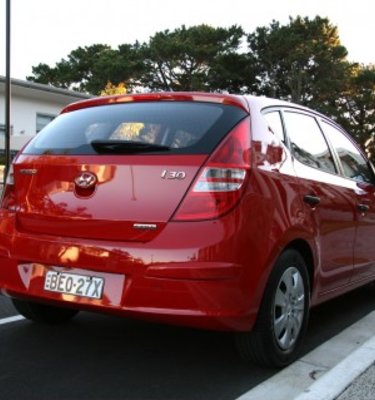 2008 Hyundai i30 CRDi Auto First Steer
2008 Hyundai i30 CRDi Auto First Steer
"For my money, Hyundai's i30 is one of the most exciting small cars on the market today. With the introduction of the CRDi automatic, global sales of the i30 will skyrocket"
- words and photography by Anthony Crawford
It's been a while since l attended the Australian launch of Hyundai's (pronounced – hee-unday) own smart car – the i30, and I had forgotten just how good this car really is.
When you add a common rail diesel with an automatic box to the range, what you get is an incredibly attractive proposition for new car buyers looking for the most complete four-wheel package available today in the small car segment.
And I'm not talking about the tricked up, top end SLX CRDi auto, which retails for $27,990, just the base model 1.6 SX CRDi auto at $23,490.
However, there is still a $2000 premium over the manual transmission diesel with the same spec, and frankly, it's about time that all manufacturers selling cars in Australia, got with the program (as has the been the game plan in the US for the last thirty-five years) and provided an automatic transmission as a no cost option. The economy of scale would have to favour the auto box these days and therefore, make this possible.
And of course, there is still that nasty gap between diesel and petrol powered models, which in this case, is a substantial $2500 for the same spec car, with of course the diesel being the more expensive variant.
But Hyundai is certainly not alone when it comes to diesel pricing strategy. I can only hope that with diesel fuel now at an all time high, that pricing policy for the oil burners is reformulated to reflect this fact, together with their increasing on road popularity.
As I edged i30 out of Hyundai's HQ in Sydney, there was a subdued "click" as HALO (Hyundai Active Locking Operation) automatically locked all doors. That's something you don't expect to find as standard equipment in any base model car in this class.
It's features like this, along with the telescopic/tilt steering wheel and USB/iPod connection that has made the i30 such a popular car with a relatively broad demographic.
And diesel is having a strong effect on those sales. In May, sales of the i30 topped out at 768 and 51% of those sold, were diesel powered.
While the five-speed manual i30 CRDi gets along nicely due largely to the decent wallop of torque, that's 255Nm from as low as 1900rpm through to 2750rpm, I was curious to see how the four-speed auto would fair.
The short answer is – very well. With so many small cars these days sporting at least five and some six-speed autos, you might forgive me for thinking that the CRDi auto might have been a rather dull experience against the manual version.
But it's that very same high torque number which makes this car so tractable. Driving around some of Sydney's steepest terrain was not only a breeze, but also an utterly enjoyable experience and a frugal one at that.
Let me explain frugal. To have this much grunt from a tiny 1.6-litre diesel is extraordinary, but to use only 6L/100km while accelerating up hills, is a substantial bonus.
The real world experience is even better. I left Hyundai with the fuel gauge needle indicating a full tank, that's 53 litres, give or take. I then drove well over 150kms and returned the car without the needle budging a millimetre.
Remember, this is the automatic version, the manual tranny CRDi will return a remarkable 4.7L/100km and that folks would require some serious distance driving to shift the needle of the full mark!
Acceleration from standstill is as rapid as its in-gear progress through all four ratios. Never does the car feel like it is struggling under the load. That's the nature of most of the current Common Rail Diesel powertrains, but even this base model i30, complete with steel wheels, drives with a decidedly sporty character.
Prior to collecting the i30, I had been lucky enough to be behind the wheel of Lotus's Exige S, but with some extra mumbo added to it. This a genuine 4.1 second surface to surface missile, that will leave a Porsche GT3 in its wake, at least in the tight bendy sections. It also has the best steering set up of any road-registered car I have ever driven, and we haven driven few here at Car Advice.
My point is the steering feel in the i30 is superbly weighted, even at dead centre when many small cars are overly assisted and lifeless.
It's hard to find fault with this car. You certainly won't find any oversights when it comes to the interior.
Quality at a budget price comes to mind. For example, the basic cloth seats are both comfortable and supportive. These are pews you could travel long distances in, no question.
The blue-lit dials are easy on the eye, and the audio head unit produces better than average clarity. As an avid iPodian, I was well sorted with a proper direct connection, which allows you to navigate through your play lists and other functions, via the stereo system.
And there is no shortage of room. This is a car that can carry five adults in relative comfort with more rear legroom than many cars twice its size.
Don't worry about general luggage space either. There are over twenty individual storage boxes of all shapes and sizes, and for the really big stuff, you can fold the rear seats all but flat, transforming the car into a van with up to 1250 litres of space. That's a lot.
It's a clever design all round, even the front doors open wider than any other small car on the market, allowing for easy access for older folk or those with problematic or arthritic limbs.
The base model i30 CRDi auto represents the best value for money proposition in the range (if you need auto) and is clearly my pick. I can guarantee you will enjoy driving this car.
2008 Hyundai i30 CRDi Auto First Steer