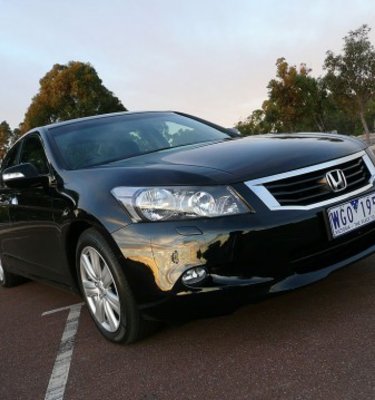 2008 Honda Accord review & road test
Model Tested:
2008 Honda Accord Luxury V6 - $46,990 (RRP)
Options fitted: None
Engine, Comfort, Economy, Space, Quality
Unusual suspension, complex interior
CarAdvice Rating:
Review and photography by - Karl Peskett
We all know the story about the ugly duckling. Have you ever stopped to think whether it applies in all fields of life? Certainly in the world of motoring, it happens forwards and backwards.
I mean, just take a look at the latest version of the Subaru Impreza. That's the Ugly Duckling story in reverse if ever there was one.
But with Honda's latest Accord, all is back to normal. In comparison to the previous generation Accord (distinct from the Accord Euro - that was a good looking car), the new model is certainly a beautiful swan.
The previous iteration looked a little bloated and dowdy, with sad headlights and a droopy design which appealed to cheeseburger munching Septic Tanks. Although the interior was nice, it was the exterior which let the whole thing down. Not so the 2008 model.
It's a classy design, which is a little rear-heavy, but still looks the goods. Particularly nice is the front end, which combines a modern angular sleekness, with classic inoffensive lines.
The swage line which runs from the front wheelarch to the boot lines up the chrome door handles, and on our test car in black, the whole package looks and feels expensive. So the exterior is as it should be.
But has the interior upgraded, or degraded? Well, an all-new design awaits, and at first glance, all seems well.
However, you are confronted with a centre stack which makes a Cray Supercomputer look like it was designed by Fisher & Price. Simply put, there's an overabundance of buttons. It takes a little getting used to, and some forethought might have combined several of the functions into one group of buttons.
Even a touch-screen might be good - although the screen's positioning might prevent that. Not everyone has go-go-gadget arms.
Still, once you work out where everything lies, it's easy enough to use. And the satellite navigation is probably one of the most comprehensive units you'll find on the market today.
Where else do you get a scale which counts down the metres until your next turn-off? You can also have listed your next two or three turns so you can plan ahead. Dialling in the street names is par for the course, and the system even speaks your menu options to you.
So the electronic gizmos are there for anyone who wants to have a play. But for others who just want to travel, the story is good.
First of all, the room is up on the previous version. This Accord is now a full-size car. It may be classed in the medium category, but make no mistake, there's nothing tiny about the 2008 Accord.
Rear seat passengers will have little complaint (apart from the centre seat which is a little high), with foot, head, and legroom all being acceptable. The front seats, too, are supportive, roomy and comfortable.
Boot space is okay, but what does eat it up is the full-size spare wheel - a rarity these days.
The driving position is quite good, although one CarAdvice tester did make mention that the steering wheel was a little offset. The wheel itself is almost sporty, with a smaller diameter than most competitors, and a plump (ever so slightly slippery) leather-bound rim.
The steering is on-centre is responsive and accurate, but lightens up off centre. It also tends to fall away in feel as more lock is used. Which almost describes the dynamics, too.
Being that the suspension is firm, you initially drive with more enthusiasm.
Yet the vertical stiffness hides the Accord's real characteristic - a fair bit of body roll. Once it rolls, it stops at a certain level and just grips. Initially alarming, you learn to trust it.
The handling, therefore is very good, but slalom work would tend to make you sick. Why is it then that over bumps it feels stiff? At least the brakes are good, and the electronic stability control (VSA) works well.
But it's the engine which amazes. The 3.5-litre V6 produces 202kW which is more than of the local offerings. And it feels it, too. Okay, it doesn't have have bucketloads of torque, but what it lacks down low, it more than makes up for at the top end.
From about 3500rpm it's piling on steam, and once it reaches 5000rpm it's well and truly in its stride and hauling along. But, the funny thing is, it doesn't sound like a Honda engine. We were expecting a very refined unit, and what we got had a metallic bark to it, with a hint of harshness. Still, it sounds tuneful, and purposeful, all at the same time.
And it's also economical. With a cylinder-shutdown function, the V6 will run on three cylinders under light throttle and low load conditions.
The changing from six cylinders to three and back again is completely imperceptible, too. The only way you'll realise is with the small green Eco light coming up on the dash. Make it your goal to see how long you can keep it on for. And it runs on standard 91RON fuel, too.
The five-speed auto which the engine bolts to does a reasonable job, but can be a little sharp in changes. It's also a little slow in responding to the paddle-shift inputs. However the throttle response is a nice, if a little sudden in stop-start traffic.
On the whole, the car is an all-round contender in our market. It's let down a little in areas, but so are all the cars in this price-range. As a competitor to local luxury offerings, the Accord acquits itself well.
With six airbags as standard, plus ABS, traction and stability control, you know it's going to be safe. Add good fuel economy, good space, good quality and good looks, and you've got a good deal.
Accord-ingly, this is a very good car.
2008 Honda Accord
CarAdvice Overall Rating: How does it Drive: How does it Look: How does it Go:
Specifications:
Engine: 3.5-litre V6
Power: 202kW @ 6200rpm
Torque: 339Nm @ 5000rpm
Transmission: Five Speed Automatic
0-100km/h: Not tested
Fuel Consumption: 10.0 litres / 100km (Combined)
Fuel Tank Capacity: 70 litres
Fuel Type: 91RON Unleaded Petrol
Airbags: Front, Side, & Curtain
Safety: ABS, VSA, EBA, EBD,
Tyres: 225/50R17 94V
Weight: 1,650kg
Wheels: 17-inch