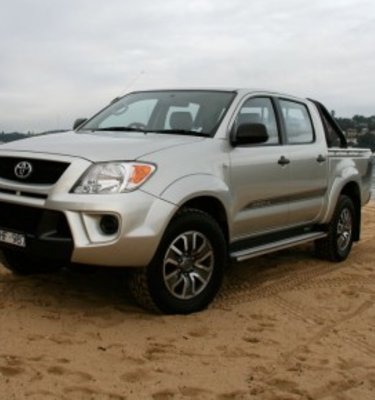 2008 TRD HiLux 4000SL Review
The all new TRD HiLux... a performance utility it ain't...
Model Tested:
2008 TRD HiLux 4000SL - $64,990 (RRP)
Pros: Appeal, desirability, practicality.
Cons: Performance, handling, noise, interior refinement, stereo.
Here is the essential problem. Despite what Toyota says, TRD is in fact in competition with HSV and FPV. You can't launch a performance brand and expect not to be compared to the traditional players.
Sure the TRD Aurion is far more comparable to its Ford and Holden counterparts than the HiLux is to the HSV Maloo and FPV Tornado (F6), but you still have to compare.

Under the bonnet and with subtle TRD badging sits a large 4.0-litre, quad-cam, V6 petrol engine that delivers 225kW of power and 453Nm of torque.

TRD has managed to increase power over the Dual-cab HiLux by 28.5 percent while torque goes up by 20.4 per cent. Which in a way explains the 25 per cent price increase. But is it warranted?
Short answer? This car is a tad ridiculous, I am not sure why TRD would put their name to it, because as far as performance or handling goes, or hell, even just sporty nature, the only thing this utility has going for it is a supercharger.

I admire Toyota, they make cars that leave many other manufacturers in envy, but if I remember correctly, we were promised some time ago that the Big T would do away with its bland 'fridge-on-wheels' image and revitalise itself? If TRD is suppose to be the answer, it is a complete failure.
How can Toyota associate its Formula 1 technology with this utility, about the only thing the HiLux and the Toyota Formula 1 car have in common is the badge. But let's be fair, the HiLux has enormous appeal, so much so that it's consistently the third best selling car in the country.

My week in the TRD started off when I collected the HiLux from Toyota headquarters in Brisbane. From here, it became an interesting experience, because despite how much I began to despise this vehicle, I knew there were countless tradies that dreamt of it at night. In that respect, this car is brilliant – a brilliant marketing exercise.

"Awesome Ute mate..." - Thanks! "Can I get a ride?" - Aw, maybe next time?
You get more compliments in this than in a hot Italian supercar, but we are after all, in Australia.
Whoever is in charge of Toyota marketing, needs to get a pay raise, as not only has the Prius become a icon (false or not) and started a revolution, but it now seems that as long as there is a Toyota badge on it, it will sell.
By this point you're probably wondering if I am ever going to talk about how it drives, perhaps it's best if I don't? Didn't think so.
Getting inside the car is surprising to say the least! My evaluation vehicle was the HiLux 4000SL, which sits above the 4000S. For that L (and an extra $5000) you get leather seat trim, carpet floor covering, TRD carpet floor mats (in lieu of rubber), six-CD in-dash changer and Optitron speedometer.

I recently convinced my folks to buy a new Toyota Corolla, which they did, for less than $30,000. So why is it then, that a $65,000 car has essentially the same stereo head unit, with the addition of Bluetooth?

Turn on the ignition key - thankfully there is no start button - and the 4.0-litre comes to life, although without much of a roar. If you want to nail it, leave it in 4WD, unless of course you feel the need to entertain yourself.

Also while it's getting you to the speed limit, the whine from the supercharger is not what one would expect, it sounds more like a Prius on steroids. A very tinny electric noise, which left many passengers extremely confused.

No doubt the Bilstein shocks help (a little), but don't expect to go around any corners like you would in even a normal sedan, there is still enormous amounts of body roll – again, why the TRD badge?
The HiLux actually comes from Thailand but the TRD bits are put together here in Australia and if you open the bonnet, this becomes rather obvious.

Speaking of off-roading, the HiLux was taken to a 4WD track near Australia Zoo and I humbly bow down to the Toyota gods as this thing can pretty much go everywhere. It can also carry a 948kg payload.

No doubt it's a confusing car to analyse. On one hand it's every tradesman's wet dream, on the other, it's nothing more than a glorified HiLux undeserving of the TRD badge.
Perhaps I am far to concerned with the actual performance and feel of this car and I am not appreciating it for what it is. Maybe I had much higher expectations of TRD?

CarAdvice overall rating:
How does it drive:
How does it look:
How does it go:
Specifications:
Engine: 3956cc V6 DOHC 16 Valve VVTi
Power: 225kW @ 5,400rpm
Torque: 453Nm @ 2,800rpm
Induction: Eaton M90 Supercharger
Transmission: Five Speed Automatic
Differential: 3.58:1 (LSD)
Brakes: Disc/Drum (with ABS)
Fuel Consumption: 12.9 litres / 100km (Combined)
Fuel Tank Capacity: 76 litres
Fuel Type: 95RON Unleaded
Safety: Dual Front Airbags
Spare Wheel: Matching Alloy
Towing Capacity: 2,250kg (Braked)
Turning Circle: 12.2 metres
Warranty: 3 year / 100,000km
Weight: 1,850kg (Tare) / 2,810kg (Gross)
Wheels: 17 x 7.5″ Alloy
2008 TRD HiLux 4000SL Review