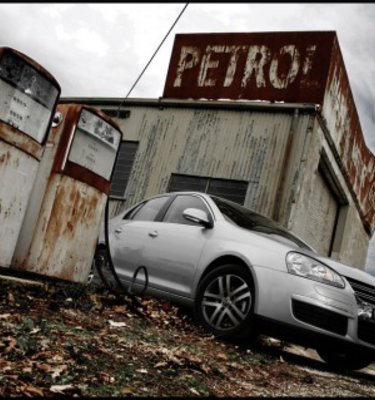 2008 Volkswagen Jetta TDI Review
2008 Volkswagen Jetta TDI Review and Road Test
One of life's little luxuries.
Model Tested:
2008 Volkswagen Jetta TDI sedan 2.0 litre four cylinder diesel DSG automatic - $37,790 (RRP)
Options:
Metallic Paint $690; Fog Lamps $390; Alarm $590; Sunroof $1890; Leather Trim $3290; Xenon Headlamps $1890; Alloys 18" $2990; Satellite Navigation $2990; Six CD Stacker $790
Capable & Economic Engine, Handsome Styling, Boot Space Rear Leg Room, Tyre Noise, Due for a Facelift
CarAdvice Rating:
- by Matt Brogan
Volkswagen's Golf based Bora replacement has been kicking around for a couple of years now and despite having had the pleasure of our company before, Jetta decided to pay another visit to the CarAdvice office to see if after all this time its most recent guise was still a relevant contender.
What's essentially a Golf with a boot, Jetta offers buyers a similarly sized package, albeit a little longer, with all the bells and whistles expected from our favourite hatch - only in sedan form.
With somewhat more of an upmarket and grown-up feel about it, Jetta feels like a curious meld of Golf and Passat sharing styling cues from each sibling that work harmoniously in both interior and exterior ornamentation to offer a handsome combination that although still attractive, could do with a facelift.
Smooth, flowing panel work, that distinguishable VW front end, and elegant chrome trim work around the windows make for a body whose substance is almost outdone by its good looks, unlike the original Jetta whose ungainly squared off style had all the charisma of a home brand tissue box.
Volkswagen Jetta Mk I was awarded a Five Star NHTSA Rating
What has remained unchanged since Jetta's humble beginnings is the five star safety rating and continued offering of a diesel engine which, fortunately for us, offers substantially more go than the original 1.6-litre whose 37kW was sure to struggle with the proverbial custard skin.
Under the bonnet these days a capable 2.0-litre, four-cylinder turbocharged diesel makes for an effortless 103kW@4000rpm, and with a very healthy 320Nm on hand from just 1750 revs, getting Jetta's one and a half tonne mass moving is an easy feat indeed.
Acceleration is strong after a brief initial (turbo) lag and the sprint to 100km/h can be managed in around 10 seconds, provided you make good use of manual mode on the brilliant DSG gearbox.
This transmission, offered as an option in most VWs, has to be one of the best of its kind available with seamless self shifting in 'D' (Drive) and the far more lively option of 'S' (Sportsmode) to really get things moving. If that's not enough to sate the driver in you, the stick can be flicked to the left and driven in manual mode. It's an intelligent gearbox and is always ready to make good use of the available torque.
Riding on a basic recipe of McPherson struts up front and a multi-link rear end, Jetta's ride is well tuned, compliant, and rather confident too with only a hint of body roll noticed when pushing to ten tenths. Understeer, despite a rather heavy cast iron block putting much of the weight well forward, is of little consequence, and even when pushed the car is impressively agile, surprising so considering the overall mass.
Speed proportional hydraulic power steering offers fluid feedback and superb weighting meaning driver input is quite well interpreted when slicing through high speed corners and provides a feel of being in command rather than simply along for the ride, something usually lacking in similarly priced rivals. A decent turning circle of just under 11 metres means parking Jetta is also an easy task.
Typical to most Volkswagen passenger models is the over assisted brake pedal, which I simply adore. Some people find it too firm and lacking in travel but I find the feel and feedback offered, and the rapid rate of initiation, unbeatable and would rate it among the best of any car currently on the market, even the high end stuff.
The usual rate of primacy shown in all Volkswagen's wide array of standard features is of course available in Jetta with quiet dual-zone climate control, detailed trip computer, steering wheel mounted audio, menu and cruise controls, crisp single CD tuner, power windows and heated power mirrors, self activating headlamps and wipers and flip key remote central locking - that also activates the power windows - all included in the list price.
One nifty VW idea, which some other car companies are beginning to adopt, is the passenger wing mirror dipping in and downward when reverse is selected to better aid parallel parking. Combined with the rear parking sensors, this simple feature makes parking a job even novices will grow to love.
You may further option a sunroof, metallic paint (fitted), fog lamps, alarm system, heated leather upholstery (fitted), electric seat adjustment, six stack CD changer, bi-xenon headlamps, 18" alloy wheels and the brilliant RNS510 satellite navigation package all for quite reasonable prices to make Jetta feel more personalised and even more comfortable.
On the safety front, and in addition to a five star ANCAP rating, Jetta offers the common spread of acronyms including ABS, EBA, EBD, ESP, ISOFIX, TCS and of course the complete air bag package to further enhance what is already a thoroughly well kitted and safe vehicle. In keeping with the warm safe feeling there's also standard tyre pressure monitoring, speed activated door locks, and coming/leaving home lights.
Boot space is a surprisingly generous 527 litres and the rear seats of course fold 60:40 for even more space when the need requires. An unobtrusive side hinged boot lid and a smooth flat floor makes loading and unloading a breeze and all the car's utility items are stored neatly out of sight.
When all is said and done yes, you could find a cheaper similar sized sedan elsewhere but, if the budget allows, why would you? Jetta is simply too good to pass up and has an elite air about it which combined with sparkling fuel economy figures, near unparalleled safety and renowned Volkswagen reliability makes for a stylish sedan worthy of any driveway.
CarAdvice Overall Rating: How does it Drive: How does it Look: How does it Go:
Specifications:

Engine: 1968cc DOHC four cylinder 16 valve turbo
Power: 103kW@4000rpm
Torque: 320Nm@1750rpm
Transmission: DSG Automatic
Brakes: ABS with EBA & EBD
Driven Wheels: Front
Top Speed: 207km/h
0-100km/h: 9.7 seconds
Fuel Type: Diesel
Fuel Tank Capacity: 55 litres
Fuel Consumption: 5.8 litres/100km (ADR Combined)
Safety: ESP; TCS; Front, Side & Curtain Airbags
Service Interval: 12 months/15,000km
Spare Wheel: 16" Steel
Turning Circle: 10.9 metres
Towing Capacity: 1400kg (Braked)
Warranty: 3 year/100,000km
Weight: 1,553kg (Tare)
Wheels: 16 x 6.5" Alloy
Road Test the Rivals:
2008 Volkswagen Jetta TDI Review