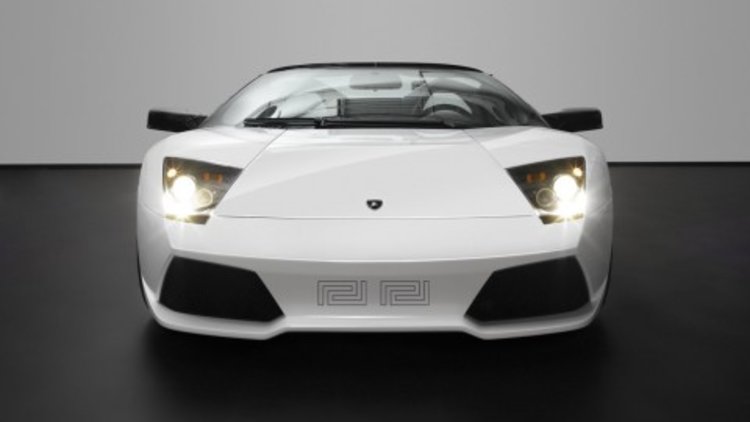 - Anthony Crawford
At well over $700,000 Australian Dollars for the Roadster version of Lamborghini's big V12 flagship, the Murcielago LP640, it's fair to say that buyers of this spectacular machine are members of a very exclusive club.
But in the world of the stratospherically rich, there are always those who quest for even more exclusivity and Lamborghini will build the perfect car for them.
Presenting, the Murcielago LP 640 Roadster Versace, a collaboration between two of the world's most exclusive Italian companies, Lamborghini, who practice art on four wheels and Versace, the ultimate fine fabric fashion label. Price is unknown at this time.
This limited edition car will be built to order and is a product of a Lamborghini's "ad personam" project, whereby clients can virtually create a car that is all but unique to them. By that, I mean, they can write their own equipment specs, paint colour and interior trim with fittings.
The LP 640 Roadster Versace, will only be available in a pastel white paint with the Versace Greek key motif on the door. The car also comes with a fully transparent engine hood, while inside, the superb sports seats are upholstered in black and white leather.
Beautifully soft nappa leather, which is hand-embroidered with the Versace Greek fret motif, trims the remainder of the interior.
Central to the car, is the Collection LP 640 exclusive accessory collection in black matt calf skin, consisting of; briefcase, gloves, driving shoes, belt, wallet, sports bag, suitcase, pair of jeans and a hat.
For those of you who may not be able to stretch the budget to include the Lamborghini car, you at least own one of these exclusive dual branded fashion items, which you can find on display at Versace Boutiques and some Lamborghini showrooms from November this year.
Lamborghini Murcielago LP 640 Roadster Versace