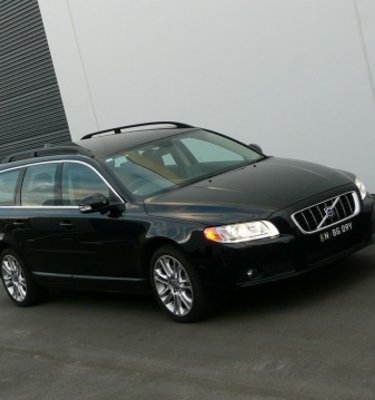 2008 Volvo V70 T6 review & road test
Model Tested:
2008 Volvo V70 T6 - $67,950 (RRP)
Options fitted: Metallic Paint - $1,350; SatNav - $3950; Bluetooth - $445; BLIS - $1200
Engine, Transmission, Comfort, Economy, Space, Quality
Suspension can be confused, steering artificial, satnav
CarAdvice Rating:
Review and photography by - Karl Peskett

Some pernicious comments about looks were thrown my way recently. Now I know that my nose is a tad on the winged-keel side, and that I'm about as handsome as a frog's achilles tendon, but the statements weren't about me.
No, they were about the car I was driving. The photos might give you a clue. You see, the Volvo V70 wagon I was driving, was big, long and black. "So, how's the hearse?" was a question I didn't quite know how to answer.
Ignore them I did. Especially as in this tester's eyes, it's a damn fine looking car. The chrome around the glasshouse, with the black metallic paint means it looks mean. Some people have mentioned that the wheels look a bit small too, but again, water off a ducks back.
And speaking of water, in duck-friendly weather, the AWD grip is appreciated. Sure the balance on turn in initially communicates a nose-heavy tendency, but when you're really on it, the Haldex system gets the rears pushing just that bit more, to maintain a neutral stance.
Particularly at higher speeds does the V70 feel at home. This is the perfect car to lope across the countryside in. The term GT comes to mind, however let's not kid ourselves - it's not a sports car. The V70's role is as a family hack. But oh, what luxury the kids and the dog have.
The build quality is faultless. Most notably, there's a satisfying clunk when shutting the doors. Plus inside there's not a squeak or rattle in earshot. Plastics, panels, everything - it all fits perfectly, and feels expensive. The swooping dashtop with its chamfered edge suits the demographic of this car, too.
Initial impressions of the Cranberry Red leather were of eye-watering brightness. After a week of ownership, however, you come to realise it's not over the top, and is easily liveable. Given the comfort of the seats and their adjustability, it's hard not to like the driving position, also. Combine that with a grippy steering wheel and the package is very good. The stereo is astounding, as well.
As is the space. Some wagons make claims about luggage space that real world usage just can't match. Not so the Volvo V70. The boot is huge, and when the rear seats are folded flat, the length is 1.9m and width is 1.1m - that's bigger than some utes.
Not only that, passengers are well catered for too. Probably the biggest gripe is a lack of footroom, but that aside, it's a practical car with a luxury bias. The built-in bolsters for kids are a brilliant idea, and the hooks on the rails in the boot can be utilised for load-carrying.
Interior negatives? Well, it's a pity that the satellite navigation is so slow, and it sort of looks tacked on, too. For the $4K that is asked, I wouldn't worry about it, and go and buy a Mio instead. Also the bluetooth provision wouldn't connect with my Sony-Ericsson, no matter how many times I tried. Also the funky floating needles on the dash (which I love) can be a bit hard for older people to read at night.
However the drive makes up for any quibbles. Especially the drivetrain. This is a sweet, sweet engine. Combine it with one of the best automatics going around, and you've got one brilliant drive experience.
The Geartronic automatic has to be among the smoothest shifters on sale today. There's no shunting, clunking or driveline-slack anywhere to be found. It's also predictive, and adaptive, without being overbearing. Truly an awesome unit.
But then you mate it to the free-revving, and torquey 3-litre turbocharged petrol motor, and you're on a winner. Anything above 2000rpm and it pulls very strongly, but even below that it never feels laboured. It'll propel this near 2-tonne car from 0-100km/h in 7.2 seconds (although it does feel a bit quicker than that), yet only uses 11.3-litres/100km on the combined cycle. Oh, and it makes a good noise while doing it, too.
Moving from the right pedal to the left pedal, and you find that braking is strong, consistent, and pedal feel is good, as well.
Coming to the ride, you'll find three suspension modes. Comfort, Sports, and Advanced. Put simply, they alter the ride from soft to firm. But to be honest, Sports feels like it should never have been there in the first place.
The trade-off with Comfort, is the fact that it irons out imperfections in the roads, yet loses all of its body control, heaving and wallowing over large undulations.
Moving to Advanced, the ride is firmed up, and as taut as it is, you feel every surface change, and bump. But it's a small price to pay for better grip, less crash, and more playful handling.
Sport is somewhere in the middle, but still crashes, yet doesn't improve the handling. Best to leave it in Advanced mode, and forget about it. Which is what you could say about steering feel, too.
There are three modes of assistance, which can be chosen from the in-car menu. Having experimented with all three, the heaviest is the best. The medium and light modes are far too distracting with zero feel, and a slackness all around the lock that kills any enjoyment. Best leave the heavy mode on, and be done with it.
There's only a few little quirks that just take away from the package, but don't worry, this is one fine automobile. It's got the space a family will need, yet still gives enough pleasure to set it apart from being purely a transportation appliance. Whitegoods this car is not. But I'll tell you what it is - a great alternative to the "must have an SUV to fit into the crowd" set.
Hearse? Shmearse! It's an easy car to live with day to day, is built to withstand a nuclear bomb, has acres of space, and still exudes quality to justify the price-tag. As a family-man, I'd happily park one in my driveway.
2008 Volvo V70 T6
CarAdvice Overall Rating: How does it Drive: How does it Look: How does it Go:
Specifications:
Engine: 3-litre inline 6-cylinder, turbocharged petrol
Power: 210kW @ 5600rpm
Torque: 400Nm @ 1500-4800rpm
Transmission: Geartronic Six Speed Automatic
Top Speed: 245km/h
0-100km/h: 7.2 seconds
Fuel Consumption: 11.3 litres / 100km (Combined)
Fuel Tank Capacity: 70 litres
Fuel Type: 95RON Unleaded Petrol
Airbags: Front, Side, Seat & Curtain
Safety: ABS, DTCS, EBA, EBD,
Tyres: Pirelli P Zero
Weight: 1,933kg
Wheels: 18-inch