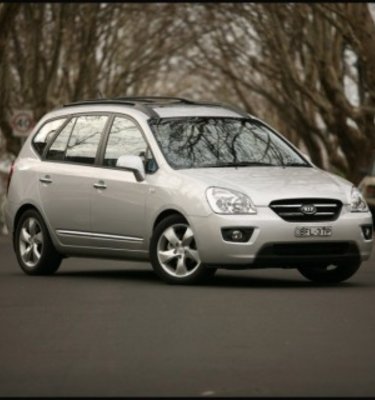 2008 KIA Rondo7 EX Limited Review
2008 KIA Rondo7 EX Limited Review
KIA's Rondo7 is three cars in one
Model Tested:
2008 KIA Rondo7 EX Limited 2.0 litre four cylinder petrol automatic - $31,990 (RRP)
Options:
Price, Practicality, Purpose, Handsome Looks Engine Lacks Power, Tight Third Row Seat
CarAdvice Rating:
- by Matt Brogan
KIA claims the new Rondo7 has crossed the proverbial great divide in melding several of our more popular vehicles in to the one neat package. It's categorised, in KIA speak at least, as an Urban Recreational Vehicle that aims to combine SUV versatility with people mover practicality in a large hatch proportioned car.
It's a good idea in theory and the "many things to many people" approach may fair well in a category so heavily dominated by more pricey Europeans, but whilst that's all well and good, is the Rondo7 really a good deal or is it a car trying too hard to be too many things.
Based on the Magentis platform, albeit 20mm shorter in wheelbase and completely unique from rear floor backward, the Rondo7 boasts some clever design attributes engineered at KIA's Russelsheim Research and Development facility in Germany that ensure full utilisation of all the available space.
The reasonably compact chassis has also been tuned to enhance steering response, ride comfort, safer handling and braking performance attributes and uses smart ideas such as a shallow fuel tank and in-wheel suspension technology to make better use of the often wasted underfloor area.
Traditional McPherson struts up front and a low, compact traverse mounted multi-link rear end provide a reasonably limber ride with stroke dependent shock absorbers offering varying dampening rates determined by the vehicle's laden mass. This translates to a comfortable ride no matter the on board population and even offers surprisingly decent handling.
A good turn-in rate with reasonable response and feedback means the vehicle's dynamics are rather obliging and offer enough involvement that as a driver you don't feel like an additional passenger along for the ride, a nasty trait common to many people movers. In fact driving the Rondo7 is actually rather enjoyable all things considered.
Under the bonnet KIA's 2.0-litre, in-line CVVT four-cylinder, petrol engine produces a modest 106kW at 6000rpm and a rather weak 189Nm of torque at 4250 revs. Whilst it is a great little engine in its own right, it does suffer under load and struggles to maintain pace when fully loaded, especially at highway speeds or up steep inclines - a shame we don't see the diesel model here in Australia.
The LX (base model) variant is available in both five-speed manual or four-speed auto guise, whilst upper spec models are available in auto only. The automatic has a large gap between third and fourth, primarily to save fuel, but this can make for a large kick back when overtaking which upsets an otherwise smooth flowing box of cogs.
Fuel usage is as one would expect from a minivan though no where near the ADR test results, 8.4 and 8.6 litres per 100km are claimed from the manual and auto respectively, but you'd have to be traveling down hill on an empty stomach with the wind behind you to achieve this. My week came in at 11.6L/100km average with combined city and country use.
Physically Rondo7 is a reasonably handsome vehicle with a European influenced design incorporating a low centrally mounted air intake, bold front bumper and two different grilles to distinguish between upper and lower spec models. A clean and aerodynamically efficient profile (0.32Cd) with regular apertured doors lead aftwards to an upwards kink in the rear window then around smoothly to a deep set square tailgate, prominent bumper and up swept tail lights.
Cabin space is airy and light with larger windows assisting visibility all round, especially through the windscreen which is pushed well forward at its bottom edge to allow a feeling that the vehicle is riding above the traffic, much like the ride height offered in an SUV.
Flexible seating arrangements mean the standard seven-seater can be transformed readily in to a five or even two seater with carrying volume rising from 400 to a massive 2106 litres respectively. The third row seat which is better suited to kids than adults splits 50:50 and the middle row 60:40. A tow bar can also be fitted for loads up to 1500kg (auto)/ 1100kg (manual).
For smaller goodies, there's KIA's usual barrage of storage compartments including 10 cup holders, sunglasses compartment, glove box, deep console bin, map pockets, seat back pouches and an oddment tray under the dash, all of which form nicely in to the contemporary feel of an interior that although basic, is clean, well finished and seemingly durable.
The standard feature list is well filled for the price with air-conditioning, power steering, 15-inch steel rims, front airbags, cruise control, remote central locking, alarm, automatic headlights, rear parking sensors, CD tuner, iPod input jack, power windows and mirrors, and tilt adjustable steering all included in the list price for LX (base model).
EX (mid way) gains 17-inch alloy wheels, fog lamps, leather covered steering wheel and shift knob, steering wheel mounted audio controls and roof rails with cross bars, whilst top of the range EX Limited (as tested) picks up a sunroof, leather trim, additional airbags and climate control.
On the safety front Rondo7 comes standard with ABS, EBD, ESP and Traction Control and dual front airbags on all models. EX Limited gains front side and curtain (full length) airbags as well. It's also worth noting at this point that Rondo7 picked up a four-star EuroNCAP rating and impressive five-star NHTSA result in the USA, something even the dearest of competitors struggle to achieve.
KIA's terrific five-year, unlimited kilometre warranty only enhances the bargain price and although the Rondo7 could do with a diesel make over, it is bound to cater well for the weekday school run, weekend footy trip or Friday night pub crawl. A demure, well presented and safe package I would have no trouble in recommending the Rondo7 to a growing family who need to maximise their expenditure or a maximised family wanting to maintain their bank balance.
CarAdvice Overall Rating:
How does it Drive:
How does it Look:
How does it Go:
Specifications:
Engine: 2.0-litre, four-cylinder CVVT
Power: 106kW @ 6000rpm
Torque: 189Nm @ 4250rpm
Transmission: Five-speed manual/four-speed auto
Driven Wheels: Front
Brakes: Disc with ABS & EBD
Fuel Consumption: 8.4 litres (Man) / 8.6 litres (Auto)
Fuel Tank Capacity: 55 litres
Fuel Type: 91RON
NCAP Rating: Four Stars
Safety: Front Airbags (Side & Curtain Available); ESP; TCS
Spare Wheel: Spacesaver
Tow Capacity: 1500kg (Man)/1100kg (Auto)
Turning Circle: 10.8m (LX)/11.0m (EX & EX-L)
Warranty: Five year/unlimited kilometre
Weight: 1598kg (Tare)
Wheels: 15-inch Steel (LX) / 17-inch Alloy (EX & EX-L)
2008 KIA Rondo7 EX Limited Review