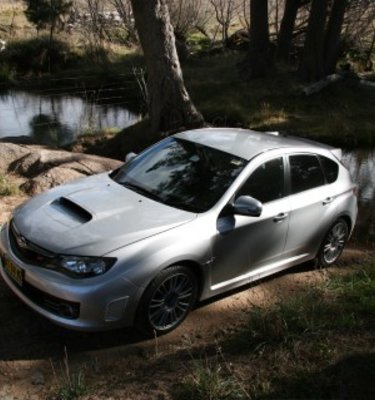 2008 Subaru Impreza WRX STi review
2008 Subaru Impreza WRX STi spec. R review & road test
Model Tested:

2008 Subaru Impreza WRX STi spec. R - $64,990 (RRP)
Performance, handling, brakes, Recaro seats, new looks (Anthony)
New looks (Alborz), lack of exhaust note, no option for DSG style gearbox
CarAdvice Rating: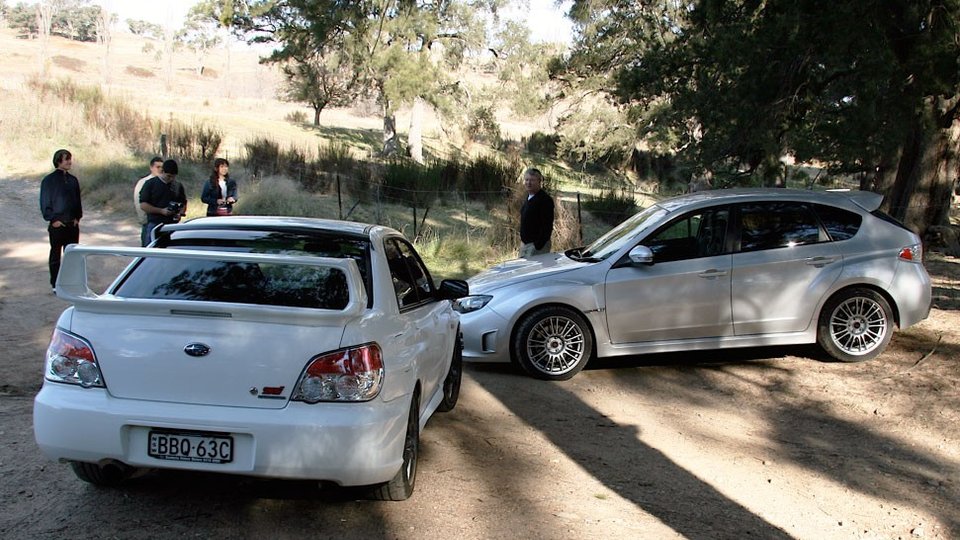 But then I got busy with work and ended up with an SV5000, the first Australian sedan to have 200kW under the bonnet. It was a great car, but it didn't go around corners like a WRX.
Some years later Subaru started preparing 'super' versions of the WRX in the guise of the WRX STi. Now, this was a car I aspired to, but the price increase of around $20,000 over a standard REX, meant that I had to either get a new job, or sell our home (unit actually).
Again, fate stepped in, and I was offered a mint 1981 Porsche 3.0 911SC, for less than a song. Still no STi but then, that was probably a good thing, given the car's impending dark times.
Subaru's finest tarmac weapon, had risen to newfound notoriety, as the best getaway vehicle ever made. The "Ram Raiders" as they were known, endorsed the WRX STi, with more successful escapes than the police had cars.
It's also the reason I had lost interest in acquiring what I considered the Holy Grail of affordable super cars. Chances are, you would be pulled over by the boys in blue, every time you took the car out for a drive. That's something I didn't need.
Crash cut to 2008. Some would argue that Subaru have gone way too pedestrian with the design of the new WRX. Not me. It's a hatch, so it's got practicality on its side and performance wise, its still a very quick car, into and out of corners.
The only problem is, that from the rear three quarter view, it's difficult to tell the performance spec variants from lesser-priced versions, like the RS or even, RX badged Imprezas. You could also argue, that this is a good thing from a licence preservation perspective.
But then, that's probably why I would need to put the brakes on family holidays for a year or two, and go with the STi, Spec.R, no less. The quad exhaust pipes, deep rear diffuser and extra wide wheel arches, are more than enough to sway me.
You'll notice the wheels on the Spec.R; they are 18-inch lightweight BBS alloys, shaving over 3kg off each corner. They also suit the car's aggressive body kit more so, than the entry level five spoke alloys.
According to Subaru's performance figures, the 2008 STi is only 0.6 seconds quicker than the current WRX. That's 5.2 seconds Vs 5.8 seconds, and while that may not seem like a lot, the difference behind the wheel, is dramatic.
To anyone out there who is clinging to the false belief that the previous generation STi was somehow quicker than MY08 car, we brought along a slightly modified MY07 STi as a comparison.
But a car like the WRX STi Spec R can bring out the devil in you, like no other. Let me explain.
There's a small roundish metal dial labelled "SI-DRIVE" just behind the six-speed shifter. You have three engine map settings to play with here, Intelligent (I) for smooth and economical driving, Sport (S) for all round performance and Sport Sharp (S#) which the press release describe as "Truly dynamic engine performance".
If there were ever a "launch" competition for stock standard production cars up to $100,000 I can assure you, the STi would be undefeated. This car is rocket ship quick off the mark, as all four tyres put one hundred percent of the power down, without a hint of traction loss. It just launches like no tomorrow.
Next page...
Alborz - Pictures of the new STi caught me completely off-guard, think of it this way, it felt like a gorgeous blonde walked out of a beauty salon and came out as a brunette, began dressing like a professional and grew up... a lot.
Some people will always love the blonde look (I do!), but I can somewhat see where Subaru is coming from with the new STi. It no longer has the 'look-at-me-now' factor to it, which although was one of the previous generation's draw cards, seems to have become a liability. Let me explain.
The question of whether or not I will buy the new STi has nothing to do with the performance or handling, the car is better than it has ever been, it's quicker, has more power and the engine and entire performance package is still the best bang-for-your-buck this side of 70g (although the Audi S3 is a great competitor).
Even Subaru's once lacklustre Impreza interior is looking better than ever, but, and it's a big but, the car just doesn't push the right buttons for me. Maybe it's because I am still young at heart or maybe because it's a hatchback.
Perhaps, we can still refer to the blonde-now-brunette girl, the ones that loved her when she was a blonde, will secretly still love her but continue to complain about her hair, meanwhile her new looks attract an entirely new set of eyes - the ones she is apparently after.
My question, however, is whether or not the new-lookers will fall in love or simply glance over her new looks and remember the blonde?
Video review coming soon.
----

CarAdvice Overall Rating:
How does it Drive:
How does it Look:
How does it Go: