2008 Volkswagen Touareg R50 & Mercedes Benz ML500 Review & Road Test & Comparison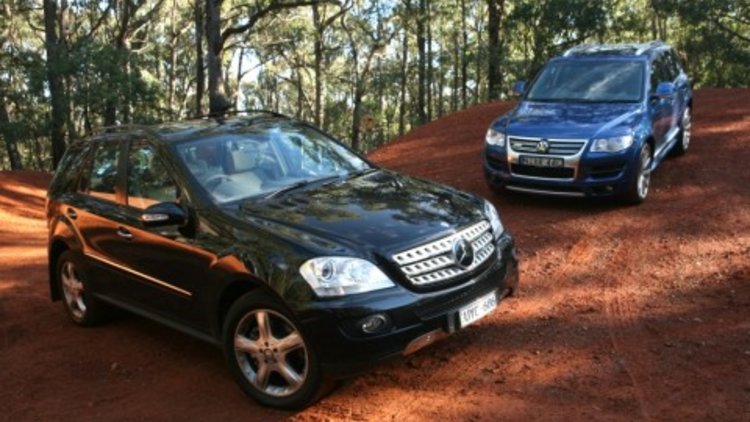 Model tested: 2008 Volkswagen Touareg R50
Recommended Retail Price: $129,990.
Options fitted: None fitted.
Stupendous torque; good fuel efficiency; styling; RNS510.
Weight; foot operated park brake; I don't own one.
CarAdvice rating: (4.50)
Model tested: 2008 Mercedes Benz ML500
Recommended Retail Price: $121,100; $133,680 (as tested).
Options fitted: Metallic Paint - $1910; Cashmere Beige Leather – no cost; Premium Pack(heated/cooled front seats, Distronic cruise control, Keyless-Go stop/start) - $4930; Glass Electric Sunroof - $2920; TV Tuner-digital/analogue - $1810; Easy-Pack electric tailgate - $1010 .
Performance, equipment levels, comfort and ride.
Foot operated park brake; spongy ride from air suspension.
CarAdvice rating: (4.00)
- Review by David Twomey and Paul Maric, photography by Paul Maric.
Introduction:
Let's face it there are few rational reasons to spend $130,000+ on a biggish four-wheel drive, the main one probably being – you just can! That's said we decided to take a look at two different choices in the luxury 4WD segment – the benchmark Mercedes-Benz ML500 and the Volkswagen R50 - luxury or performance?
When the car God – who was German by the way – created cars, he paid special attention to one model, I told Editor David Twomey. Sure, it wasn't the lightest car on the planet (at just near 2.6-tonnes, it wasn't anywhere near!) but it was tremendous – or even stupendous, I continued. Ladies and gentlemen, welcome to the Volkswagen Touareg R50.
The idea of a 2.6-tonne 4WD 'nipping' from 0-100km/h in 6.8-seconds boggles the mind. The fun doesn't stop there either, all four corners sit on 295/35 R21 Michelin Latitude tyres – yes 295 wide! That's 20mm wider than a HSV GTS. Braking is taken care of by 368/358mm front/rear rotors, continuously pulling the R50 up from any speed thrown at it.
"But, but, but...the environment, the Prius is the car God's favourite," I hear a 'greeny' interject as I attempt to explain the R50's credentials to Editor David Twomey. How does an achievable 12.6-litres/100km sound? Soon enough, the greeny hovered off in a fit of tree-hugging rage at the obscene match-up getting people's attention, just off Melbourne's trendy Chapel Street. A Mercedes-Benz ML500 and Volkswagen Touareg R50, it's the perfect combination of cars for our location.
Paul Maric and David Twomey meet to discuss directions to the closest coffee shop, testing the pair's ability to trek upmarket Melbourne suburbia.
Paul Maric - Volkswagen Touareg R50:
While David will go on to explain the ML500 in finer detail, I'll discuss the R50.
After stabbing the starter button located near the driveline tunnel, an eerie noise erupts from under the bonnet. It's certainly not an aggressive noise, but on the same token, it doesn't sound like a traditional diesel 4WD either. In fact, an unsuspecting member of the public would simple assume you were driving a typical Toorak tractor.
The inherent difference between the R50 and any other city-slicking 4WD on the road at any given time is the monstrous credentials the R50 carries. Sitting between the driver and the front number plate are several impressive things. First up is a 10-cylinder diesel motor. Now, hold up a second. Before all your car buffs grab the mouse to close the window, listen on, this isn't any ordinary diesel.
Attached to the V10 motor are two turbochargers. The power figure of 258kW is staggering for a diesel, the most important figure though is the torque – 850Nm. Yes, that's 850Nm. To give you an idea of just how incredible that torque feels, take into consideration that HSV's most powerful V8 sedan produces 550Nm of torque – 300Nm short of the Touareg R50.
Jump on the throttle from a standing start and the front end lifts, causing traction control to activate to stop the front wheels from spinning. In the wet, doing the same thing causes traction control to act on all four wheels, as they lose traction under full throttle. With 295-wide tyres, this gives you an indication of just how tremendous the R50's pulling power is – especially when you consider the fact that it weighs 2.6-tonnes.
Performing family duties is easy as Pi. Rear leg room is sufficient for adults and children, also accommodating for plenty of head room. The R50 also receives quad-zone climate control which allows both outer rear passengers to set their own temperature. The two outer rear seats, along with the two front seats, are also heated.
Boot room is good, but is slightly intruded upon by the air compressor sitting under the boot floor. As the R50 features NO spare tyres, an air compressor and repair kit take its place in the tyre hole dug out in the boot. The main reason behind the lack of spare tyre is that it's impossible to fit a 21" 295-wide spare tyre in its place. It's also unfeasible to fit the spare tyre to the rear of the vehicle as it alters the vehicle's weight distribution and for a sporty vehicle like the R50, it's a scenario which can't be entered in to.
One of the most exciting features of the R50 is RNS510. Sure, doesn't mean much to most but it's Volkswagen's new center console user interface. It replaces the ever-dated system which used Volkswagen's also ever-dated satellite navigation system. It was inanely slow, while the graphics were totally subpar.
RNS510 uses a brand new screen and a hard disc operated navigation system. Upon delivery of the vehicle, the dealer loads the navigation DVD into the slot and the system copies it to its local hard disk. The hard disc can hold up to 30GB of data (10GB for navigation and 20GB for music) and loads quicker than it would using a DVD based system.
I played around extensively with RNS510 and thought it was quite a clever system. A touch-screen system is now in place for the navigation, while all other commands are operated via sliders on the screen or buttons stacked vertically to the side of the screen.
A couple of griped I had with the system was how long it took to initiate when starting the car. It takes up to 30-seconds for the system to become active which means that you can't enter any addresses into the navigation or browse your music collection on the hard disc. It also took far too long for the reversing camera to activate once reverse gear was selected, almost nullifying it on several occasions as the vehicle was already reversing.
The quality of the reversing camera was also questionable. Volkswagen have used what seems to be a cheap, low resolution UWA (Ultra Wide Angle) unit which distorts the already grainy image. The camera is also next to useless at night time when visibility is further reduced due to the R50's privacy glass.
Steering wheel controls are easy to use and allow the driver to navigate the large colour LCD screen used in the centre of the speedometer and tachometer cluster. The screen allows navigation of the audio system, vehicle settings, cruise control, satellite navigation (a compass is displayed when navigation isn't in use) and trip computer.
It's hard not to like the exterior of the R50. The Touareg's recent styling facelift ensured a fresh design of an already attractive product. The massive 21" Omanyt wheels accentuate the gigantic blue painted front and rear brake callipers, while the low-slung stance and chrome highlights around the grille and roof racks bring out the rest of the car's design.
Subtle front and rear 'R50' badges make the R50 somewhat of a sleeper, catching other motorists by surprise at times.
Although the R50 features the same off-road equipment as the V10 TDI, you would be nucking futs to try any off-road work in the R50. The totally on-road oriented tyres would fill with mud quicker than it would take an environmental lobbyist to call bloody murder when crossing a wet field. Although a low-range gearbox and lockable differentials are available for use, most owners wouldn't touch the switches – or even know what to do with them.
That brings us to the bit I'm sure most of you are waiting to hear about. How does the R50 like being thrown around a set of corners at speed? Well, it doesn't mind it actually, the same can't be said for the driver though.
The R50 piles on speed at a mind altering pace. Although the brakes feel superb, coming into a corner at speed must be done with the utmost of precision – otherwise things can go wrong quite quickly. As there is a slight moment of turbo-lag before the twins spark to life, you need to be careful how hard you get onto the throttle out of a corner. There were several occasions where standing on the loud pedal was met with a mix of understeer and oversteer. The twin-turbo V10 delivers its full gamut of torque quicker than you can imagine.
As such, you need to be quite liberal with the application of power out of a bend. The gearbox is also not all that impressive when driving with vigour. The 6-speed unit shits up automatically and won't allow you to preselect a downshift of grab a gear too early. The steering is also a bit ho-hum. You could drive the R50 all day long with one finger, it just feels too light and easy, I felt it could have a bit more weight for cornering.
If you take my gearbox and steering qualms out of the equation though, the R50 corners like no other 4WD I've ever driven. In 'Sport' mode, although the ride is neck-shatteringly rough, it produces barely under body roll through corners. The total 1.18m of road contact ensures that the Touareg is never short of grip. In fact, the tyres do a tremendous job of keeping this 2.6-tonne beast on the black top.
Needless to say, the R50 is a willing performer and certainly doesn't disappoint. It was surprising to note that fuel consumption didn't go beyond 17.5-litres/100km during testing on our private test circuit, which included plenty of full throttle driving. While the average fuel consumption including highway, city and country driving was just 12.8-litres/100km.
The R50's pricing is intriguing. It costs just $8,000 more than the regular V10 TDI Touareg. When you consider the performance improvements and the additional features, it really isn't bad value for money. But on the same token, equivalently priced vehicles from Mercedes, BMW and Porsche offer the same performance for around the same price, the R50 on the other hand is loaded with features, unlike its opposition.
Although the R50 offers stupendous levels of torque and brilliant levels of fun, it begs the question. Why? You could get far better overall performance out of a sport sedan which could probably carry the same number of people. You could also probably find one capable of towing most of your belongings. The R50 certainly won't be used for off-road work – you'd be crazy to let those tyres touch the road – so it really is a redundant car.
But, for the man/woman who wants/needs everything, you certainly won't find a better 'sports' 4WD under $150,000.
CarAdvice Overall Rating: How does it Drive: How does it Look: How does it Go:
Specifications:
Engine: 4921cc V10 Twin Turbo
Power: 258kW @ 3,500rpm
Torque: 850Nm @ 2,000rpm
Transmission: Six Speed Auto with DSP & 4XMOTION
Brakes: Disc with ABS, EBA, EBD & EDL
Top Speed: 235km/h
0-100km/h: 6.8 seconds
0-400m: 14.8 sceonds
Fuel Consumption: 12.6 litres / 100km (Combined)
Fuel Tank Capacity: 100 litres
Fuel Type: Diesel
ANCAP Rating: Five Star
Safety: ESP with TCS; Front, Side & Curtain Airbags
Spare Wheel: Tyre Sealant & 12V Compressor
Tow Capacity: 3,500kg (Braked)
Turning Circle: 11.6 metres
Warranty: 3 year / 100,000km
Weight: 2,532kg (Tare)
Wheels: Omanyt 21×10 inch alloy
Click next to read the Mercedes Benz ML500 review

David Twomey - Mercedes Benz ML500:
The Mercedes-Benz ML500 you see here will set you back a total of $133,680, which is a lot of money for an off-road vehicle that's major challenge is probably going to be the speed-humps in the local supermarket car park.
Having gotten that off my chest I think the only other serious objection you can have to the ML500 is the question of how do you justify a 5.5-litre V8 engine in these days of sky-rocketing fuel prices.
In truth, you don't, because the 3.2-litre V6 diesel option in the ML320 CDI makes a lot more sense and offers similar torque to the V8, but again it's a matter of choice and this is a free country.
It must be said that the new 5.5-litre, 90-degree, V8, which can also be found in a number of other Mercedes-Benz vehicles, is also more fuel efficient than its predecessor.
The engine also delivers a huge power gain of more than 60kW and now punches out 285kW at 6000rpm, which is enough to punch the 2.2 tonne ML500 from zero to 100km/h in a claimed 5.8 seconds.
We did not have the opportunity to test that claim but have to say that give a hefty dab on the throttle, the ML500 feels quick, and there is that delightful V8 burble from the twin exhaust pipes, which I suspect is part of the reason most owners buy the car.
Torque is also up by an impressive 70Nm for a total of 530Nm that's available from 2800rpm to 4800rpm.
Coupled with the latest Mercedes-Benz seven-speed automatic gearbox this means the drive is always smooth and the ML feels like it would pull all day if one was able to give the throttle its full head – oh for a German autobahn!
Mercedes-Benz lists the ADR combined cycles fuel consumption for the ML500 at 13.4 litres per 100km, down slightly from the previous model, and over the period of our test, which took in both city and country driving in almost equal proportions, we found the vehicle used an average of 13.9L/100km.
However, some enthusiastic driving on twisty mountain roads soon saw that figure scoot up into the 18L/100km and a little beyond for short periods.
Given the size and weight of the ML500, and the fact that sports type driving in the mountains is not what it's primarily designed for, nor is it the typical use expected of a typical owner, then the fuel figures are actually pretty good.
Benz seven-speed automatic transmission plays a large part in the car achieving its very respectable fuel consumption figures, this is after all a large vehicle with a permanent four-wheel drive system, with well-sorted ratios that cover both low-speed crawling around town and cruising on the freeway.
As we've already intimated most ML500s probably won't be challenged by anything more demanding than a dusty country road, a little snow, or a muddy field, but, despite its 19-inch alloy wheels and low profile road tyres we did find that the ML was able to acquit itself quite assuredly on a couple of muddy slopes.
If you actually contemplate more serious off-roading then the ML can be ordered with an Off-Road Pro pack that adds front and rear lockable differentials, a two-speed transfer case with a low range and a reinforced rear axle. It will cost you an additional $2920 in the ML500 and $6040 for the lesser models.
Our road test car certainly looked the part in its Obsidian Black metallic paint, a $1900 extra, and cashmere beige leather, as well it sported an optional premium package, which included heated and cooled front seats, Mercedes-Benz's Distronic cruise control and Keyless-Go, which replaced the key-start with a large start/stop button, all for the princely sum of $4390.
Distronic is a cruise control system that introduces some intelligent safety features, Benz calls it an 'autonomous intelligent cruise control' and we'd have to say it is certainly autonomous and reasonably intelligent.
Besides maintaining a pre-set and safe distance from the vehicle in front, it will also brake the ML to a complete stop if you happen to have totally stopped concentrating and not realised that the traffic in front has come to a halt.
We found from experience that it can also take some pretty sudden braking action if another vehicle darts into the space you have created between yourself and the preceding vehicle, which can mean that the driver behind you needs to be paying attention if they don't want to end up in your boot.
I must say I found it an encouraging safety feature while driving in reasonably heavy fog on the freeway, knowing that the system was sensing virtually unseen cars in front and keeping me a safe distance from them.
Ride and handling in the ML500 is more luxury than sporting although the car does now come standard with air-suspension that elevates itself at low speed and drops back to a default setting as the speed increases on the highway.
There's no choice of a sports setting, as in some other Benz' that have this air suspension set-up. The result is that if you do decide to make use of that 285kW there's a fair degree of body roll involved in vigorous corner.
The ML500 has the 4Matic all-wheel drive electronic transfer system as standard, which includes traction and stability control.
This package includes anti-lock brakes, eight airbags, active head restraints and Mercedes-Benz's PreSafe system, which uses ABS and stability control sensors to detect an imminent impact before it occurs, setting the vehicle up to best survive any ensuing impact by priming the airbags and seatbelts and closing the windows and sunroof.
Accommodation inside is, as they say, more than adequate, the heated and cooled leather seats in the front having a myriad of adjustments that mean you can achieve almost the optimum seating position.
There's three position memory, of course, that links in your preferred steering wheel position and exterior mirrors.
The central controls are a little overwhelming in their multitude but given that most can be set and forgotten you are then left to concentrate on the central screen which offers sat/nav, DVD replay and digital/analogue TV!
The later doesn't operate while the vehicle is in motion and you would need to add the rear screens that mount in the back of the front head-restraints to really pacify the back seat passengers.
As well there was a Harmon Kardon Logic7 sound system that offered 440 watts of surround sound through 12 speakers, including a sub-woofer.
At night it was more like daylight as the Bi-Xenon headlights that include cornering technology and dynamic range adjustment cut a swathe down the road ahead. On more than a few occasions we had oncoming motorists complaining about the brightness of our low-beam lights!
The most sensible aspect of buying a car like the ML500 is making the decision that it will be a Mercedes-Benz, or any of the other recognised luxury brands, because that means when you tire of you plaything it will still return you a hansome profit.
The ML500 is an excellent vehicle, superbly engineered, that will do a great job of negotiate speed humps, and should you decide to take it off-road it will actually do that very well as well.
CarAdvice Overall Rating: How does it Drive: How does it Look: How does it Go:
Specifications:
Engine: 5460cc V8
Power: 285kW @ 6,00rpm
Torque: 530Nm @ 2,800rpm
Transmission: Seven Speed Auto with 4MATIC
Brakes: Disc with ABS, EBA, EBD & EDL
0-100km/h: 5.8 seconds
Fuel Consumption: 12.9 litres / 100km (Combined)
Fuel Tank Capacity: 95 litres
Fuel Type: 95RON Petrol
ANCAP Rating: Five Star
Safety: ESP with TCS; Front, Side & Curtain Airbags
Spare Wheel: Space saver
Warranty: 3 year / 100,000km
Weight: 2,185kg (Tare)
Wheels: 19×8 inch alloy
Volkswagen Touareg R50 & Mercedes Benz ML500 review