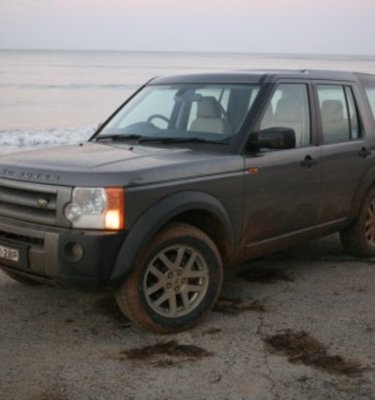 2008 Land Rover Discovery 3 TDV6 SE review
2008 Land Rover Discovery 3 TDV6 SE Road Test
Model tested: Land Rover Discovery 3 TDV6 SE
Recommended Retail Price: $64,990.
Options fitted: Premium navigation ($7,300); beige leather interior ($NCO).
Impressive off-road; styling; fuel efficiency.
Weight; some options pricing.
CarAdvice rating: (4.25)
- Review and photographs by Paul Maric.
Disco fever has hit and I thought I'd join the party by road testing Land Rover's Discovery 3 TDV6 SE. I spend a lot of time on the road and see plenty of Discovery 3s (or D3s as they're also known) and I've always wondered why. After spending a week with Land Rover's popular model, it became quite clear why it's such a popular vehicle with the punters.
The boxy design gets straight to the point, there are no swanky lines or curves to interrupt the vehicle's main purpose – climbing big hills and trekking through muddy tracks. The Discovery 3 is very driveable. Although it weighs around 2.3-tonnes, the car feels quite agile and somewhat nimble. The turbo-diesel V6 gels nicely with the vehicle.
Putting out 140kW and 440Nm of torque, the V6 oiler sends power through a 6-speed automatic gearbox which is constantly in the right gear for optimal acceleration. Fuel consumption sits at a friendly 10.4-litres/100km, which is pretty good for a heavy 4WD like the D3.
Off-road is where the D3 is most at home. Height adjustable suspension, a low-range gearbox and intuitive 4WD mode selector head the D3's off-road equipment. The torquey V6 diesel packs plenty of pulling power for steep inclines and muddy ruts.
A maximum wading depth of 700mm makes the D3 extremely capable when it comes to river crossings. If towing is also your thing, the maximum towing capacity of 3.5-tonnes means that the Discovery 3 will tow pretty much anything with wheels.
Seven-seats are standard fitment. They are suitable for kids but a squeeze for adults. The rest of the cabin is quite roomy though. Front and rear passengers receive plenty of leg room, along with head room.
The other thing that makes the Discovery 3 so popular with average punters is its driveability. This 4WD can be driven by anyone. Light steering, easily reached controls and good visibility make it popular with families and travel makers. The dual opening tailgate also makes for a good seat when hitting the beach for a surf.
The Land Rover Discovery 3 is available with three engines and three model grades. You can either buy the V6 petrol, V6 diesel or V8 petrol. The three model grades – S, SE and HSE offer unique options. Prices start at $64,990 for the V6 SE and end at $90,990 for the range topping V8 HSE. The model being tested – the TDV6 SE – is priced at $74,990. The D3's pricing point is quite reasonable when you take into consideration its off-road credentials.
Standard features include: 18" alloy wheels; full-size spare wheel; rear parking sensors; climate control; cruise control; bi-xenon headlights; heated exterior mirrors; auto-dimming interior mirror; leather seats; 7-seats; electric windows; electric mirrors; height adjustable suspension; automatic headlights; automatic windscreen wipers and central locking.
Standard safety features include: Dynamic stability control; ABS brakes with ESP and BA; hill descent control; engine immobiliser; driver and front passenger airbags; driver and front passenger side airbags; rear passenger curtain airbags and active roll mitigation.
It's pretty easy to see why Land Rover's D3 is so popular. The features, price point and to-the-point styling bode well with buyers who don't mind spending the odd weekend away in the bush or at their holiday house.
With enough torque to keep things moving, the TDV6 is the pick of the bunch. If you're not a fan of the Range Rover series of Land Rovers, the Discovery 3 is the perfect compromise and some would argue that it's also a better option for serious off-road work. The Discovery 3 is the best disco in town and is certainly worth checking out.
CarAdvice overall rating:
How does it drive:
How does it look:
How does it go:
2008 Land Rover Discovery TDV6 SE Specifications
Engine: 2.7-litre
Power: 140kW
Torque: 440Nm
Top speed: 180km/h
Safety: Electronic stability control- front air bags - side airbags - curtain airbags - front seatbelt pre-tensioners and load limiters.
0-100km/h: 12.8-secs
EuroNCAP rating: 4-stars
Turning circle: 11.45m
Fuel tank: 82.3-litres
Fuel consumption : 10.4 litres/100km (claimed)
Fuel type: Diesel
2008 Land Rover Discovery 3 TDV6 SE review