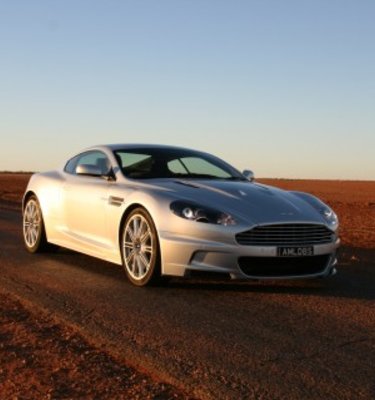 2008 Aston Martin DBS Review
$
103,880
–
$
123,530
Dealer
2008 Aston Martin DBS Review & Road Test
Power, poise, beauty and soul the DBS truly wants for nothing.
Model Tested:
2008 Aston Martin DBS Coupe 6.0 litre V12 Six Speed Manual - $466,600 (RRP)
Power, Handling, Grace, Exclusivity, Comfort High Set Gearshift Position, Handing It Back
CarAdvice Rating:
- Words & Photographs by Matt Brogan & Anthony Crawford
An adrenalin fueled Full Throttle tour of Europe earlier this year saw the CarAdvice team road test some of the world's premier supercars in their home environment, a feat well worth the bragging rights. It was therefore completely epic to receive one the most anticipated vehicles of all time on home soil, a truly unique experience.
When Aston Martin's representative for this region said he wanted to do something very special with the first drive of the DBS in Australia, we knew the Great Ocean Road wasn't going to make the cut. So we put in a call to trusted colleague and 4WD guru, Ian Glover, a man who has driven through every road, town, track and waterhole in Australia, several times over, and who was certain to offer up some gold.
Ian's first question was "What colour is the DBS?" to which we replied, "Lightning Silver". "Deep red dirt would make for a beautiful contrast," Ian offered "so you can either go up to the Northern Territory, or to the Cawnpore Hills, on the edge of the Simpson Desert."
As we'd never heard of the Cawnpore Hills, we were intrigued and so began the many months of planning required for such an adventure, but as we would soon find out as with most good ideas, there's always a catch.
These particular hills are no ordinary garden variety mounds of soil, they are in fact called Mesa, Spanish for table (due to their flat-topped appearance), and are found in only two places on earth. In Australia they're conveniently located quite literally in the middle of nowhere, smack bang in the middle of the incredibly large 62,000 square kilometre Boulia Shire, 560km south of Mt Isa, which suddenly made the tyranny of distance, and the logistical challenge therein, seem almost overwhelming.
Boulia township, population 300, was to be our home base for several days and sits at the start of the infamously lonely one lane road known as the Min Min Way. This glorified goat track plays host to a strange phenomenon known as the Min Min light, which since the time of Burke and Wills has been documented for giving plenty of travelers the creeps whilst traversing the dark flat expanse at night. It is said that the unusual lights follow you for very long distances and to this day they have not been properly explained by science - at least we could outrun them in the DBS!
Our astonishing test candidate, Aston Martin's stunning and highly sought after new DBS, drew a lot of attention on arrival in Mt Isa and as supercars go, they don't get much newer than this one. Being thrown the keys to build number one (47 test vehicles precede) had ensured us absolute exclusivity and despite having a vast collective experience in driving such exclusive cars, we were all humbled at the offer to be first in the country to put wheel to road.
The DBS offers all the traditional values expected from a heritage marque in what can only be described as a salubriously powerful and remarkably beautiful package. Best of all, for a hectic hundred hours, it was all ours, along with a V8 Vantage for good measure.
Day one and shortly after landing in Mt Isa, we struck our first problem. The curious locals told us there were major road works going on over several lengthy sections of the road to Boulia, which meant that we had just hit our first logistical roadblock. After so much planning, effort and money spent the prospect of changing locations, after already traveling nearly 1700 kilometres, floored us and there was no choice left but to truck the two Aston Martins down to Boulia, an option which presented even more dangers.
In this part of Australia there are only one-lane roads and you are required to share that lane with other motorists, which for the most part is fine, but the giant road-trains that roam these parts do not believe in sharing – with anyone.
It doesn't matter one iota that there is three-quarters of a million dollars worth of the world's most beautiful metal sitting on the back of two trucks, road-trains do not deviate from the centre of the road and do not slow down for any one, or anything. Getting beyond them is enough to fill any motoring enthusiast with dread.
We left the 'Isa at the crack of dawn. Our convoy had the trucks in the lead as their higher vantage meant they would see the road-train lights before us, which would give us enough time to pull well and truly off the road.
Finally arriving in Boulia, and unloading our precious cargo, we head straight for the Boulia council offices where we were to meet the main man in town Peter O'May who had kindly secured us exclusive use of the town's RAAF built airstrip as our own personal proving grounds.
The isolation of this geography made for some interesting repartee with the local folk, who were stunned to see such an expensive car brought to their amazing outback setting, but being one of only two places on earth to feature such a dramatic milieu, our decision to trek this far had been well worth the outlay.
Although we were itching to shoot some serious high-speed stuff on the main runway, we had a more pressing request from the Boulia school principal. All twenty students aged from five to 15 were in for a rare treat, as we gently eased the DBS and the V8 Vantage in to the school grounds where the kids went nuts with pictures in the drivers seat, along with the obligatory engine revving routine. The kids loved it and to be honest, we did too.
When we first drove the DBS in the UK back in February, the draconian speed restrictions and torturous road rules meant we had to curb our enthusiasm somewhat, but now with a runway six lanes wide and over a kilometre long - anything goes.
Finally it was time to exploit the race-bred attributes of a car that is essentially a road-going version of Aston Martin's blistering DBR9.
Hand assembled at Aston Martin's dedicated engine facility in Cologne, Germany, the 6.0-litre V12 offers prodigious power and loads of linear, usable torque. An impressive 380kW @6500rpm and 570Nm from 5750rpm, grants the DBS a 0-100km/h time of 4.3 seconds which though at first may seem a little uninspiring by comparison to similarly priced Italian supercars, pales in to insignificance when compared to the rapid increase in speed delivery beyond 150km/h. This is what truly defines the DBS in to a realm worthy of so very few.
A well weighted clutch offering precise feel and feedback comes as a pleasant surprise to the left leg and with the superbly ratioed, six-speed Gratziano gearbox offering light, direct shifts any driver worth their salt should master the DBS effortlessly. Perhaps my only criticism, if any, at this point is the gear lever position does tend to throw your elbow toward the passenger seat instead of aftward.
The DBS proved time and time again to be astonishingly quick off the line over several timed 400 metre runs, but what impressed us most, was its huge torque, spread evenly through all six gears. It just doesn't let up, even in sixth the DBS still pulls as hard as a Mt Isa road-train. As quick as it is, it's not just the acceleration that impresses when it comes to the DBS but also the ease with which you can sail through the six speeds. As I said in our first steer, the DBS is the user-friendly supercar.
After shooting plenty of entertaining footage for our upcoming video it was time to hand the cars back for refueling. Meanwhile we journeyed out to the Cawnpore Hills before day's end to see if it was the spectacle we'd been so keenly anticipating - it had better be, as it's a big desert, and I have a shovel.
It was late afternoon and we were pushing the X-Trail hard as we needed to be well into our return trip before dark otherwise there was every possibility of quite literally running in to camels, cattle, emus, wild pig or 'roos, a proposition none of us was keen on.
About an hour into the trip, we spotted some huge hills jutting upward in stark contrast to some of the flattest landscape you ever laid eyes on, flat in all directions, flat for so far in fact that the horizon is a distant shallow falcate crescent following the earth's curvature.
We motored on, as we had to be getting close, given we could see what looked like a mesa or two, not far ahead. I kept saying to the guys how beautiful it was, trying to soften the blow, just in case the place did not live up to expectations.
But the moment we rounded the next bend, the scene was spellbinding. We might just as well have been in Monument Valley, Arizona, given the okra red dirt and these strange flat-topped hills surrounding us.
The best part was, we hadn't seen another car or road-train, in over an hour. Our own private highway, where we could drive the DBS like a supercar should be driven, and not a stop sign or set of traffic lights within 400 kilometres - just a cattle grid or 20 to slow for occasionally.
We were about start shooting one of the best looking cars in the world in one of the most remote locations in Australia and the feeling was surreal. Planning for a journey of such considerable scale takes many months of preparation and thanks primarily to Ian's suggestion, we found this Martian landscape provided the ideal backdrop with which to contrast the DBS's gorgeous Silver Lightning patina - pay dirt.
From this vantage (pun intended) it was evident that our logistical challenge, worthy of a UN relief effort, had paid off and after flying our staff and equipment a total in excess of 23,000km to be here, finally we were ready to go.
What lies beneath the Aston Martin's purposeful yet transcendently beautiful exterior is a technologically masterful and modern vehicle with power, poise, balance, and, perhaps surprisingly, grace. As Aston Martin themselves put it, Power, Beauty, Soul.
As placid and composed as any Grand Tourer, the DBS may allow you to be fooled by its beauty. But, while an angel it may appear, surrender your right foot (and potentially your license) and the big coupe releases a fury worthy of challenging any more aggressively styled Italian rival.
Final drive through a 3.71:1 ratio ensures brilliant acceleration, particularly in-gear and makes for a usable, driver friendly tractability so rarely found in cars with this level of performance.
Pulling up is equally as impressive, and important, as any other performance figures listed. The DBS does this with ease, thanks to large carbon ceramic brakes, which are a no cost option. Rotors are 398mm up front, only 2mm smaller than Bugatti's Veyron, with six piston calipers and 360mm rears running four pot stoppers, and separate, servo actuated park brake caliper. The pedal feel is progressive, positive and extremely quick to react.
Adaptive suspension technology is beginning to be seen more and more throughout higher end performance cars and presents itself in many guises, and with varying degrees of success. The Aston Martin system is one of the best I've experienced to date and not only provides superb handling characteristics and high speed stability, but is also instantly switchable between modes. I don't mean that it gradually firms or softens either, I do stress - instantly.
It's a highlight feature of the car and coupled with a three tier (on/track/off) traction control system means a DBS buyer can be assured of the car's set up in any application, be it a high speed cross country cruise, day at the track, or an evening jaunt to the opera.
That beautiful body isn't just there for beauty's sake either with each panel and vent designed to purpose. Air flow is maximised in areas where cooling and downforce is required, and minimised in others to reduce air turbulence and drag. A combination of several different materials including composites, alloys and traditional steel all play their part in the DBS's tremendously rigid and purposeful structure.
Weight saving and rigidity gains were at the forefront in the car's design ideals and as shape restriction was not an issue, the body was able to be sculpted artistically over the 20" super light-weight alloy wheels. The overall outcome then is a body possessing not only unparalleled beauty, but enhanced strength, purposeful application and advanced technology.
Finishing the body work, with such a range of materials underneath, was certain to be a challenge for the painters, especially over the composite areas where traditionally air bubbles can create tiny pin holes in the primer coat allowing distortion and disparity in the finishes' continuity. The engineers at Aston Martin would not allow this and instead developed a patented 'Surface Veil' process which uses the appliqué of a fine self leveling epoxy to the surface before painting to ensure Aston's trademark mirror finish.
The paint work, consisting of some seven meticulously hand applied layers, takes over 50 hours to complete and is rubbed back lightly between each coat to ensure the high gloss finish. The entire process takes five hours longer than it does for Porsche to build an entire 911! True dedication.
As for the interior, the handsome stitch work is precise, millimetre perfect and compliments the sumptuous leather with the kind of lavish and bespoke workmanship expected from a timeless classic, which I have no doubt the DBS will become in the years to follow.
To ensure parity when fitting décor to the DBS, Aston Martin assure that all the hand stitched leather work is completed by a single operator to maintain a uniform style over all surfaces of the vehicle's interior. Though the cabin's overall ambiance is a masterpiece, its simplistic layout hints subtly at its race bred heritage almost masking the extravagance of the underlying works. Organic Electroluminescent back-lighting offers a crystal appearance to all cockpit switches and sharp instrumentation detail at night.
A stunning sapphire key fob, or in Aston speak ECU (Emotional Control Unit) sits as a splendid centre piece high in the dash for that constant reminder that this truly is a splendid and personal machine that reflects properly the sophisticated personality of a car that still encompasses so many of the everyday features many supercars seem to leave behind. An iPod connector in the centre console, crisp 700W stereo with six CD player, climate control, Bluetooth mobile phone functionality, 3D Satellite Navigation plus an array of cockpit switches and dials all simple to understand and logical in function.
The ambient cabin lighting upon unlock is effective yet discreet and by further use of the crystal LED lights does not contrast against the instruments making for an inviting ambiance so well finished and so uncompromised in character that you're struck with it's beauty wondering why so many other manufacturers don't use similar themes in highlighting the beauty of their own machines.
To me at least, DBS represents the finer qualities of a true vehicular masterpiece and is for so many reasons as near to perfection as any supercar has yet come. Pure class. Not only is it stunningly beautiful and so very fulfilling to drive, it also managed to perform flawlessly despite conditions far more arduous than I'm sure the boys at Gaydon ever even thought to anticipate.
Four days of driving, three support vehicles, two Aston Martins and one well worn chase car saw the curtains on our remarkable adventure drawn to a close and despite testing the limits of all involved to the extreme, it was the illustrious new Bond car that fared best, showing not even a hint of exhaustion from such an unparalleled road test.
As for the rest of us, despite sand in places we never knew we had, sunburn all over, red dust in our camera equipment and wind still ringing in our ears, the 18 hour days, 32 degree heat, road-trains, camels, and dehydration had been worth every moment, and now represent a piece of Australian motoring history the likes of which myself, nor the Cawnpore Hills are likely to see repeated any time soon.
CarAdvice Overall Rating: How does it Drive: How does it Look: How does it Go:
Specifications:
Engine: 5935cc All- Alloy Quad Cam V12 (48 valves)
Power: 380kW @ 6,500rpm
Torque: 570Nm @ 5,750rpm
Transmission: Rear-Mid Mounted Six Speed Manual
Final Drive: 3.71:1 (LSD)
Brakes: Ceramic 398mm (F) 6 piston / 360mm (R) 4 piston
Top Speed: 302km/h
0-100km/h: 4.3 seconds
0-400m: 12.8 seconds @ 198.72km/h
Fuel Consumption: 16.4 litres / 100km (Combined)
Fuel Tank Capacity: 78 litres
Fuel Type: 98RON Unleaded Petrol
Airbags: Front, Side & Curtain
Safety: ABS, DSC, EBA, EBD, TCS
Tyres:Pirelli P Zero
Warranty: 2 year / Unlimited Kilometre
Weight: 1,695kg (Tare)
Wheels: Alloy 20 x 11" (F) 20x 8.5" (R)
2008 Aston Martin DBS Review