The Australasian New Car Assessment Program (ANCAP) has today announced that the Hyundai i30 and the Mitsubishi Lancer have both received a five-star safety rating. If you remember, we attended the crash test for the Mitsubishi Lancer so we are not surprised by the results.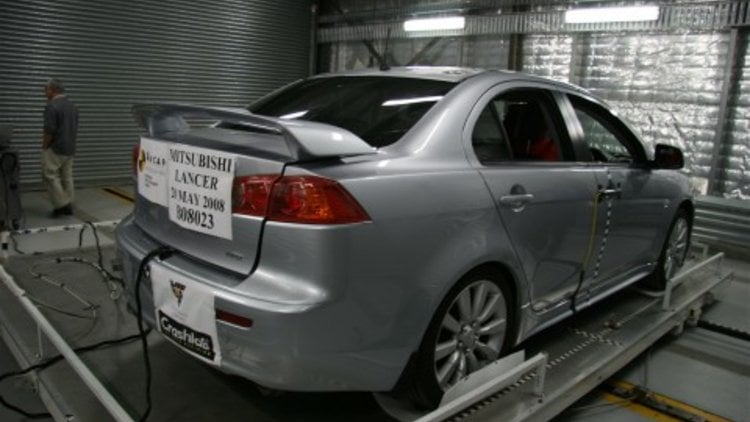 The ratings are great news for buyers looking for affordable but safe cars as both the Lancer and i30 cost less than $30,000 and achieve better results than some cars worth twice as much.
"What we are now seeing is the provision of the latest vehicle safety features in cars below $30,000 – which is great news for consumers," ANCAP Chairman, Lauchlan McIntosh said.
In order to achieve a five-star safety rating in ANCAP, manufacturers must donate a car for a pole test, which has resulted in many manufacturers refusing to participate. Despite popular belief, ANCAP buys all vehicles from the manufacturer for other tests.
The Mitsubishi Lancer which received the five-star rating was the top of line VRX with head-protecting side curtain airbags and Electronic Stability Control (ESC) – both of which are prerequisites for a five-star rating under ANCAP's rating methodology. Lancers without side protection scored four stars.
The Hyundai i30 was essentially the same with the top-spec, which included side curtain airbags and ESC, receiving five stars after Hyundai fixed an issue with the vehicle's knee impact area. The lower spec i30 scored four stars.
The issue to tackle now is the inclusion of curtain airbags and ESC as standard equipment to all models. It would almost seem logical for the government to make these features mandatory on all new passenger cars.
At the same time EuroNCAP has rated the Renault Laguna III and Holden Astra – both with side curtains and ESC - five-stars while four-star went to the recently launched Kia Rondo with side curtains, and base-model Ford Focus with chest-protecting side airbags.
Furthermore, it would seem that manufacturers have been so obsessed with gaining a five-star safety rating that they have forgotten about pedestrians. The Lancer, i30, Laguna and Focus earned two stars out of four for pedestrian protection and the Rondo and Astra managed only one star.
Mitsubishi Lancer and Hyundai i30 get five-star safety rating