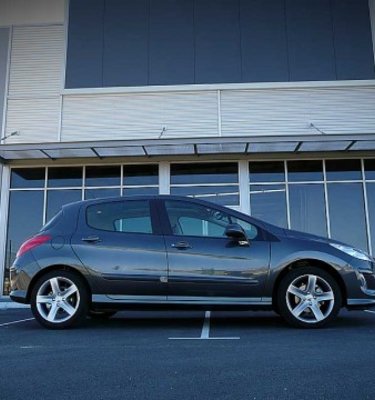 Economy driving: Peugeot 308
Economy driving: Peugeot 308
"How do you solve the fuel crisis? Drive smarter!"
By Karl Peskett
With fuel prices the way they are going, people's budgets are being constrained. To keep our present car-dependent lifestyle, we have several alternatives. We can buy more fuel efficient cars, we can budget better, or we can drive smarter.
Several of these options will be detailed in future CarAdvice articles. But this week, we had an opportunity to test how smarter driving would improve our efficiency. The test candidate for this challenge was the Peugeot 308 XSE turbo petrol manual.
Of course, driving a diesel economically is relatively easy. In fact, a few days ago, John and Helen Taylor set about teaching our politicians a thing or two about smart driving using a couple of diesel 308's.
Driving an allocated route around Parliament House, the MPs managed an average consumption figure of 4.18-litres/100km, based on the Taylor's driving tips.
What about a petrol powered car, though? Most cars on the road in Australia aren't diesel powered, and therefore lose the inherent efficiency that diesel brings.
Plus, diesel is said to be skyrocketing price-wise, which negates any cost savings from using less fuel. Alarmingly, it is accelerating away from petrol in the price race towards $2/litre - in the city that is.
So petrol it is. But rather than try and set an economy world record, we thought it would be beneficial to do some real-world driving, but just change our style a little.
So, the air-con remained on. Carpets and seats were left in. The radio was cranked up. Seat heaters were used. A little bit of cargo was thrown in for good measure, and no, the car wasn't washed or polished.
Our designated route was a mid-week cross-city trip, taking in traffic lights, road-works, and one stretch of freeway - a good mix of conditions replicated every day by motorists.
The tank was filled to the brim, so that an accurate reading could be taken. Zeroing the trip-meter gave us a starting point for calculations.
We then set off, resisting the urge to drive like a normal motoring journalist would. Damn, it's hard....
The trick to driving economically is consistency. If you're smooth, you're going to be much better off than having a constantly flexing right ankle.
So you need to look ahead to ascertain what the traffic is doing, in which case you can preselect gears, and judge your braking. The more you can keep on the roll, the better off you're going to be.
The 308's chassis also helps here, as it will corner without scrubbing off too much speed. There's little understeer evident, which means the back will follow the front without resistance.
Sharp turns can be negotiated without losing momentum - this helps on the consistent speed front.
Also, changing up early without labouring the engine is critical.
With a manual car, you need to just nudge the bottom edge of the torque curve to get the pull of the engine, but not enter too much of the powerband, which will increase your fuel consumption.
On the Pug 308, optimum changeup revs are about 1800-2000rpm, which is where we tried to keep it.
Also limiting the slipping of the clutch on take-off prevents excess fuel being used. Just get the car on the roll, and start changing up as soon as you can.
We travelled a total of 396.4km, and upon arriving at a service-station, rebrimmed the tank. Using just 26 litres of fuel, the turbo 308 came in with a fuel consumption of 6.59L/100km - the total distance cost us just $42.55.
The standard combined cycle is listed at 7.1L/100km, and the city cycle is 9.8L/100km. This means that our mostly city route returned a remarkable 20-25% improvement over the cars standard consumption.
All that you need to do is be a bit savvy with your driving, and the reward is immediate.
Combine that with extra fuel-saving measures - checking tyre pressures, keeping the air-con off, making sure windows are up, making sure good quality lubricants and fuel is used, removing the roof-rack, having a clean air-filter and travelling light - and you're going to offset those fuel-price pressures.
And of course, you'll be doing your bit to help the environment. Remember, the less fuel burnt, the less emissions you create.
2008 Peugeot 308 XSE
Engine: 1.6-litre petrol turbo
Power: 110kW
Torque: 240Nm
Transmission: 5-speed manual
Safety: Electronic stability control- front air bags - side airbags - curtain airbags - front seatbelt pre-tensioners and load limiters & much more.
0-100km/h: 8.8-seconds
Fuel tank: 60-litres
Fuel consumption : 7.9 litres/100km (claimed) - 6.59L/100km (tested)
Fuel type: 95 RON
Economy driving: Peugeot 308