In something of a 'show and tell' exercise Hyundai has shown off its revised 2009 Grandeur, including an all-new diesel powered model, which is expected to go on sale in Australia in about four to six weeks.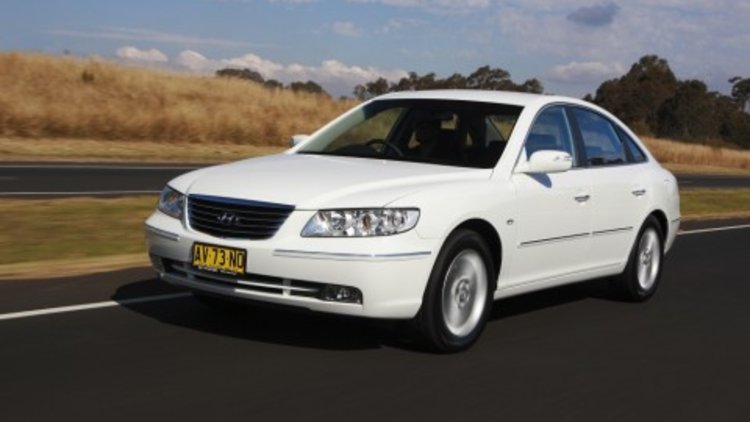 Delays in shipping meant the assembled media were not able to drive the new cars but only look and touch two of the latest cars; media testing of the cars will have to wait until the full shipment arrives.
Hyundai has hopes that adding the diesel engine to the Grandeur will revitalise the car, which has been an extremely slow seller for the Korean company, with just 297 finding homes in Australia last year.
The diesel Grandeur gets Hyundai's 2.2-litre Common Rail Direct injection (CRDi) with 5-speed Selectronic automatic transmission.
This engine pushes out a generous 343Nm of torque between 1800rpm and 2500rpm, while power is 114kW at 4000rpm.The engine is suitable frugal using just 7.9L/100km.
For those who want to stay with petrol the 3.8-litre V6 with 5-speed Selectronic automatic puts out 194kW of power at 6000 rpm and 348Nm of peak torque at 4500 rpm. And it offers respectable 10.8L/100km fuel consumption.
From a look around the new cars the mild restyling gives the cars a somewhat smarter look and the interior; including leather upholstery certainly gives the impression of luxury for a very non-luxury price.
Not that the 2009 model is a completely new design – like its junior sibling the Sonata it should be up for a complete redesign in the next 18 months, but the soon to be release Grandeur receives notable updates both inside and out.
From the outside there is a revised front grille, outside mirrors with integrated side repeaters, chrome inserts in bumpers and body mouldings and new 17" alloy wheel design. Step inside and you're greeted with new blue interior illumination within the audio and dual zone climate controls and a new supervision instrument cluster.
Additionally there is new wood grain and metal treatments, USB / AUX jacks as well as an iPod® connector in the centre console. Although not exactly an expensive trinket, Hyundai will also give owners a 1GB USB memory stick while those that opt out for the diesel variant get a pack of latex free vinyl gloves!
Doing away with a previously offered cloth trim option means the Hyundai Grandeur now comes with leather only trim, making the decision rather easy, petrol or diesel.
The V6 petrol is priced at $39,990 and the CRDi diesel variant comes in at $41,990.
To further simplify choices, the Grandeur is only available in four colours, Noble White (solid), Black Diamond (pearl), Sleek Silver (metallic) and Iron Silver (metallic). Inside you can pick between black or beige leather.
In a further inducement to prospective buyers Hyundai is adding free premium Roadside Assistance to its already industry leading five-year new car warranty with unlimited kilometres.