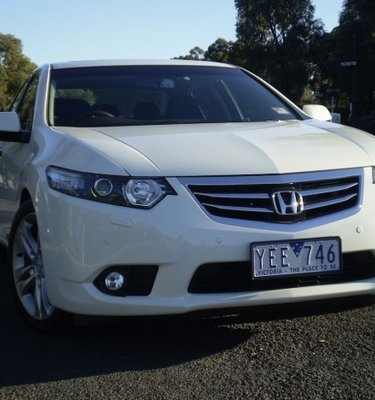 Honda\'s mid-sized sedan has handsome looks, a functional interior and a sophisticated drivetrain
2012 Honda Accord Euro six-speed manual – $30,340 (manufacturer's list price). As tested – $33,335 (with optional 18-inch Modulo alloy wheels and metallic paint).
2012 Honda Accord Euro Luxury five-speed automatic – $40,140 (manufacturer's list price). As tested – $40,615 (with pearlescent paint).

Every year between 2005 and 2010 the Honda Accord Euro has been in the top three most popular medium cars in the country, trailing the fleet favourite Toyota Camry and the Mazda6.

Hoping to freshen up the Euro and give it a sales kick, Honda Australia launched the updated 2012 Honda Accord Euro at the 2011 Australian International Motor Show in Melbourne in July.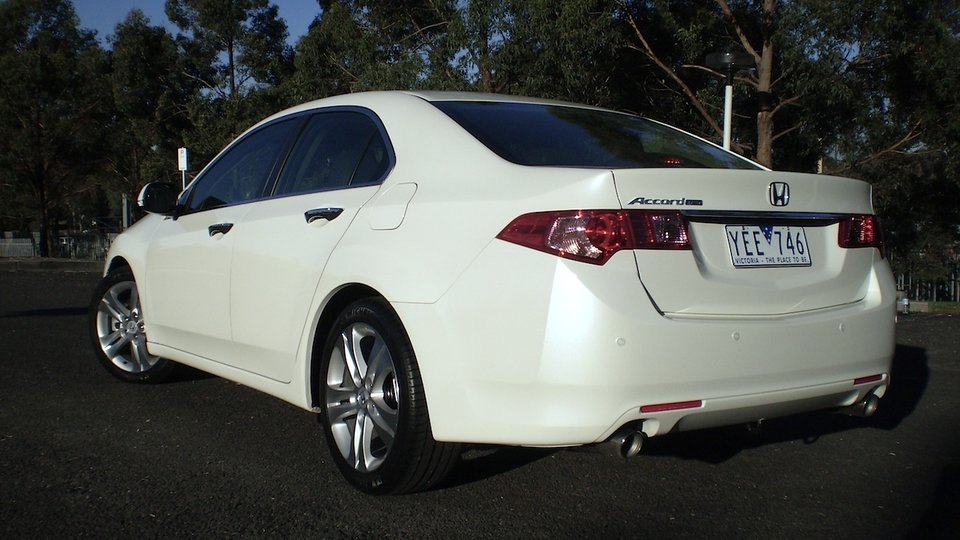 Like most cars in the medium class, the styling is tipped towards the conservative end of the spectrum, and the design is unlikely to grab you instantly. Some will find it a bit busy at first glance, but give it some time and the handsome, angular lines may just grow on you.

Prices of the new 2012 Accord Euro have dropped $1150 compared with the previous model. New features across the range include USB connectivity with iPod integration, built-in Bluetooth (replacing the cumbersome A-pillar device), foldaway key and Trailer Stability Assist.

For just north of $30,340 in manual form and $32,640 as an auto, the base model is a well-equipped family car. On top of the new-for-2012 features listed above, the entry model comes standard with dual-zone climate control, cruise control, leather-wrapped steering wheel, and an eight-speaker + two-tweeter audio system with six-CD stacker. Unfortunately, the Accord Euro's new Bluetooth system does not support audio streaming.

Another $3000 gets will get you the $43,140 automatic-only Luxury Navi, which throws in Bi-HID xenon headlights and satellite navigation.

One of the most disappointing things about the Honda Accord Euro range in Australia is its lack of diversity. There is only one body style (sedan) and one powertrain option (2.4-litre petrol). The Accord Euro is available overseas with both a diesel engine and a wagon body shape, but Honda Australia continues to knock them back for our market.

Fortunately, the Honda's engine is one of its strongest suits. The 2.4-litre i-VTEC four-cylinder petrol engine produces 148kW of power (at 7000rpm). Teamed with the six-speed manual transmission, peak torque is 234Nm (between 4300-4400rpm), while with the five-speed automatic, it achieves 230Nm (between 4200-4400rpm).

The automatic provides a much more sedate driving experience. It can be slow to shift down on highway on-ramps and when overtaking, and really only gets going once you're north of 2500rpm. It's a smooth transmission, however, and drivers who aren't put off by less-than-rapid acceleration will be happy with its performance. Those after a little more control can flick through the gears with the steering wheel-mounted paddle shifters, which are standard on all auto models and provide quick and obedient shifts. Paddle shifters are also found across the Liberty range and in higher grades of the i45 and Mazda6, but are not available in most other mid-sized competitors.

Drivers are met with few surprises behind the wheel of the Euro.

The brakes take a bit of encouragement early in the pedal range but come on with an encouraging sense of urgency when you push a little deeper.

The cabin is brilliantly insulated from engine, road and wind noise, adding to the strong perception of overall refinement.

Staying comfortable isn't a worry either. I spent two hours straight behind the wheel and emerged without any body stiffness. There was nothing but praise from my rear-seat passengers either (one of them six foot tall, the other one a little on the portly side), who both enjoyed plenty of head, leg and shoulder room.

One interesting anomaly between the base model and the Luxury spec is the spare wheel situation. In the base model, you get a full-sized spare wheel but sacrifice a flat boot floor. The Luxury models, which come standard with larger 18-inch alloy wheels, offer only a space saver spare, but this means you get a proper flat-bottomed boot.

Overall, the Honda Accord Euro is a convincing package for the price. The Hyundai i45 and the Mazda6 have cheaper entry points if saving money is your top priority, but neither is quite so well equipped as the base model Euro. The Honda Accord Euro delivers the refinement and quality of an actual Euro car with a standard features list to better its Asian rivals.
[gallery order="DESC" columns="4" orderby="title"]