Aston Martin V8 Vantage N24 takes first in class at the infamous Nurburgring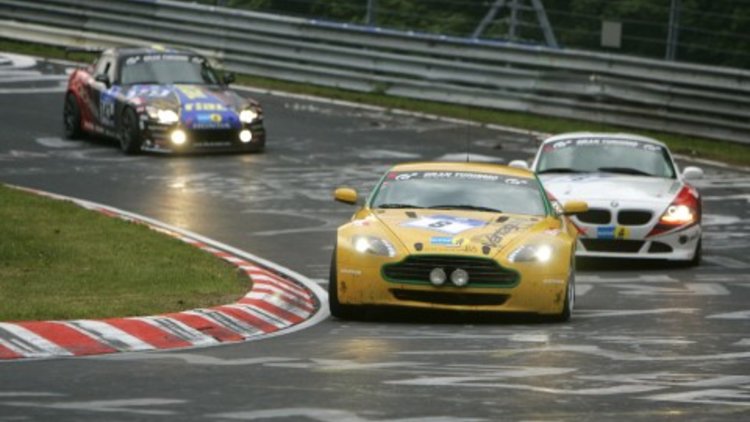 -By Anthony Crawford
Aston Martin Chief Executive Officer Dr Ulrich Bez, likes to go racing, particularly in Aston Martin's these days.
He's a gifted engineer and firmly believes the best place to test his brand of cars is on a race track. But this guy just doesn't lead the company; he drives the race cars, and drives them hard.
Three Aston Martin V8 Vantage N24 cars, have claimed the top three positions in the SP8 class in this year's 24-hour Nurburgring endurance race. That included the third place car, nicknamed 'Kermit' driven by four drivers including, Dr Bez.
Of course, the N24 car is in fact, a special variant of the V8 Vantage model, named after this very 24-hour Nurburgring race itself.
The first placed car, nicknamed 'Rose' was driven by Japanese journalist, Shin-ichi Katsura, Hong Kong writer Matthew Marsh, and German racer Oliver Mathai. This very same car finished 24th outright in 2006, so 18th from 220 starters in 2008, is an exceptional result for one of Britain's most famous sports carmakers.
'Kermit' which was one of the brand new 4.7 litre V8 Vantages, using Aston Martin's automated manual 'Sportshift' gearbox, was actually running ahead of 'Rose" but was hit while passing another competitor with just on three hours to go. Tragic, to say the least.
The second place N24 was crewed by a private entry team Swiss Gentle Racing, backed by cosmetics giant, Givenchy.
The N24 must be an exceptional car for driver Shin-ichi Katsura to say that "I've competed at this circuit before with different cars, but this is the most stability I have ever experienced here. The car is actually very easy to drive, and you can use all its potential with no problems"
Car Advice is hoping to bring you a track test video of the N24 later this year.
In the meantime, stay tuned for a full video review of the DBS and the upgraded V8 Vantage, in a secret location in outback Australia in the coming weeks.
Aston Martin V8 Vantage N24 at Nurburgring