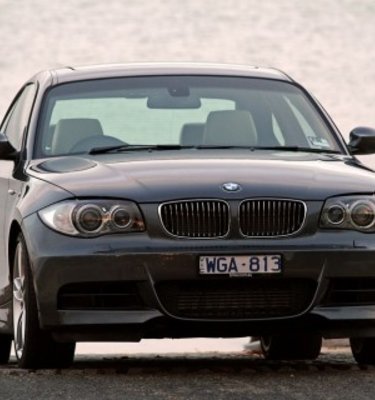 2008 BMW 135i review & road test
Model tested: 2008 BMW 135i Sport
Recommended Retail Price: $71,400
Options fitted: Electric Glass Sunroof - $2,750; Metallic paint - $1,600; BMW Radio Navigation with favourite buttons - $2,700
Everything - space, pace, power, poise, quality, dynamics - the lot
Um, nothing?
CarAdvice rating: (5/5)
Review by - Karl Peskett
Photography by - www.OzCarSightings.com
Ever been to a movie that was hyped up so much, yet you were extremely disappointed after seeing it? It's a real let-down when you expected a joyous experience, yet were given so little. Worse still is when a movie is touted as a comedy, and ends up being a moody drama.
Conversely, there are some encounters that surprise and entertain, and still keep delivering, no matter what you were expecting. One such experience, is the BMW 135i.
Known as the 135i Sport, this coupe version of the BMW 1-series is something that you need to engage in to really understand the significance of what BMW has been able to achieve.
When we were handed the keys, we didn't fully appreciate what we were about to go through. On paper it all looks pretty good - twin turbo six-cylinder, rear-wheel-drive, six-speed manual, and a coupe body. But it's how it all comes together that really impresses.
At first glance, you're thinking "how can BMW justify $71,400 for a 1-series". And when we spoke to most people, it was the price that first put them off. But hop behind the wheel, and you realise just how much of a bargain this car is.
The outside of the car does look a little dopey in photos, but in the metal it's actually very attractive. The rear three-quarter view is probably the best, where the agressive hauches sit over those fat wheels.
Sliding into the fully-adjustable bolstered seats, you find a quality interior. The optional poplar wood trim sets off the darker surrounding plastics, and is contrasted by the cream leather; this is a feast for the eyes.
There's very little clutter as well, with most of your commands available through the (complex) I-Drive system. The instrumentation is also clear and unfussed - you could almost call it plain. Combine that with four useable seats (although the rear headroom is a little tight for my six-foot frame) and it's starting to look good.
But the real magic begins when you insert the stubby key fob and press the start button above it. A quick whirr, and the engine bursts into life, settling into a satisfying deep burble that hints that there's some potential.
Reverse gear is a push and shove up to the left, and slow movements reveal a light clutch with a slightly high takeup point. As you flick the ergonomically shaped gear lever into first, slightly more revs are needed than you expect, to get away. Thank the tall 3.08:1 diff ratio for that. Ah, this thing's going to have some legs then.
The motor is one of the smoothest straight sixes around, and hanging a couple of hairdryers off it doesn't do it any harm, either. After experiencing this car for a week, it's no wonder that it's won International Engine of the Year awards several times.
But it's the torque that surprises you most. It's one of the few cars that you can go straight from first to sixth without any problems. In fact, stay in sixth gear, idle down to 900rpm, and you'll be doing between 45-50km/h. Put your foot flat to the floor and the car pulls away with no complaints. No stuttering, no hesitation - just a deep growl and you're off.
The torque delivery is so linear that any gear, any revs, any touch of throttle, and you feel that push coming on strong. Amazing is too delicate a way to describe it. Plus it's economical too.
But then as the revs rise, the car keeps surging forward and by 2000rpm, there's some serious shove going on. The power builds exponentially until you've reached 7000rpm, by which time you snatch another gear, and the whole experience starts again.
First gear is over very quickly, and whack it into second and the catapult sensation continues. With the DTC off, and in the wet, slip angles are possible, even in a straight line. But the fact that this car also complies with your every input means it doesn't get out of hand.
The ride is perfect for this type of car, even with 18 inch runflats. It absorbs the bumps, and although it's on the firm side, it's not teeth-rattlingly harsh. On the flip side the handling is superb, with (very slight) initial understeer to warn you to wash off enough speed, but then it sits confidently on the outside rear tyre and holds at maximum grip until you tell it not to.
On quick turn in with that near perfect weight distribution, it needs to have the throttle pressed a little to get the best out of cornering, which then settles the suspension to an attack attitude.
But it's never overwhelming, and doesn't feel like it would ever bite you. Plus it doesn't even have a limited slip differential. Not that you'd need it. What it does have is an electronic locking diff, which according to BMW "electronically slows the spinning inside rear wheel to enhance vehicle
traction and ensure that all available power is transferred to the road."
In 99% of driving it does what an LSD would do, and even when cornering hard, it still responds exactly like an LSD would.
Combine that with perfect feedback and dynamically the package becomes, well, perfect. The steering wheel itself is very chunky, but is wrapped in tactile perforated leather. Weighting is slightly heavy, but communication comes through clearly, with your tyre tread telling you exactly what the surface is doing. Tramlining is negligible too.
Then there's the braking. Oh my god, the braking. The six-piston Brembo derived calipers may be clearly marked BMW, but let me tell you, that's no impediment to forward impediment. Zero fade and feel like you want caps off a car which does it all.
Quibbles? Yes, there are two. The footpedals are slightly too close together, and the door pulls are a bit far forward meaning closing the doors takes a little effort. Still, if these are the only compromises, then sign me up.
I don't really care if people say only the Italians have passion. This little car shows that the Germans can engineer a car not only to be brilliant technically, but also emotionally. This 135i receives five stars because it's the best at doing everything. Plus it all comes in at under eighty grand. It is the package of the year. The end.
Thanks to Jan at www.ozcarsightings.com for the photo shoot
CarAdvice overall rating:
How does it drive:
How does it look:
How does it go:
2008 BMW 135i Specifications
Engine: 3.0-litre, 6-cylinder twin turbo
Power: 225kW @ 5800rpm
Torque: 400Nm @ 1300rpm
Top speed: 250km/h (limited)
Safety: Electronic stability control- ABS - front air bags - side airbags - curtain airbags - front seatbelt pre-tensioners and load limiters.
0-100km/h: 5.3-seconds
Turning circle: 10.2m
Fuel tank: 53-litres
Fuel consumption : 9.6 litres/100km (claimed)
Fuel type: 98RON Premium Unleaded