2008 Toyota Rav4 Review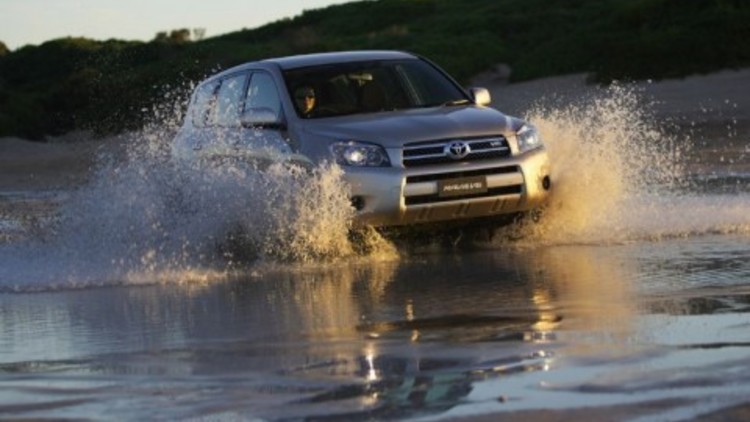 Model tested: Toyota Rav4 CV6
Recommended Retail Price: $39,990.
Options fitted: None Fitted.
Rear leg room, universal styling.
Understeer, driveability, torque steer, steering feel, power delivery, sound system.
CarAdvice rating: (2.00)
- Review by Paul Maric, photographs by Toyota.
Soon after its release, I drove the Toyota Rav4. At the time of its introduction to the market, it was only available as a 4-cylinder. I recall being disappointed with the lack of power from the engine, which struggled at times to haul the car's mass. Toyota has addressed these concerns and stuck the same engine as the Aurion underneath the Rav4's bonnet. Case closed, Paul is now happy. Err...not quite.
I took the new V6 Rav4 for a spin and it was interesting to say the least. Packing some 201kW and 333Nm of torque, this V6 motor is certainly no lightweight. Weighing in at 1655kg, the Rav4 is quite a light 'SUV' in relative terms. The 200mm ground clearance increases the centre of gravity and the semi-off-road capable tyres reduce grip levels. This set of factors makes for quite a challenging combination.
My first encounter was a truck with loose cargo travelling under the speed limit and partially in my lane. I had to pass it, so I sank the boot in and received the shock of my life as the car torque steered in several different directions. The V6 engine sends power through the front wheels and only redirects it to the rear wheels if it detects slippage.
If I thought that was bad, the following day it started raining. Pulling away from an intersection in peak-hour traffic required a decent prod of the throttle to hurry things along. Stabbing the loud pedal produced a flurry of wheel spin (typical of an overpowered front-wheel-drive vehicle). No problems I thought, in a matter of moments power will be sent to the rear and we will have more traction with which to work.
Well, I can't say I was wrong, power was sent to the rear but this turned a slight bit of understeer into obvious oversteer and I had to correct the rear to bring it back into line. If I thought this car was bad in the dry, it was potentially dangerous in the wet.
The surge of urgency delivered by the engine hits all at once and is extremely sharp. To the regular driver, this can come as a total shock in certain situations. It's way too much power to be sending through such a vehicle and in my opinion, it should have been down-tuned to reduce the spasmodic delivery of power, perhaps with more concentration on producing torque.
Interior room is impressive, as are the ergonomics of the seats. They fold down quite easily and provide easy entry/exit for children and adults. The sound system is quite average and the head-unit looks poorly integrated, unfortunately this is a trait shared with the Corolla and Kluger.
The quality of plastics is good, but some feel a bit cheap (like the dash surrounds and door handle surrounds). Interior room is great for a small family and the styling is good enough to keep the masses pleased. Fuel economy on test was reminiscent of a V6 – around 11-litres/100km.
Priced from $39,990 for the base model CV6 (as tested), prices move onto $43,990 for the SX6 and max out at $49,990 for the ZR6. The Mitsubishi Outlander and Honda CR-V offer a better package. If you are desperate for a V6 though, Mitsubishi's offering is far more linear and smooth and is capable on mild off-road tracks. The Outlander's engine is well behaved and can be controlled by steering wheel paddle shifters – a quaint touch.
As for the Rav4. If driven sedately it's a car you could live with. But if the off chance arises where full power is required, you would need to be paying full attention.
CarAdvice overall rating:
How does it drive:
How does it look:
How does it go:
2008 Toyota Rav4 CV6 Specifications
Engine: 3.5-litre
Power: 201kW
Torque: 333Nm
Top speed: N/A
Safety: Electronic stability control- front air bags - side airbags - curtain airbags - front seatbelt pre-tensioners and load limiters.
0-100km/h: N/A
EuroNCAP rating: N/A
Turning circle: 10.6m
Fuel tank: N/A
Fuel consumption : 10.5 litres/100km (claimed)
Fuel type: 91RON unleaded