Holden has maintained a narrow lead over Toyota in June to top the new vehicle sales charts in Australia for the second consecutive month.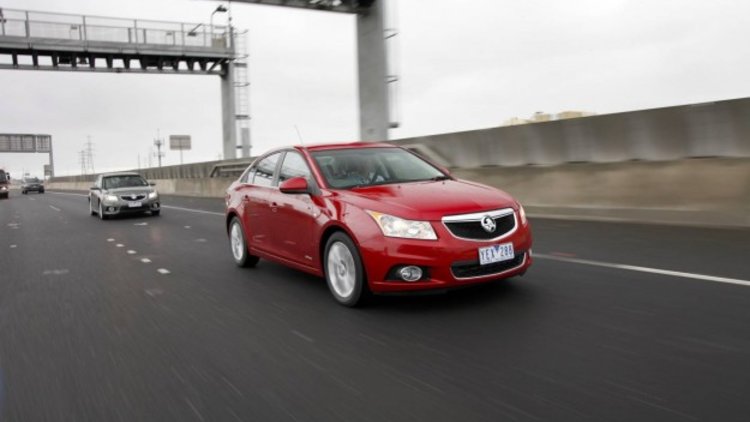 Holden sold 12,827 vehicles across the country last month compared with 12,514 for Toyota, which continues to be hampered by limited vehicle and parts supply from Japan.
The Australian automotive industry enjoyed its strongest sales month for the year in June, which is historically one of the best months for new vehicle sales.
Official VFACTS data released today by the Federal Chamber of Automotive Industries (FCAI) shows that 96,157 passenger cars, SUVs and commercial vehicles were sold in June 2011, down 11.6 percent (12,565 vehicles) compared with June 2010.
Ford climbed back into the top three, while run-out sales and pricing reductions helped Honda back into the top 10.
Top 10 sales by marque:
Holden – 12,827
Toyota – 12,514
Ford – 9216
Mazda – 8626
Hyundai – 8534
Nissan – 6374
Mitsubishi – 6203
Volkswagen – 5090
Honda – 4162
Subaru – 3003
From an individual model perspective, the Mazda3 again toppled the Holden Commodore, while the Volkswagen Golf was the bolter in the pack, surging up to just fall short of the podium.
Top 10 sales by model:
Mazda3 – 4212
Holden Commodore – 3809
Holden Cruze – 3387
Volkswagen Golf – 3275
Hyundai i30 – 3197
Toyota HiLux – 3066
Nissan Navara – 2267
Toyota Corolla – 2152
Ford Ranger – 2148
Mitsubishi Lancer – 2061
th
The Mazda2 took a stranglehold of the light car segment (1907), finishing well clear of the outgoing Hyundai Getz (1524) and the Suzuki Swift (1326). Sales of the Mazda2 are up 26.4 per cent so far this year.
The Mazda3 was another winner for the Japanese brand, and has again established itself as the most popular car in the country year-to-date. Small cars dominated the top 10 in June, with five other vehicles filling the remaining nine positions.
The Camry continues to control the medium segment. Its 1601 units was well clear of the Hyundai i45 (513) and Ford Mondeo (499), which are both enjoying breakout years.
The Commodore dominated the one-horse race that is the large car segment, almost 2000 units clear of the Falcon and more than 3000 ahead of the third-placed Toyota Aurion (808).
The Nissan X-Trail (1258) narrowly held off the Hyundai ix35 (1162) and the Subaru Forester (1159) in the compact SUV class. X-Trail sales are up 19.3 per cent in 2011, while sales of the ix35 have more than doubled this year.
The Territory and the Holden Captiva 7 (1248) continued the Ford vs Holden rivalry in the medium SUV class, with the supply-stricken Toyota Prado limping into third (716).
The BMW X5 (288) took the crown in the luxury SUV segment just ahead of its baby brother, the X1 (270), and the Land Rover Discovery (261).