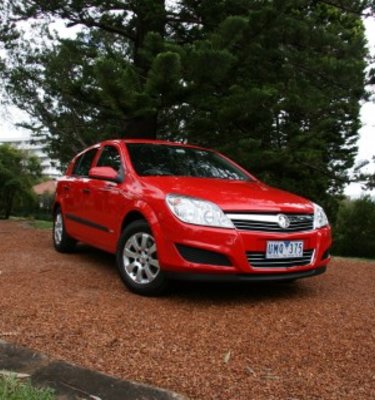 2008 Holden Astra CD Review & Road Test
"For just under $22,000, the base model Holden Astra CD with five on the floor, is a surprisingly good drive and well worth a look"
Good & fun drive, value for money, well built.
Starting to show its age (though it still looks good).
CarAdvice rating: (3.50)
- By Anthony Crawford
The problem with driving the world's fastest and most expensive cars, as we recently did on our "Full Throttle in Europe" tour, is that you quickly get a taste for the best automotive engineering that money can buy.
The other more important issue is that your ongoing expectations are immediately re-calibrated to a much higher level than they were previously. That can make things difficult, especially when reviewing small five-door hatches, priced under twenty five thousand dollars.
The only Astra I've driven in the last twelve months is HSV's sizzling VXR Turbo three-door hatch, which I labelled "a point-to-point weapon" due to its ferocious in-gear acceleration.
But the Astra CD is a long way down the mountain from the VXR in fact; it doesn't have a Turbo or even a 2.0 litre engine. No need for panic though, with 1.8-litres mated to a 5-speed manual gearbox; it's still a sporty drive.
103kW and 175Nm doesn't seem like a lot and frankly, you might get the wrong impression. It's a lot better than that. Up to 90% of available torque is on song from 2200 to 5500rpm, so the Astra pulls hard very soon after you punch the throttle.
And don't let me forget to mention the advantages of power to weight. At 1249kg, the Astra made light work of any hill, which stood in its path.
The five forward ratios are well spaced and gearshifts are dead easy, making for some fun behind the wheel. And highway cruising is effortless, even with four adults in the car.
These days, you expect small cars to be reasonably well behaved in the cornering department. The Astra CD with the optional 16" wheels does not disappoint. You can throw this car into corners and there is very little body roll, meaning, the suspension has been well tuned.
As good as the handling is for a base model car, the overall ride is firm but never harsh. Those nasty little metal speed bumps in the shopping centres, produce no jarring or thump through the body of the car, whatsoever.
I kept thinking, while behind the wheel of the Astra, that the 900 plus kilometre drive from Sydney to the Gold Coast, would be a breeze in this car, with or without passengers.
What's more, it's incredibly fuel-efficient. That means big savings at the petrol bowsers. I don't recall holding back very often while in the Astra, given that the manual box encourages some, shall we say, enthusiastic driving. So, I was surprised to register just 7.6-litres/100kms which is near enough to the published consumption of 7.4-litres/100kms.
And if you're concerned about reducing greenhouse gases, but can't bear the thought of public transport, then the Astra is a good choice. In line with such frugal fuel consumption, emissions are 177g/km and that borders on a distinction for a car with this much space inside.
While the front seats are on the firm side, they offer plenty of side bolster, which ads to the sporty overall feel of the car.
There are currently sixteen Astra variants to choose from at your Holden dealer, from the CD manual at $21,990 to the 2.2-litre TwinTop convertible with a 4-speed auto at $47,490. That may be a tad too many to choose from, I suspect.
If you do go for the Astra CD, you might keep an extra $1500 in reserve for the "K" option pack. You get a decent set of 16" alloys along with Cruise Control and one-touch up/down windows all round, instead of front only. Well worth it, for the alloys alone.
The overall look remains contemporary, despite the fact that this "AH" generation Astra has been around since 2004. Styled in Europe and made in Belgium, might explain some of that.
There's a great range of colours too. The Black Sapphire Metallic is definitely the pick, with Moonland Metallic (a smoked Blue/Grey) coming in, a close second. Just don't pick the Power Red as we ended up with, as it doesn't do the car any justice.
Interior wise, its modern, but I take issue at design of the centre console. It's got nothing to do with the switchgear, that's mostly well positioned and quite functional.
My beef is with the angle of the console itself. Rather than sliding outwards, this console is angled ever so slightly inwards, making it almost impossible to see the various positions on the HVAC dials while driving. Let me qualify that. I'm referring to those of us over 43 years, who need to don the occasional pair of reading glasses from time to time.
Although the steering wheel is plastic on the CD variant, its plenty thick and with excellent grip. You also get audio controls in the form of a scroll wheel (far more functional than buttons) for sound and frequency.
It's all here though, as standard kit. The seven speaker sound system is better than decent and thankfully (does anyone under thirty still use CDs?) there is an auxiliary input for your MP3 player.
You even get heated power mirrors and projector style headlamps along with a remote folding key fob.
If you're intending on using the Astra as a family run around, safety is reasonably well provided for with 4-wheel disc brakes with ABS, Brake Assist (BA) and Electronic Brake force Distribution (EBD), Driver, front passenger airbags and side impact airbags.
What you miss out on in the CD variant is full size curtain airbags and Electronic Stability Control, which is not so good. To get both of those features, you would need to step up to the CDTI or SRI.
Boot space is both deep and wide and plenty big enough for a decent length trip away for three to four people and the rear seats are 60/40 split fold.
"The Astra is a solidly built car with a broad range of talents and represents good buying"