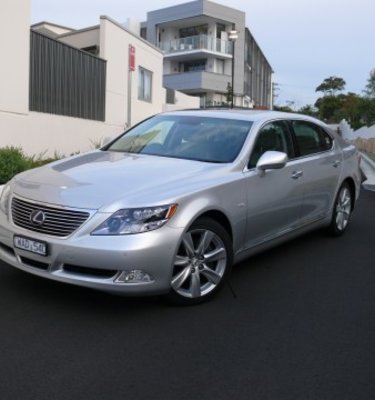 2008 Lexus LS600hL review
2008 Lexus LS600hL Road Test
Model tested: Lexus LS600hL
Recommended Retail Price: $240,000.
Options fitted: None fitted.
Standard equipment, fuel economy, subtle ride.
Handling, looks too much like the LS460, boot room.
CarAdvice rating: (4.00)
- Photographs and review by Paul Maric and Anthony Crawford
"There are thirty-two advanced automotive systems listed under the LS 600hL's Technical Glossary. Lexus has most likely created the most technically advanced automobile on the planet today"
Paul Maric:
Okay, so the Lexus LS600hL looks near identical to its LS460 sibling, but looks are where the similarities stop. The LS600hL uses a 5.0-litre V8 engine, but also features an electric motor which produces 165kW. Coupled with the 290kW V8, the LS600hL produces 327kW when all systems are running. It's a massive figure, but only so much is needed to pull all 2.4-tonnes with any great pace.
Power is handled by a CVT (Continually Variable Transmission) and is sent through a torsen all-wheel-drive system. But driving the Lexus isn't as interesting as riding in the back seats, let me explain why.
Take a seat behind the front passenger seat and hit the Ottoman switch. Instantly, the front passenger seat folds forward and the rear seat is turned into an Ottoman, fitted with foot-rest. Once you're settled, turn on the heated/cooled seats and select your massage program – Shiatsu or Stretch. From there, you can turn the in-seat vibrate function on or adjust your personalised heating controls.
Rear seat passengers are graced with wireless headphones and a flip-down LCD screen for movies. You can chill your favourite Cab Sav in the cooler, or flip out the small table to do some work on the way to your jet – at your airport. In comfort mode, the ride is devilishly smooth. Electric rear and side sunshades also block out peasants who insist on looking in.
Back in the driver's seat, if parallel parking isn't your thing, the LS600hL also has it sorted. Line up next to a parked car and select reverse. From there you place the rectangle in your desired spot via the LCD screen and hold on; the car literally reverses and turns the wheel into your parking space. In theory, it works great, but in practice it's a relatively useless gimmick. By the time you activate the system, you could have parked, run your errands and made it back home in time for the stock report.
At $233,000 for the five-seat model and $240,000 for the four-seat model (being test driven), it does significantly undercut its German competition (think S-class, A8 and 7-series), it has nothing on them when it comes to the drive though.
The LS600hL – even in sport mode – wallows through corners. The lack of steering feel and the sheer mass of the car prevent it from fitting any type of sporty image. This isn't too much of an issue though when you consider that it will predominantly be used for ferrying passengers – opposed to tacking tight bends, but it is one aspect that the Lexus's competitors have over it.
Lexus claims a combined fuel economy figure of 9.3-litres/100km. If that figure is true, I was born on the moon. The closest I could get with a mix of city and highway driving was 13.5-litres/100km. The other far-fetched figure is the 0-100km/h time of 6.3-seconds. Again, my outer-space birth place stands if that figure can be achieved, the closest I could get was around 7.0-seconds.
As far as a luxury hybrid car goes, the Lexus LS600hL has all bases covered. The features list really is endless, it includes things you didn't even know existed – all as standard fitment.
It's not a driver's car though, it really is built for passengers. If that doesn't concern you, you really can't go wrong with the LS600hL. But if it's an all-rounder that you're after; you will have to look at its German opposition. If you do that though, be prepared to reach deeper into your wallet, as they certainly don't come cheap.
Anthony Crawford:
First and foremost Lexus means luxury. Few, if any, will ever argue that point. But then, there's the build quality. On par with the world's most prestigious marques, and that includes Rolls Royce and Bentley.
If you take into account the colossal R&D, which has gone into the LS series cars, then I doubt the company books would show anything but a loss. But you simply cannot view such outstanding automotive achievements in this way.
Do you remember that TV advertisement many years ago, where an LS Lexus drove into or out of (can't quite remember the details) one of those Posh US country clubs, whose car park resembled a multi-franchise BMW/Mercedes Benz showroom, and the voice over said something like, "there goes the smartest guy here."
Of course, what the ad was getting at, is that with Lexus, you can spend less to get more, if you compare the car on equal terms, with its main German rivals. Nothing has changed in the luxury value for money stakes. A Mercedes S Class with equivalent power outputs and level of standard kit might cost up to $100,000 more than the LS 600hL. That's a significant price advantage in favour of the Lexus.
Take the LS 600 hL engine. It's just a V8, but when its on-board electric motors (it has two-which equals h for Hybrid) kick in, combined power output is a substantial 327kW and torque is somewhere north of 520Nm at 4000rpm.
Those outputs are equivalent to some of the world's fastest V12 powered super sedans. But it gets even better than that. The electric motor delivers a staggering 300Nm from ZERO rpm! The result. Drag car like acceleration, but without any of the harsh sound effects.
In fact, so quiet is the LS 600hL, that you will probably end up trying to start the car at idle. You simply cannot hear anything, not even the slightest whine, at any speed under 20km/h. And even on the move at a considerable velocity, there are so many silencer panels and sound absorbing materials, that it's difficult to judge just how the quick the car is travelling, such is the refinement of the drivetrain.
While luxury and ride quality are best described as 7-star, the same cannot be said for the way the big Lexus goes around corners.
While the Lexus Adaptive Variable Suspension tries hard to minimise pitch and roll during high speed corning and to some extent it succeeds, the sheer weight of the car (2,430kg) seems to fight with the advanced electronics every inch of the way.
But then again, when you make a choice to go with the Lexus over its German counterparts; you are far more interested in the comfort side of life, rather than sports car like handling.
You won't be able to pick the gear changes because technically, there aren't any. Transmission is via an Electronic Continuously Variable unit and is absolutely seamless.
If you switch over to the Sequential Transmission option (manual shifts if you will) you will feel up to eight gear ratios changes. The electronic part of the CVT is in fact causing the engine to break at certain intervals, which mirrors the characteristic of a traditional automatic transmission. It's very clever and works well enough but I won't say the driving experience is any better than some of the six-speed ZF gearboxes I have experienced recently.
I'm not completely sold on the overall styling of the LS 600hL but features such as the integrated rear exhaust tips look the goods. Lexus is always searching for new levels of perfection, so expect styling to emulate that of the Germans some time in the foreseeable future.
CarAdvice overall rating:
How does it drive:
How does it look:
How does it go:
2008 Lexus LS600hL Specifications

Engine: 5.0-litre V8 & electric motor
Power: 327kW (combined)
Torque: 520Nm
Top speed: N/A
Safety: Electronic stability control- front air bags - side airbags - curtain airbags - front seatbelt pre-tensioners and load limiters.
0-100km/h: 6.3-seconds
EuroNCAP rating: N/A
Turning circle: 11.8m
Fuel tank: 84-litres
Fuel consumption : 9.3 litres/100km (claimed)
Fuel type: 98RON Premium Unleaded
2008 Lexus LS600hL review