Ford Australia has release details on the all-new FG Falcon Ute range and the news is promising. Besides the all-new exterior and interior look, the ute receives an all-new front suspension, new engines with more power and torque, and a host of unique Ute features.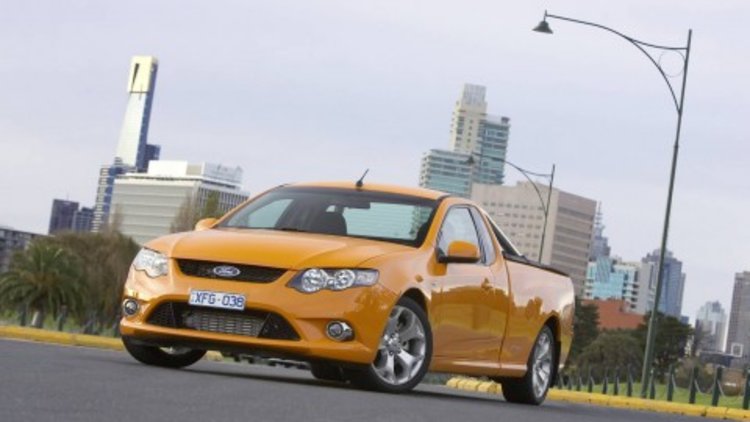 The Falcon ute will go on sale next month (June) following the FG Falcon sedan. As was the case with the sedan, there will be new model variants such as the new Falcon R6 models.
"The all-new FG Falcon represents another step forward for automotive vehicle design in Australia," Ford Australia President Bill Osborne said.
"The FG Falcon Ute range offers no compromise performance and functionality, with the ideal mix of truck-like capability and car-like comfort, driveability and safety.
The range will be offered with three engine choices,
4.0-litre I6 – 195 kW of power and 391 Nm of torque
4.0-litre I6 Turbo – 270 kW of power and 533 Nm of torque
5.4-litre Boss V8 – 290 kW of power and 520 Nm of torque
Transmission has also been updated with a six speed manual (Tremec TR6060) and a five-speed automatic with Sequential Sports Shift (SSS) – 5R55S
"Each model in the new Falcon Ute range represents a unique mix of workhorse and recreational elements, which ensures the job gets done during the workday week, as well as on weekends when its time to getaway." Osborne said.
Ford needs a selling point with the FG Falcon Ute, and it has one, buyers can fit a configurable tray – which is not available for the VE Commodore Ute.
The Falcon Ute, R6 and XR6 models are all available with the choice of either a Styleside Box or Cab Chassis configuration. Cab Chassis design has the added benefit of being able to install your own personally configurable tray, completely flat load floor and it's easy to modify the tray when needed.
For additional practicality the 5R55S five-speed automatic transmission can be positioned as a column shift automatic on certain FG Falcon Ute models, replacing the four-speed column shift automatic used previously on BF Falcon MkII.
This frees up the centre console in the middle of the cabin and allows for a three-seater configuration.
The third, middles seat (with a removable/rotatable headrest) comes standard with Falcon utes ordered with the column shift automatic transmissions. However when it's not in use, the centre seat backrest can be folded down to provide a centre armrest for driver and passenger, with two cupholders set into the rear of the backrest.
All FG Falcon Utes (except R6 and XR models) now come equipped with a revised leaf spring-type Hotchkiss suspension made specifically for carrying heavy loads.
Ford says the reason behind sticking with leaf springs is due to its ability to allow the vehicle's load to be spread over more of the chassis than is possible with a coil spring-type rear suspension, which transfers the load to a single point on either side of the vehicle.
The front, however, is a different story with the utes fitted with monotube shock absorbers. As for the Falcon R6 and Falcon XR Ute variants, the front monotube shock absorbers are also carried over on the rear suspension, for much better handling, although carry-load is compromised.
Certain Falcon Ute and R6 Cab Chassis variants come standard with one-tonne suspension. The twin-tube shock absorbers on the rear suspension can be optioned on other models.
The Falcon Ute Cab Chassis model, along with the XR6 Cab Chassis optioned with the one-tonne suspension, can both take a 1240 kg payload and have a maximum Gross Combined Mass (GCM) rating of 4890 kgBeating the Holden Ute in another category, the automatic Falcon utes have a class-leading, maximum braked towing capacity of up to 2300 kg (when fitted with a genuine Ford heavy duty towpack and load levelling kit).
Without the kit, the automatic Ute is rated for up to 1600 kg, while manual transmission models have a maximum towing capacity of up to 1200 kg.
The SD card-based satellite navigation system from the FG Falcon sedan is now also available on the FG ute range. Additionally, there is the availability of iPod and Bluetooth mobile phone integration across the FG Falcon Ute range.
The bluetooth and iPod connections are available via an optional Technology Pack.
Though we have all heard the Falcon will be the first Aussie built car with a five-star safety rating, we are yet to see the official results. However safety has definitely been improved over the outgoing model.
All FG Falcon Utes will have ABS with EBD as standard, while Traction Control is standard on XR Utes and optional on the rest of the petrol-engine models in the Falcon Ute line-up.
"Highly technical door pressure sensors and dual upfront sensors provide earlier detection of potential crash incidents than ever before. No other Australian-built vehicle incorporates advanced crash sensors such as those on the new Falcon. Detection of crash situations is instantaneous, as the sensors literally hear the event occurring through pressure waves – before the panels have even started to deform." said Ford Australia's Chief Engineer of Virtual Engineering Adam Frost.
The system incorporates a dual stage driver airbag and front passenger airbag as standard equipment across the range, with new vent sizes, folding patterns, inflators and increased volume providing enhanced injury protection.
Fortunately Head/thorax protecting side airbags are available as part of a Safety Enhancement option pack on every Falcon Ute model.
Click through for more details and gallery on each mode:
| | | |
| --- | --- | --- |
| Series | Powertrain | Bodystyle |
| | I6 Petrol 6MT (std)I6 Petrol 5AT (opt)I6 E-Gas 4AT (opt) | Cab ChassisStyleside Box |
| | I6 Petrol 6MT (std)I6 Petrol 5AT (opt)I6 E-Gas 4AT (opt) | Cab ChassisStyleside Box |
| | I6 Petrol 6MT (std)I6 Petrol 5AT (opt)I6 E-Gas 4AT (opt) | Cab ChassisStyleside Box |
| | I6 Turbo 6MT (std)I6 Turbo 6AT (opt) | Styleside Box |
| | V8 Petrol 6MT (std)V8 Petrol 6AT (opt) | Styleside Box |
2008 Ford FG Falcon Ute range