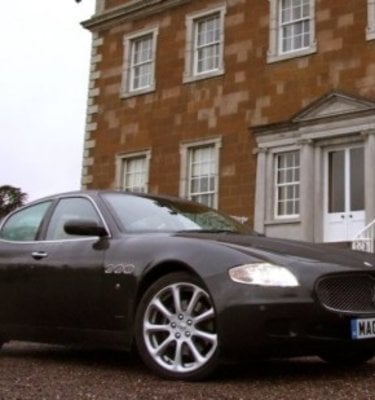 2008 Maserati Quattroporte Review
2008 Maserati Quattroporte Review Executive GT Review
Models tested:
2008 Maserati Quattroporte Executive GT 6-speed sequential automatic - $298,000
Great noise, power and comfort German saloon drivers will hate you
CarAdvice rating:
- by Bob Hume
Luxury saloons are more common than you'd think. Take a short drive and make a mental note of how many S-Class's and 7-Series' you come across. We're up to our necks in them. The wealthy seem to have no imagination any more. The appallingly rich don't seem to get it at all; they may be comfortable in the neutral boardroom-inspired cabins of their large and expensive, yet still incredibly good German saloons but how many times do they draw level with an almost identical German saloon at the lights.
They must hate that, bless them.
What would you buy? Well, you could go down the well-trodden path to the Mercedes or BMW dealerships or if you wanted to be a bit different you might consider a Lexus or a Jaguar. Make no mistake, you'll end up with an incredible car for your 80 to 100 grand but so will a lot of other nouveau riche.
You might decide that you'd be just as happy spending your money on something less obvious; a car with immediately recognisable branding but none of the hang-ups, one that stands out but isn't audacious, one that communicates your affluence but says more about your sense of good taste.
The Maserati Quattroporte promises all of the above. The legendary Italian manufacturer has a strong tradition of competition and sports car building and has fused their technology and sporting pedigree into the opulence of a luxury saloon.
The tested car was the brand new 2008 Executive GT Automatic; the flagship variant of the luxury four-door five-seater Quattroporte. Styled by noted Italian automotive designer Pininfarina, this car takes design cues from the '70s. There's a retrospective and nostalgic look to the rear quarter of the Quattroporte; the 'C' pillars and boot area are reminiscent of some of the sports saloons of thirty years ago.
The front end and grille are aggressively styled and the combination of all of the athletic curves and muscular lines, combine to make the entire car a boldly styled and achingly handsome, if intimidating form.
At cruising speeds, the big car is unflustered, dignified and sweeps along motorways and 'A' roads with grace. Inside the sumptuous leather cabin, everything's calm, the famously immoderate way that Maserati furnishes its cars is obvious wherever you look and the driver's seat is a very pleasant place indeed. My only mild grumbles are that there's less legroom in the rear than a Lexus LS or a Jaguar XJ and that the wind noise is a bit louder than I would have expected.
Engine noise is a different story, it just fantastic. The big Ferrari-sourced V8 produces a deliciously thunderous growl when you goad it. It's worth just sitting and gunning it, listening to the big twin exhausts barking in symphony with the roar of the tuned motor. On the drop-off there's a lovely series of muffled cracks. Working hard through the gears is inspiring – it makes all the right noises.
Whilst other luxury saloon manufacturers seem to have tried their best to hide the sound of the big, high-performance 'V' format engines, Maserati celebrates and accentuates it in the Quattroporte.
The performance figures read like those of an expensive coupe; the 4.2-litre V8 multi-valve engine will propel almost two tonnes of Italian luxury from rest to 100km/h in 5.6 seconds, beating several of its direct rivals. Keep you right foot down and the Quattroporte will reach a maximum speed of 269km/h.
The Maserati was astonishingly quick from standstill and through the automatic gears, especially on the tighter-geared and more throttle-sensitive 'sport' mode, roaring to the national speed limit with incredible urgency accompanied by a spine-tingling roar.
There is a huge amount of lateral grip; you can throw it into almost any corner at speed and be fairly confident that it will deal with it. There's very little body-roll and the Quattroporte belied its size and seemed to be 'on its toes' and quick to react; this is mostly thanks to a remarkably good multi-link 'Skyhook' adaptive suspension set-up and highly developed geometry.
There's so much that I loved about this car but if pressed, I'd have to admit that it was all about the delivery. The Quattroporte has the capacity to deliver and control the amazing amount of power and dynamism with uncommon ease.
This is a luxury car from a famous super-car car manufacturer; a beautifully finished, comfortable and beautiful luxury saloon. It will deliver you to your destination deftly and quietly but if you choose to you can make the Quattroporte bark and roar and it will cover a lot of ground with all the drama and excitement of a supercar.
Engine: 4.2-litre V8
Power: 294kW
Torque: 451Nm
Top speed: 269km/h
0-100km/h: 5.6
NCAP rating: N/A
Turning circle: 12.3
Fuel tank: 90-litres
Fuel consumption : 14.7
Fuel type: Unleaded
2008 Maserati Quattroporte Review